輕鬆華語GO: EASY CHINESE GO
紀念921大地震 Remembering the 921 Earthquake
對話 Dialogue
清清:你還記得在1999年9月21號發生的那場大地震嗎?
Qīngqing: Nǐ hái jìdé zài 1999 nián 9 yuè 21 hào fāshēng de nà chǎng dà dìzhèn ma?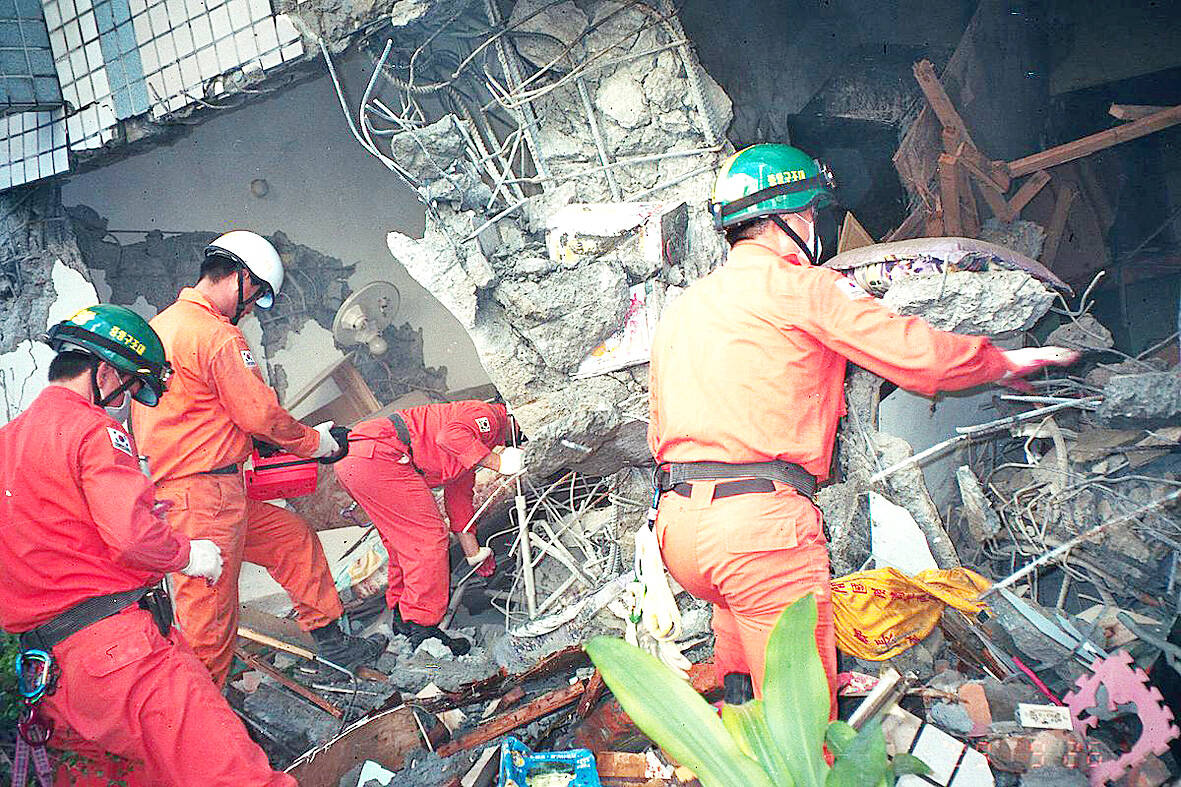 Photo courtesy of Wikimedia Commons / 照片:維基共享資源提供
華華:我想對大部分經歷過那場地震的台灣人來說,都很難忘吧!
Huáhua: Wǒ xiǎng duì dàbùfèn jīnglìguò nà chǎng dìzhèn de Táiwān rén láishuō, dōu hěn nánwàng ba!
清清:你那時候正在做什麼?
Qīngqing: Nǐ nà shíhòu zhèngzài zuò shénme?
華華:我在睡覺,但感覺到一陣天搖地動,就被嚇醒了。你呢?
Huáhua: Wǒ zài shuìjiào, dàn gǎnjué dào yí zhèntiānyáodìdòng, jiù bèi xiàxǐngle. Nǐ ne?
清清:我還沒睡,正在用電腦寫作業。我想趕快往外跑,但搖得站都站不住,真是太可怕了!
Qīngqing: Wǒ háiméi shuì, zhèngzài yòng diànnǎo xiě zuòyè. Wǒ xiǎng gǎnkuài wǎngwài pǎo, dàn yáo de zhàn dōu zhànbúzhù, zhēnshì tài kěpàle!
華華:希望以後不會再有嚴重的天災,大家都平安。
Huáhua: Xīwàng yǐhòu bbúhuì zài yǒu yánzhòng de tiānzāi, dàjiā dōu píng'ān.
翻譯 Translation
Qingqing: Do you still remember the huge earthquake that occurred on Sept. 21, 1999?
Huahua: I think for most Taiwanese who experienced that earthquake, it's hard to forget, right?
Qingqing: What were you doing at that time?
Huahua: I was sleeping, but I felt a strong shaking that woke me up. How about you?
Qingqing: I hadn't gone to sleep yet. I was working on my computer. I wanted to run outside as quickly as possible, but the shaking was so intense that I couldn't even stand. It was truly terrifying!
Huahua: I hope there won't be any severe natural disasters in the future, and that everyone stays safe.
生詞 Vocabulary
1. 地震 (dìzhèn) earthquake
2. 經歷 (jīnglì) to experience
3. 難忘 (nánwàng) unforgettable
4. 感覺 (gǎnjué) to feel
5. 天搖地動 (tiānyáodìdòng) [Idiom] the sky shakes and the earth trembles
6. 嚇醒 (xiàxǐng) startle awake, wake up in a fright
7. 站不住 (zhànbúzhù) unable to stand, cannot keep one's balance
8. 天災 (tiānzāi) natural disaster
教材音檔 Audio Files
國立清華大學華語中心提供
By National Tsing Hua University Chinese Language Center:
Comments will be moderated. Keep comments relevant to the article. Remarks containing abusive and obscene language, personal attacks of any kind or promotion will be removed and the user banned. Final decision will be at the discretion of the Taipei Times.