SPEAK UP: Hit talent show suspended for bullying singer CoCo Lee 《好聲音》霸凌李玟停播
A: Have you ever watched "Sing! China?" The talent show has recently been suspended due to its mistreatment of late singer CoCo Lee and unfair rules.
B: I haven't watched the show in a long time. Since audio recordings of Lee claiming she was bullied by the show's production team surfaced online, the show has caused a lot of public anger.
A: The share price of its mother company, STAR China Media, has even plunged by 75 percent, losing tens of billions of New Taiwan dollars.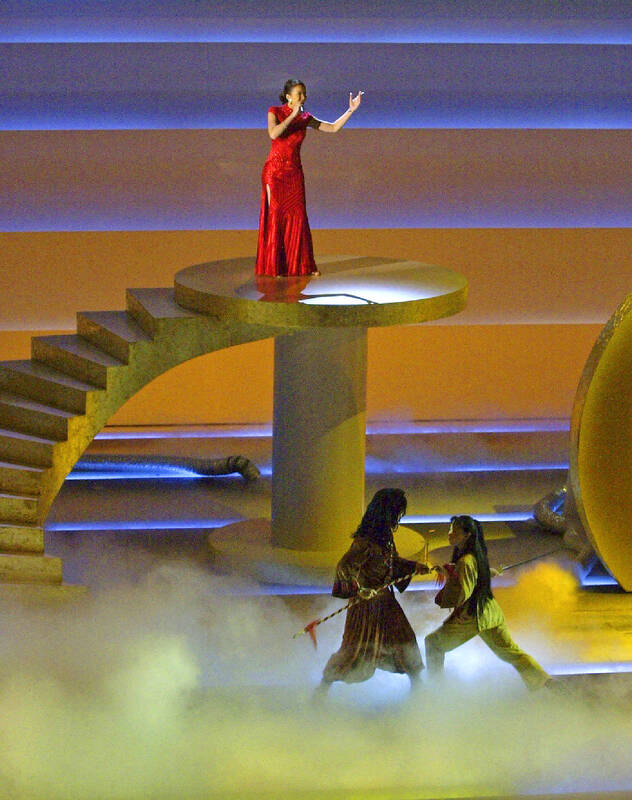 CoCo Lee performs at the Academy Awards in 2001. 李玟2001年在奧斯卡獎演唱。
Photo: AP 照片:美聯社
B: But the show has discovered some great talent since its debut in 2012.
A: Well, that's true. My favorite singer Ed Wang also started out from the show.
A: 你看過《中國好聲音》嗎?該選秀節目因霸凌已故歌手李玟及賽制不公,最近被停播囉!
B: 我好久沒看了,李玟控訴被該節目惡整的錄音檔近日流出後,大家都氣炸啦。
A: 母公司星空華文股價還暴跌四分之三,損失超過數百億台幣。
B: 不過該節目自2012年開播後,的確發掘不少好聲音。
A: 對啊像是我最喜歡的鮮肉歌手王振諾,就是從該節目出道的。
(By Eddy Chang, Taipei Times/台北時報張聖恩〉
Publication Notes
Language Tip 語文小提示
mistreat (v.) mistreat: to treat badly Synonyms: abuse / brutalize / bully / ill-treat / ill-use / kick around / maltreat / manhandle / mess over (slang) / mishandle / misuse
Comments will be moderated. Keep comments relevant to the article. Remarks containing abusive and obscene language, personal attacks of any kind or promotion will be removed and the user banned. Final decision will be at the discretion of the Taipei Times.