ANALYTICAL ENGLISH 解析英語
Keeping your cat safe 貓有九命!?淺談「貓咪高樓症候群」
Cats are incredibly agile animals. They do an excellent job climbing up to lofty perches that most would assume were well out of reach. What's even more miraculous is a cat's ability to always land on its feet no matter how it falls. These stunts have led to the common belief that cats have nine lives and owners need not worry about their safety. However, our furry friends can often be at risk of feline high-rise syndrome.
Feline high-rise syndrome refers to any injury cats sustain after falling from a height of seven meters or more. Even if your cat lands on its feet and looks fine after falling from a great height, it is likely to have suffered injuries. Some common ones are chest injuries, head or facial injuries, limb fractures, or internal bleeding. The type of injury will depend on the distance they fell and their position when they hit the ground.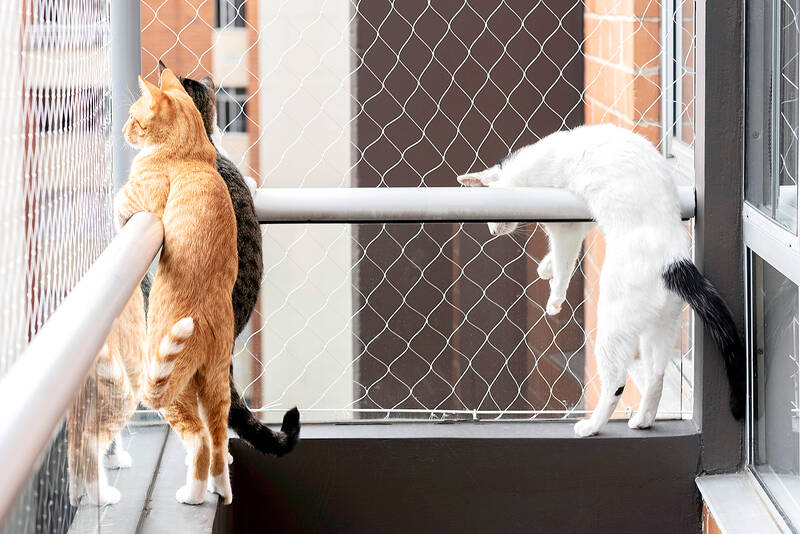 Photos courtesy of Shutterstock / 照片:Shutterstock提供
It's important to take your cat to a veterinarian clinic immediately after they fall. Your cat might be in shock after the fall and require fluids, pain relief or oxygen. In addition, tests should be performed to check for fractures or internal bleeding. After an extensive examination, the veterinarian can inform you of the best options for treatment.
Luckily, there are many things cat owners can do to prevent feline high-rise syndrome. First, move furniture and tall items away from the railings to prevent them from jumping up. Second, make sure all windows have screen covers that are held tightly in place. If you have a balcony, try to keep your cats away from it. Finally, consider setting up an enclosed catio where your cat can safely play outside.
貓是非常敏捷的動物。牠們很會攀爬大多數人認為遙不可及的高處。更不可思議的是,無論怎麼摔下來,貓都能夠用腳著地。這些特技讓人們普遍認為貓有九條命,主人不必擔心牠們的安全。然而,我們的毛小孩可能經常處在貓咪高樓症候群的風險之中。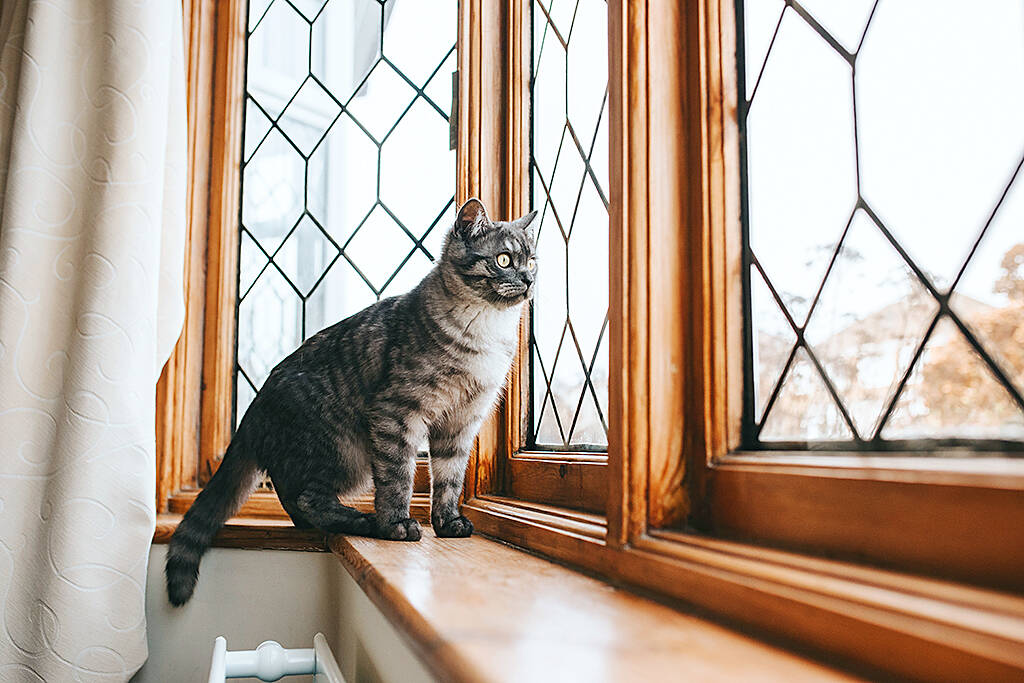 Photos courtesy of Shutterstock / 照片:Shutterstock提供
貓咪高樓症候群是指貓從七公尺(含)以上的高度墜落後所遭受的任何傷害。即便你的貓從高處墜落後,四肢著地且看起來沒什麼事,牠也很可能受了傷。一些常見的傷有胸部受傷、頭部或面部受傷、四肢骨折或內出血。受傷的類型會視牠們墜落的距離以及撞到地面時的姿勢而定。
重要的是,在你的愛貓墜落後,要立即送牠到獸醫診所。你的愛貓在墜落後可能會休克,需要補液、止痛或吸氧。此外,還應進行檢查來看看是否有骨折或內出血。經過全面檢查後,獸醫可以告知你最佳的治療方案。
幸運的是,貓飼主可以做很多事情來預防貓咪高樓症候群。首先,將傢俱和高的物品移開,不要靠近欄杆,防止牠們跳上去。其次,確保所有窗戶都有牢牢固定的窗遮罩。如果你家有陽臺,盡量別讓你的愛貓靠近。最後,考慮架設一個密閉式的貓陽臺,讓你的愛貓可以安全地在外面玩耍。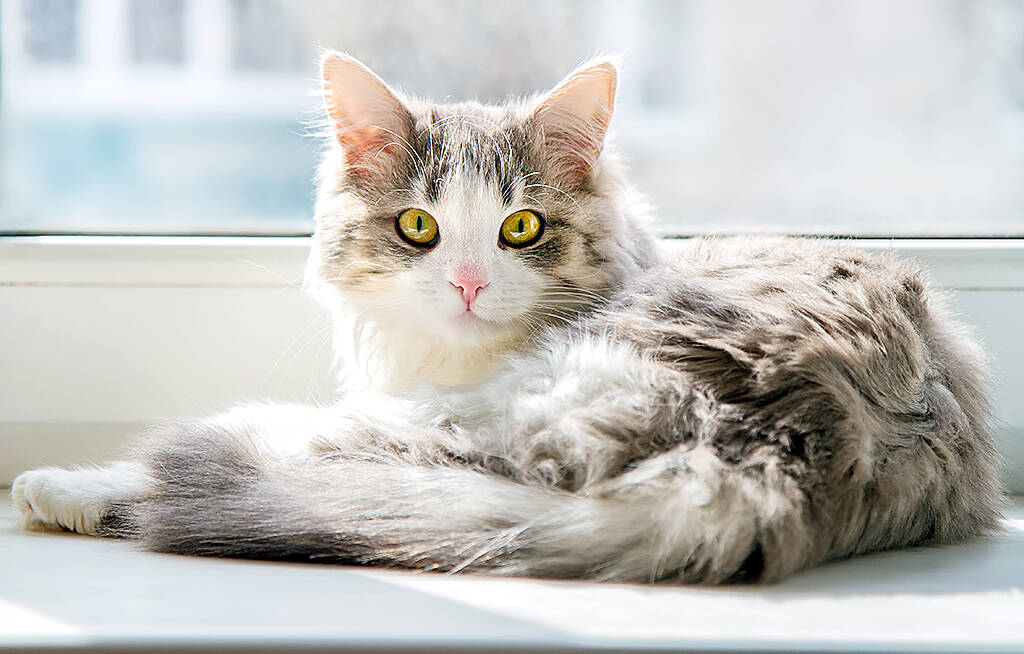 Photos courtesy of Shutterstock / 照片:Shutterstock提供
What Did You Learn?
1. Why do some people believe cats have nine lives?
(A) They have longer lifespans than most other animals.
(B) They can come back to life nine times after they die.
(C) They have no fear of heights and enjoy being in lofty perches.
(D) They can survive falls from high places with few or no injuries.
2. Which of the following is NOT something a cat might experience due to feline high-rise syndrome?
(A) Chest injuries.
(B) Limb fractures.
(C) Internal bleeding.
(D) Fear of high places.
答案:1. (D) 2. (D)
Words in Use
1. incredibly adv. 非常地,極其
The rock tumbled down the mountain incredibly fast.
那塊岩石很快地滾下山來。
2. miraculous a. 神奇的;奇蹟般的
That diet promised miraculous weight loss in a week.
那種飲食保證一週內有神奇的減重效果。
3. furry a. 毛茸茸的
Don't try on that furry vest. It'll make you look like a sheep.
別試穿那件毛背心。它會讓你看起來像隻綿羊。
4. syndrome n. 症候群
AIDS is short for acquired immune deficiency syndrome.
愛滋病是後天性免疫不全症候群的縮寫。
5. sustain vt. 承受∕遭受(損害、損失)
Fortunately, Susan sustained only a few injuries from her fall.
所幸,蘇珊跌倒時僅受到輕傷。
Practical Phrases
1. out of reach 遙不可及
If you work hard enough, nothing you want is out of reach.
只要你夠努力,沒什麼東西是得不到的。
2. be at risk (of...) 處於(……的)危險
Many species are at risk of extinction because of global warming.
許多物種都因為全球暖化而面臨絕種的危機。
3. depend on... 視……而定
The price of a house usually depends on its location.
房價通常視它的地段而定。
4. inform sb of sth 告知∕通知某人某事
I will inform you of any further developments as soon as possible.
我會盡快通知你任何後續的發展。
聽文章朗讀及講解: https://ivy.pse.is/455bfu
本文出自常春藤解析英語雜誌: www.ivy.com.tw
Comments will be moderated. Keep comments relevant to the article. Remarks containing abusive and obscene language, personal attacks of any kind or promotion will be removed and the user banned. Final decision will be at the discretion of the Taipei Times.