ANALYTICAL ENGLISH 解析英語
Was 'air pollution' Monet's muse? 驚!莫內的繆思女神竟是空汙!?
Claude Monet was a French painter who lived at the turn of the 20th century, from 1840 to 1926. He is credited as the founder of impressionism, a painting style characterized by its use of many thin brushstrokes to create a dream-like quality. Impressionist paintings are celebrated for the way they seem to capture a sense of life in motion. Monet didn't just simply paint landscapes; he wanted to convey the sensations he experienced when he saw them.
 Many of Monet's paintings portray the passage of time, like clouds drifting through the sky or the sun setting in the distance. His landscapes often have a hazy appearance, as if fog is blurring edges, and obscuring objects that are far away. Some researchers have suggested the haze of Monet's landscapes may have actually been air pollution.
 Monet was painting at a time when heavy industry was starting to seriously impact the environment. This was especially true in urban centers like London and Paris. The hypothesis is that Monet's works reflect the increasing levels of air pollution that Europe experienced in the late 19th century and early 20th century. As Monet's painting career progressed, background visibility in his paintings seems to gradually decrease.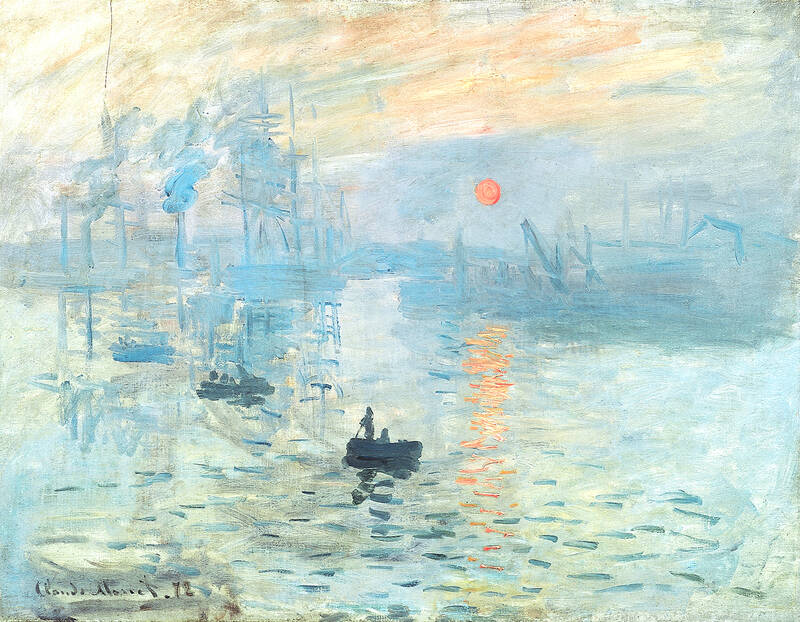 Photo courtesy of Claude Monet 照片:Claude Monet提供
 In letters to his wife, Monet sometimes described the air quality and appearance of environments he was painting. In some messages, he even indicates a preference for the smoke and fog produced by human activity in London. Evidence suggests that a significant number of Monet's works were influenced, or even inspired, by the way air pollution affected light and vision. It is a curious notion that air pollution may have been the muse for one of modern history's greatest artists.
克勞德‧莫內是一名生活在二十世紀初的法國畫家(生於1840年,卒於1926年)。他被認為是印象派的創始者,這種畫風特色是使用許多細膩的筆觸來創造出夢幻般的質感。印象派畫作因其似乎能捕捉生命的動態感而備受讚揚。莫內不是只畫風景而已;他還想要傳達當他見到這些風景時所體會到的感覺。
 莫內的許多畫作都描繪了時間的流逝,像是飄過天空的雲朵或是遠處的太陽西沉。他的風景畫通常都有一層霧濛濛的外表,就像有霧模糊了邊界,使遠處的物體朦朧不清。一些研究人員表示,莫內風景畫中的霧實際上可能是空汙。
 莫內作畫的期間是在重工業正開始嚴重影響環境的時期。在像倫敦和巴黎等都市中心更是如此。他們假設,莫內的畫作反映出歐洲在十九世紀末葉及二十世紀初所經歷、越發嚴重的空汙。隨著莫內作畫生涯的推進,他畫中的背景清晰度似乎漸減。
 在他寫給妻子的信中,莫內有時會描述他正在畫的空氣品質和環境外觀。在某些訊息裡,他甚至表示偏好人類活動在倫敦所造成的煙霧。證據顯示,空汙對光線和視覺的作用影響、甚至啟發了莫內大量的作品。空汙可能是近代史上最偉大藝術家之一的繆思,這一想法真是有趣。
What Did You Learn?
1. What is impressionism?(簡答題 )
2. According to researchers, the haze in Monet's paintings was probably caused by _____ as a result of _____ in Europe in the late 19th century and early 20th century.(填空題)
答案︰
1. It is a painting style characterized by its use of many thin brushstrokes to create dream-like qualities
2. air pollution / heavy industry
Word in Use
1. muse n. 靈感(泉源)
? The artist said her muse for creation is her cat.
這名藝術家說她創作的靈感來源是她的貓。
2. characterize vt. 以……為特色∕特徵
be characterized by...  具有……的特色∕特徵
? A common cold is characterized by sneezing, coughing and a runny nose.
一般感冒的症狀是打噴嚏、咳嗽和流鼻水。
3. convey vt. 傳達(消息、情感等)
? The report conveyed an important message: smoking does us no good.
這項報導傳達了一個重要訊息:抽菸對我們沒有好處。
4. sensation n. 感覺
? The sensation of the warm sun on Kelly's skin made her feel relaxed.
暖陽照在凱莉皮膚上的感覺讓她感到放鬆。
5. portray vt. 描繪,描寫
? This famous painting portrays the war between the Greeks and Trojans.
這幅名畫描繪希臘與特洛伊之戰。
Practical Phrase
1. at the turn of the+序數詞+century 
在……世紀之初∕交替之時
? The temple was built at the turn of the 18th century.
這座寺廟建於十八世紀初。
2. be credited as... 被認為是……
? Angela is often credited as the founder of the company, although there were many others involved in its foundation.
安琪拉時常被認為是該公司的創辦人,雖然還有其他很多人參與了該公司的創建。
3. be celebrated for sth 以某事物聞名∕著稱
? France is celebrated for its fine food and numerous art museums.
法國以其美食和為數眾多的美術館著稱。
4. in motion 移動中;運轉中
? It's very dangerous to get on or off a train when it is in motion.
在火車行駛時上下車是件很危險的事。
聽文章朗讀及講解: https://ivy.pse.is/455bfu
本文出自常春藤解析英語雜誌: www.ivy.com.tw
Comments will be moderated. Keep comments relevant to the article. Remarks containing abusive and obscene language, personal attacks of any kind or promotion will be removed and the user banned. Final decision will be at the discretion of the Taipei Times.