AI chips are hot: What they are, what they're for and why investors see gold AI晶片在紅什麼?為何它是投資人眼中的金礦?
The hottest thing in technology is an unprepossessing sliver of silicon closely related to the chips that power video game graphics. It's an artificial intelligence chip, designed specifically to make building AI systems such as ChatGPT faster and cheaper.
Such chips have suddenly taken center stage in what some experts consider an AI revolution that could reshape the technology sector — and possibly the world along with it. Shares of Nvidia, the leading designer of AI chips, rocketed up almost 25 percent on May 25 after the company forecast a huge jump in revenue that analysts said indicated soaring sales of its products. The company was briefly worth more than $1 trillion on Tuesday last week.
SO WHAT ARE AI CHIPS, ANYWAY?
Right: A Nvidia Corp. chip during the Taipei Computex expo in Taipei, Taiwan, on May 29. 輝達公司之晶片,5月29日在台灣台北舉行的台北電腦展中展示。
Photo: Bloomberg 照片:彭博社
That isn't an easy question to answer. "There really isn't a completely agreed upon definition of AI chips," said Hannah Dohmen, a research analyst with the Center for Security and Emerging Technology.
In general, though, the term encompasses computing hardware that's specialized to handle AI workloads — for instance, by "training" AI systems to tackle difficult problems that can choke conventional computers.
VIDEO GAME ORIGINS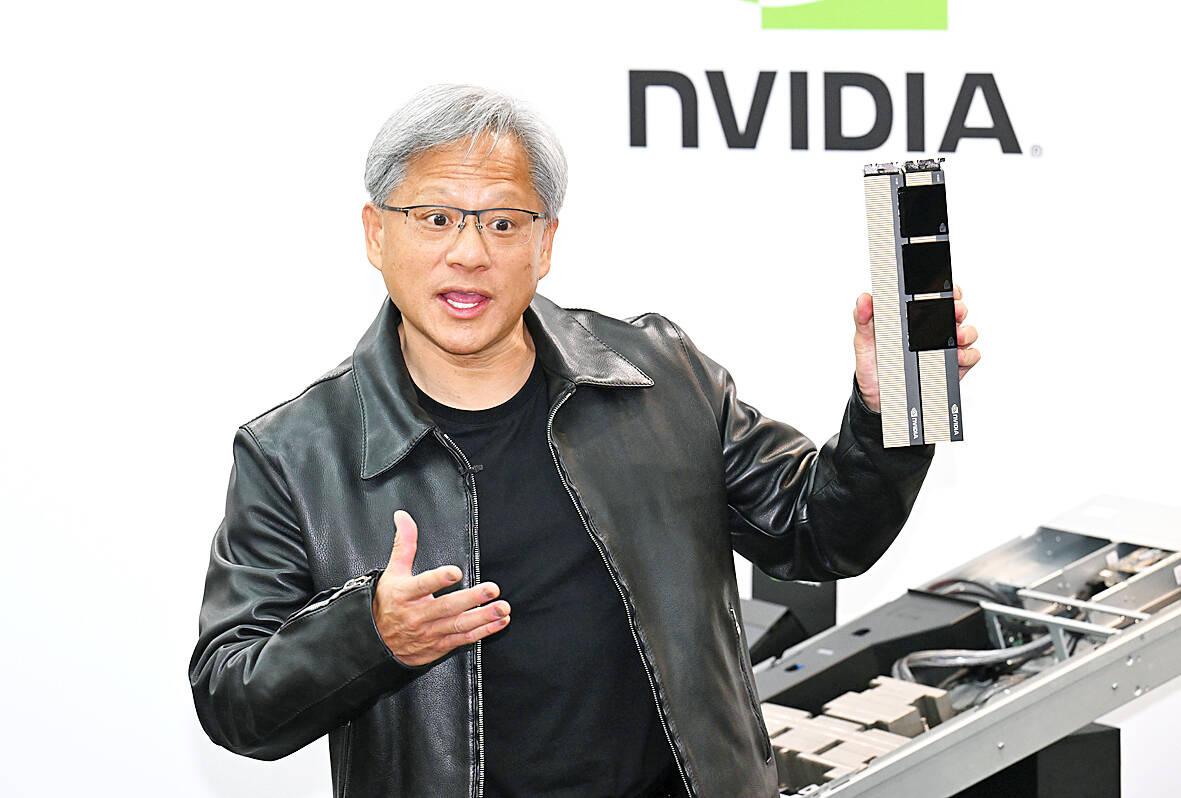 Nvidia Corp.Chief Executive Officer Jensen Huang speaks during a question and answer session for global media and analysts in Taipei on May 30. 輝達執行長黃仁勳,與全球媒體及分析師問答。5月30日攝於台北。
Photo: Tien Yu-hua, Liberty Times 照片:自由時報記者田裕華
Three entrepreneurs founded Nvidia in 1993 to push the boundaries of computational graphics. Within a few years, the company had developed a new chip called a graphics processing unit, or GPU, which dramatically sped up both development and play of video games by performing multiple complex graphics calculations at once.
That technique, known formally as parallel processing, would prove key to the development of both games and AI. Two graduate students at the University of Toronto used a GPU-based neural network to win a prestigious 2012 AI competition called ImageNet by identifying photo images at much lower error rates than competitors.
The win kick-started interest in AI-related parallel processing, opening a new business opportunity for Nvidia and its rivals while providing researchers powerful tools for exploring the frontiers of AI development.
The NVIDIA logo at its corporate headquarters in Santa Clara, California, US in May last year. 輝達總部之公司名NVIDIA標誌。去年5月攝於美國加州聖塔克拉拉。
Photo: Reuters 照片:路透
MODERN AI CHIPS
Eleven years later, Nvidia is the dominant supplier of chips for building and updating AI systems. One of its recent products, the H100 GPU, packs in 80 billion transistors — about 13 million more than Apple's latest high-end processor for its MacBook Pro laptop. Unsurprisingly, this technology isn't cheap; at one online retailer, the H100 lists for US$30,000.
Nvidia doesn't fabricate these complex GPU chips itself, a task that would require enormous investments in new factories. Instead it relies on Asian chip foundries such as Taiwan Semiconductor Manufacturing Co. and Korea's Samsung Electronics.
Some of the biggest customers for AI chips are cloud-computing services such as those run by Amazon and Microsoft. By renting out their AI computing power, those services make it possible for smaller companies and groups that couldn't afford to build their own AI systems from scratch to use cloud-based tools to help with tasks that can range from drug discovery to customer management.
OTHER USES AND COMPETITION
Parallel processing has many uses outside of AI. A few years ago, for instance, Nvidia graphics cards were in short supply because cryptocurrency miners, who set up banks of computers to solve thorny mathematical problems for bitcoin rewards, had snapped up most of them. That problem faded as the cryptocurrency market collapsed in early 2022.
Analysts say Nvidia will inevitably face tougher competition. One potential rival is Advanced Micro Devices (AMD), which already faces off with Nvidia in the market for computer graphics chips. AMD has recently taken steps to bolster its own lineup of AI chips.
Nvidia is based in Santa Clara, California. Co-founder Jensen Huang remains the company's president and chief executive.
(AP)
科技界最熱門的東西是一塊不起眼的矽片,它與驅動電子遊戲圖像的晶片密切相關。這就是人工智慧晶片,專為打造更快、更便宜的ChatGPT等人工智慧系統而設計。
這種晶片一躍而成為人工智慧革命的舞台中心,一些專家認為人工智慧(AI)革命可能會重塑技術領域,乃至整個世界。AI晶片設計領頭羊Nvidia(輝達)的股價5月25日飆漲近25%,先前該公司預測營收將大幅成長,分析師說這代表其產品銷量飆升。上週二,輝達的市值一度超過一兆美元。
那麼AI晶片究竟是啥?
這不是個容易回答的問題。智庫「安全與新興技術中心」研究分析師漢娜‧朵門表示:「對於AI晶片確實沒有一個完全一致的定義」。
不過大致說來,AI晶片包括專門處理人工智慧工作負載——例如「訓練」人工智慧系統來解決傳統電腦可能跑不動的難題——的電腦硬體。
源於電子遊戲
三位企業家於1993年創立了輝達,以開拓電腦圖形的疆界。幾年內,該公司開發了一種稱為圖形處理器(GPU)的新晶片,透過同時執行多個複雜的圖形計算,大大加快了電子遊戲的開發與速度。
這種正式名稱叫作「平行處理」的技術,被證明是遊戲與AI的開發關鍵。多倫多大學兩位研究生使用基於GPU的神經網路辨識照片圖像,以比對手低得多的錯誤率在2012年贏得著名的AI競賽ImageNet。
此勝利激起了人們對AI相關之平行處理的興趣,為輝達及其競爭對手開拓了新的商機,同時提供了研究人員探索AI開發新領域的強大工具。
現代AI晶片
11年後,輝達成了打造與升級人工智慧系統的晶片主要供應商。其最新產品之一H100 GPU包含800億個電晶體——比Apple用於其MacBook Pro筆記型電腦的最新高階處理器多出約1300萬個。可以想見,這項技術並不便宜,H100在一家線上零售商的標價為三萬美元。
輝達自己並不製造這些複雜的GPU晶片——製造這些晶片需要大量投資建新工廠。相反地,它仰賴台積電與韓國三星電子等亞洲晶片代工廠。
AI晶片的一些最大客戶是雲計算服務,例如亞馬遜及微軟所營運的服務。透過出租其AI運算能力,這些服務使無力從頭建置自己的AI系統的小型公司及團體,能夠使用基於雲的工具來助其完成各種工作,從藥物探索到客戶管理等。
其他用途與競爭者
平行處理在AI之外有很多用途。例如幾年前,輝達顯示卡供不應求,因為大部分顯卡都被加密貨幣礦工搶購,這些礦工建立電腦組來解決棘手的數學問題以獲得比特幣獎勵。隨著加密貨幣市場在2022年初崩潰,此問題逐漸消失。
分析師表示,輝達將不可避免地面臨更激烈的競爭。一個潛在的競爭對手是超微(AMD),它已在電腦圖形晶片市場上與輝達分庭抗禮。AMD最近已採取行動加強其AI晶片陣容。
輝達的總部位於美國加州聖塔克拉拉,其共同創辦人黃仁勳仍擔任公司總裁及執行長。
(台北時報林俐凱編譯)
Comments will be moderated. Keep comments relevant to the article. Remarks containing abusive and obscene language, personal attacks of any kind or promotion will be removed and the user banned. Final decision will be at the discretion of the Taipei Times.