ENGLISH DIGEST 實用英語
U2: Are 'emoji' words? You decide 「表情符號」是圖片還是文字?
Do all words need to contain letters? According to the Oxford English Dictionary, maybe not. In 2015, an "emoji" was nominated as its Word of the Year. Specifically, it selected the crying-laughing emoji. This sparked a debate on whether or not emoji count as words. Evolving from character-based emoji, such as :) and :D, picture emoji became massively popular throughout the 2000s.
But can these little pictures and yellow faces actually be called words? Some argue that because they are not found in the dictionary, they cannot be considered words. However, slang words, many of which never appear in the dictionary, are seen as words. Others say that, because emoji exist outside conventional grammar rules, they are not words. However, as emoji are becoming more widespread, they appear to be developing their own grammar and usage rules.
Another argument is that they are merely pictures, not words. Many languages, such as Chinese and sign languages, use visuals to form their words. In that context, it's very possible to describe emoji as words.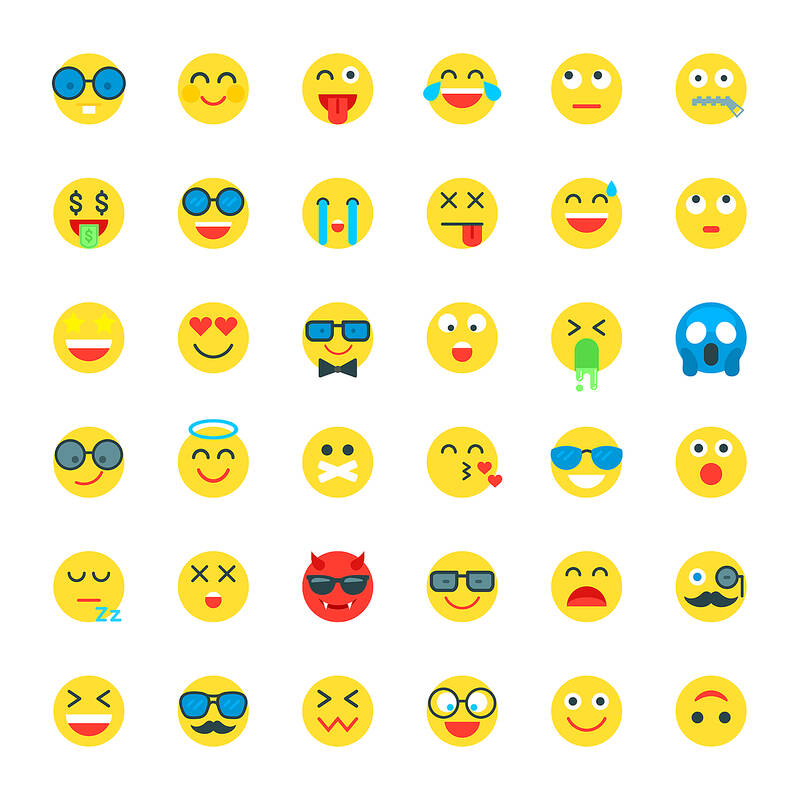 Photo courtesy of Pixabay 照片:Pixabay 提供
Some language researchers have put forth the idea that while emoji are not words, they might be viewed as a type of punctuation. Like commas, exclamation points and similar symbols, emoji help to convey the writer's meaning and intentions. In addition, emoji add emotional nuance and take the place of facial expressions and tone when people are communicating through text.
While there is no definite answer overall, no one can deny the fascinating impact emoji have had in communication.
所有的單字都需要包含字母嗎?根據《牛津英語詞典》,也許不是!西元2015年,一個「表情符號」被提名為年度詞彙。具體來說,它選擇了「含淚大笑的表情符號」。這引發了表情符號是否算是文字的辯論。圖片表情符號從「:)」和「:D」等基於字元的表情符號演變而來,在整個西元2000年代大受歡迎。
但這些小圖和黃色的臉,真的能稱為單字嗎?有些人主張因為在字典中無法查到它們,所以不能將它們視為單字。然而,俚語卻被視為單字,其中許多俚語從未出現在字典中。其他人則表示,由於表情符號存在於常規文法規則之外,因此它們不是單字。然而,隨著表情符號變得越來越普遍,它們似乎正在發展自己的文法和使用規則。
另一種論點是它們只是圖片,並非文字。許多語言,例如中文和手語,都使用視覺元素來構成他們的文字。若在那種情況下,就很可能將表情符號描述為單字。
一些語言研究人員提出,雖然表情符號不是文字,但它們可能被視為一種標點符號的觀點。與逗號、驚嘆號和其他類似符號一樣,表情符號有助於傳達作者的意思和意圖。此外,當人們藉由文字溝通時,表情符號會增添情感的細微差別,並取代面部表情和語氣。
雖然整體來說沒有明確的答案,但沒有人可以否認表情符號在日常溝通中產生的迷人影響。
More Information
slang n. 俚語
punctuation n. 標點符號
exclamation point 驚嘆號
nuance n. 細微差別
Key Vocabulary
1. nominate vt. 提名;任命
Beth nominated her best friend for class president.
貝絲提名她最好的朋友成為班長。
2. evolve v. 演變;發展
Society's ideas of what is right and wrong are constantly evolving.
社會對於什麼是對和錯的觀念不斷地在演變。
3. massively adv. 極其;非常;巨大地
The new online game is massively successful, with over a million players logging in every day.
那款新的線上遊戲非常成功,每天有超過一百萬名玩家登入。
4. conventional adj. 常規的;傳統的
In the early 20th century, painters like Picasso and Duchamp challenged conventional art.
在西元20世紀初期,畢卡索和杜象等畫家對傳統藝術提出異議。
5. visual n. 視覺元素;視覺效果
We used a chart as a visual to explain our experiment's results to the rest of the science class.
我們使用一份圖表作為視覺元素來向科學班的其他同學解釋我們的實驗結果。
6. put forth 提出
The scientist put forth a new theory to explain why the universe is expanding.
那名科學家提出了一個新的理論來解釋為什麼宇宙正在擴張。
7. convey vt. 傳達;表達
Rocky has difficulty conveying his feelings; that's why he acts so tough all the time.
洛基難以表達自己的感受;這就是為什麼他總是表現得如此不友善。
8. definite adj. 明確的;肯定的
The new software update has a definite release date, so everything must be finished by then.
這項軟體新的更新有明確的發布日期,所以每件事都必須在那之前完成。
9. impact n. 影響;作用
The company wants to know if its new advertising campaign has had any impact on sales.
這間公司想了解其新的廣告宣傳活動是否對銷售額有任何影響。
學習音檔: https://magazine.english4u.net/Magdata/menu/0o3lv
《空中美語》雜誌APP免費下載: https://www.english4u.net/apps/index.aspx
免費收聽當月《空中美語》雜誌課文朗讀及解析 !
文章由AMC空中美語授權使用: https://www.english4u.net
Comments will be moderated. Keep comments relevant to the article. Remarks containing abusive and obscene language, personal attacks of any kind or promotion will be removed and the user banned. Final decision will be at the discretion of the Taipei Times.