Young Adult Culture Vouchers available from June 6 「文化成年禮金」6月6日起發放
The Ministry of Culture's Young Adult Culture Vouchers initiative aiming to encourage young people to engage in the arts, cultural activities and theatergoing will be launched on June 6. As part of the initiative, young adults aged 18 to 21 will receive 1,200 "culture points."
The program is applicable to young people aged 18 to 21 with a date of birth from Sept. 1, 2001 to Dec. 31, 2005, including Taiwanese nationals, foreign spouses with a Taiwanese resident certificate and Taiwanese new immigrants, etc. To collect the voucher with the 1,200 "cultural points," applicants simply need to download the app and register, and they will receive the points with immediate effect for the use of seeing Taiwanese movies, watching live performances, buying books, visiting museums and buying cultural and creative products, as well as other arts and cultural consumption.
Purchasing performing arts tickets with the vouchers entitles recipients to a large discount of at least 50 percent off, and limited and exclusive "youth seats" to enjoy popular stage plays, concerts by internationally renowned symphony orchestras and local events, including concerts. Drawing from his own experience, Minister of Culture Shih Che said: "It would be fair to say that I grew up spending lots of time in concert halls," and thanked National Performing Arts Center and local cultural centers for their contribution to the project.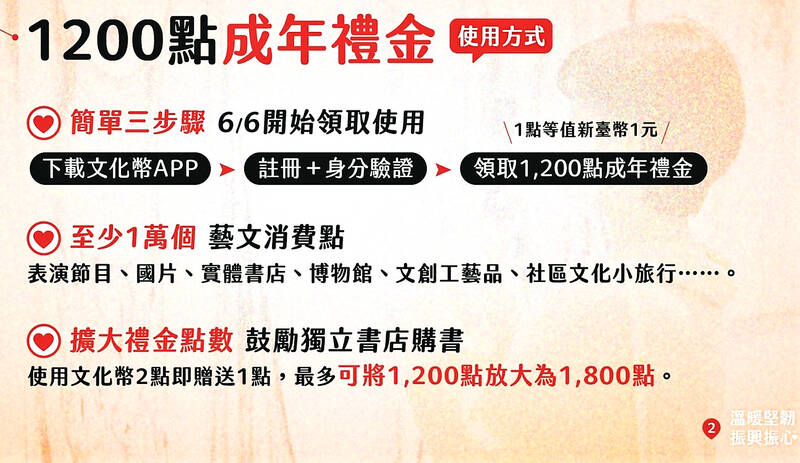 The Young Adult Culture Vouchers will be available from June 6. To collect, applicants should download the app, register with their mobile phone and ID number, and then click to receive. 文化成年禮金預計6月6日開始領取使用,須先完成下載專屬APP、註冊填寫手機及身分證字號、點選領取等三步驟。
Photo courtesy of Ministry of Culture 照片:文化部提供
According to the Ministry of Culture, the performing arts "youth seat" project is a joint effort of the three major venues under the National Performing Arts Center: the National Theater and Concert Hall in Taipei, National Taichung Theater and the National Kaohsiung Center for the Arts, as well as local governments' cultural centers and performance halls. Young adults purchasing performance tickets from those venues with the voucher points are entitled to have a discount of at least 50 percent off.
For movies, the use of the vouchers is limited to Taiwanese releases. With more than 100 movie theaters in Taiwan participating in the program, it is hoped that the preferential ticket prices will attract NT$200 to 300 million more to the box office, increasing the domestic movie box-office revenue by 20 to 30 percent.
As the number of the theaters, bookstores and museums participating in the project continues to grow, more details are to be announced shortly.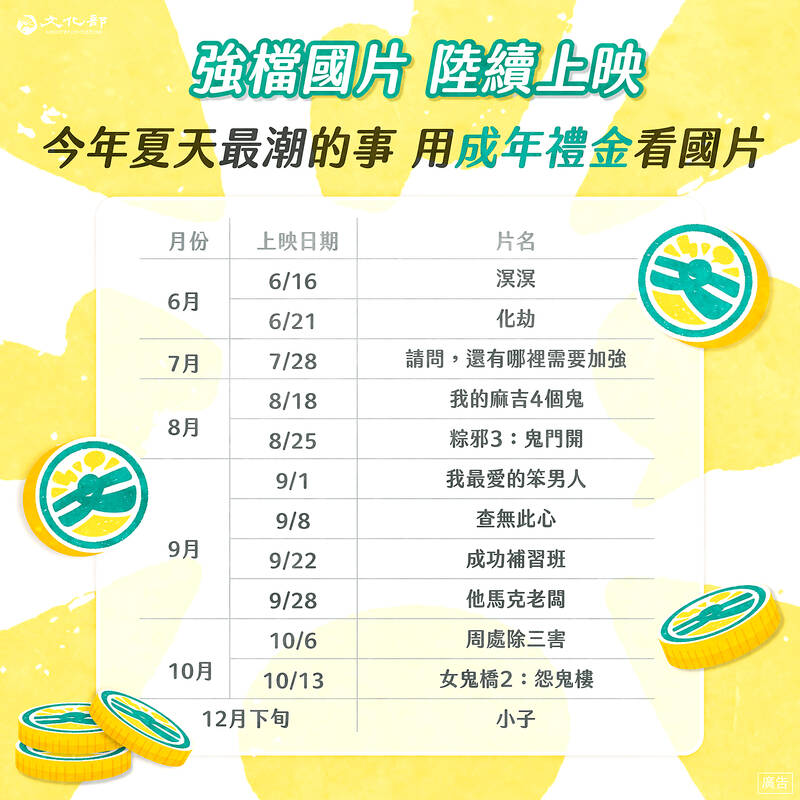 Taiwanese films to be released in the second half of the year, for which the Young Adult Culture Vouchers can be used, according to the Ministry of Culture. 文化部詳列下半年強檔國片,邀請青年用成年禮金看國片。
Photo courtesy of Ministry of Culture 照片:文化部提供
(Translated by Lin Lee-kai, Taipei Times)
由文化部策畫的「文化成年禮金」計畫,旨在鼓勵青年學子支持藝文活動,進劇場觀賞節目,將於6月6日正式開放領取,18至21歲青年將獲得1,200點文化幣。
出生日期在2001年9月1日至2005年12月31日的18至21歲青年,包含本國國民、領有居留證的外籍配偶、新住民等,只要下載專屬App後註冊填寫基本資料,即可馬上領取成年禮金1,200點文化幣,並可立即使用於看國片、看表演、購書、逛博物館、買文創商品等藝文消費。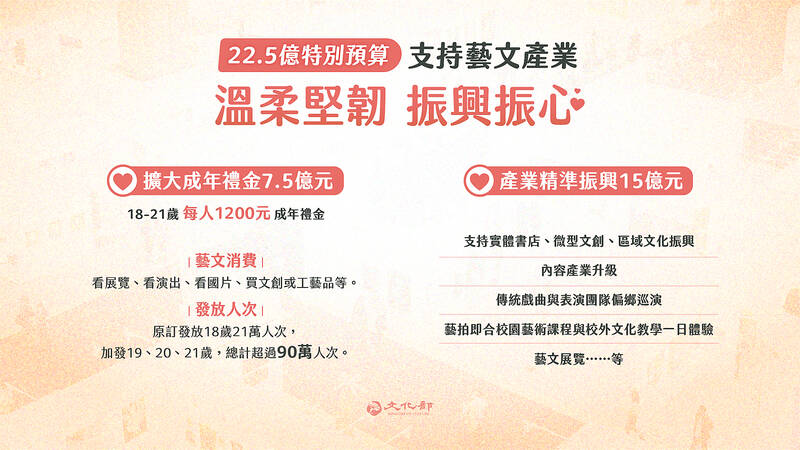 The Executive Yuan has approved the Ministry of Culture's proposed NT$750 million budget for Young Adult Culture Vouchers and NT$1.5 billion for various arts and cultural promotion programs, totaling NT$2.25 billion. Photo taken on Feb. 24. 文化部獲行政院同意編列擴大成年禮金7.5億及各項藝文振興方案15億,合計22.5億元。2月24日攝。
Photo courtesy of Ministry of Culture 照片:文化部提供
以成年禮金購買表演藝術門票,將能享5折或5折以下的超級購票優惠,坐在限量、專屬的青年席位,觀賞包含熱銷舞台劇、國際知名交響樂團音樂會、在地青年樂團等節目。文化部長史哲以自身的經驗提到,「我從小可說是混音樂廳長大的」,感謝國表藝及各縣市文化中心等的共同參與。
文化部說明,表演藝術「青年席位」邀集國家表演藝術中心轄下的台北兩廳院、台中國家歌劇院、高雄衛武營國家藝術文化中心等三大場館,以及各縣市政府文化中心、演藝廳共同推動。青年購買各表演場館推出青年席位的演出節目,以成年禮金點數全額支付,即可以5折或5折以下等優惠價格購入演出票券。
成年禮金在電影消費限定「國片專屬」,統計全台已有超過100家電影院加入成年禮金消費點,期盼在票價優勢等吸引力下,可挹注2至3億到國片票房,推升國片票房成長2到3成。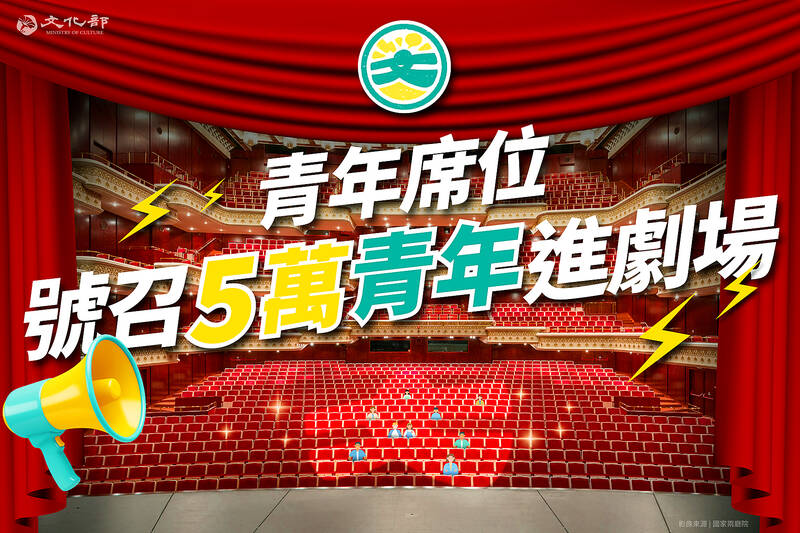 The Youth Seats, exclusive to holders of Young Adult Culture Vouchers, are expected to attract 50,000 young people to theater shows. 成年禮金專屬表演藝術青年席位,號召五萬青年進劇場。
Photo courtesy of Ministry of Culture 照片:文化部提供
提供成年禮金優惠的電影院、書店、博物館等場館持續增加中,細節可密切關注後續公告。
(自由時報)
Comments will be moderated. Keep comments relevant to the article. Remarks containing abusive and obscene language, personal attacks of any kind or promotion will be removed and the user banned. Final decision will be at the discretion of the Taipei Times.