SPEAK UP: Traditional Market Festival: A gastronomic adventure 傳統市場節」美食飄香
A: The Taipei Traditional Market Festival is coming this weekend in the Expo Park.
B: What is your favorite traditional market snack in Taipei?
A: One of my favorite vendors is "Fu Hang Soy Milk" at Huashan Market. How about you?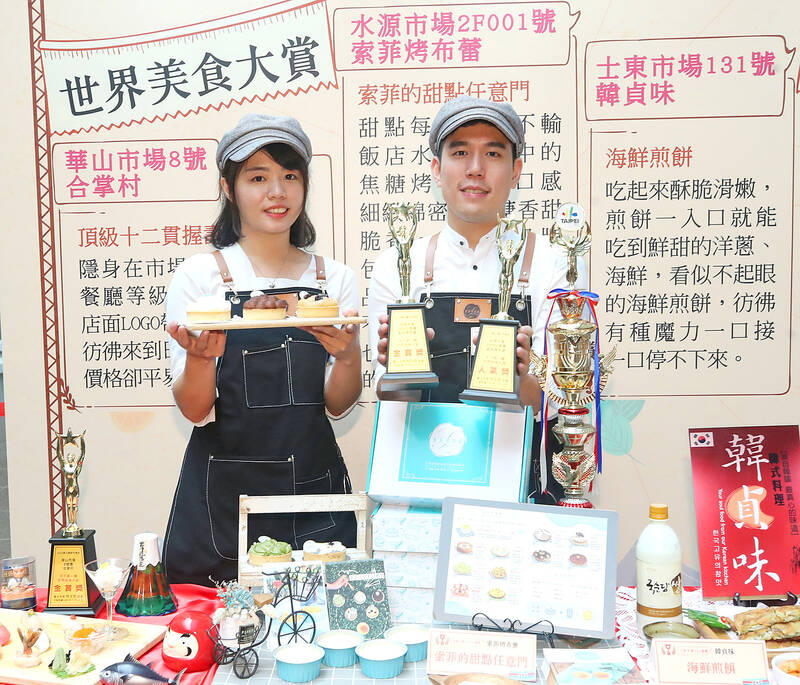 Sophia Creme Brulee at Shuiyuan Market. 水源市場索菲烤布蕾。
Photo: CNA 照片︰中央社
B: I really like Nanmen Market's "Yi Chang Yu Fang" and Shuiyuan Market's "Sage Husband Delicious Food."
A: Let's visit the Expo Park to explore more delicacies.
A︰台北傳統市場節本週末將在花博公園登場!
B︰你喜歡哪些傳統市場的美食?
A︰我喜歡華山市場的阜杭豆漿,你呢?
B︰我喜歡南門市場的億長御坊、水源市場的賢夫美食也不錯。
A︰那去花博看看有哪些美食吧。
(By Eddy Chang, Taipei Times/台北時報張聖恩〉
Comments will be moderated. Keep comments relevant to the article. Remarks containing abusive and obscene language, personal attacks of any kind or promotion will be removed and the user banned. Final decision will be at the discretion of the Taipei Times.