ENGLISH DIGEST 實用英語
U1: Oresund Bridge: The bridge of unity 是橋也是隧道!接起兩國的松德海峽大橋
The Oresund Bridge is one of the greatest bridges built in the last 30 years. Completed in 5 years, the bridge opened to the public in June 2000. It measures 16km in length and connects two countries, Denmark and Sweden, over a body of water known as the Oresund Strait. The incredible thing about this bridge is it turns into an underwater tunnel halfway through the drive.
The Oresund Bridge is a cable-stayed bridge that consists of two levels. Cars go on the upper level, while trains travel on the lower level between Copenhagen, Denmark and Malmo, Sweden. Beneath the bridge, there's space for ships of up to 57m in height to pass.
In addition to the bridge, a remarkable artificial island was built at the same time. It allows cars and trains to meet on the same level before they go into the tunnel. This island is called "Peberholm," and it also serves as a nature reserve for multiple plant and animal species.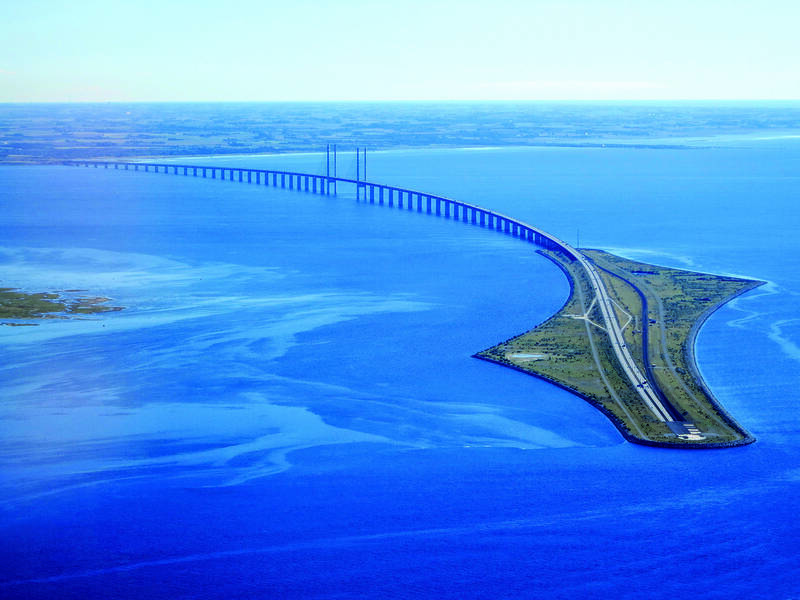 PHOTO COURTESY OF WIKIMEDIA COMMONS / 照片:維基共享資源提供
The creation of this bridge and tunnel has shortened travel to 10 minutes by car and 35 minutes by rail. This cross-border bridge also helps both countries' economies by bringing in more money through tourists and businesses alike. The Oresund Bridge brings not only the people but also their businesses closer together to create new opportunities for all.
松德海峽大橋是過去三十年來所建造最偉大的橋樑之一。這座橋歷時五年完工,於西元2000年6月向公眾開放。它全長16公里,跨越被稱為松德海峽的水域連接丹麥和瑞典兩國。這座橋令人難以置信的是它在行駛途中變成一條海底隧道。
松德海峽大橋是一座由兩層橋面組成的斜張橋。汽車於上層行駛,而火車則於下層行駛,往來於丹麥哥本哈根和瑞典馬爾默之間。橋下有高達57公尺的空間可供船隻通行。
除了大橋之外,還同時建造了一座引人注目的人工島。它讓汽車及火車在進入隧道之前在同一平面上交會。這座島被稱為「佩伯霍爾姆島」,它也是有多種植物和動物物種的自然保護區。
這座橋與隧道的建造將通行時間縮短至開車十分鐘以及搭火車三十五分鐘。這座跨國橋樑還透過遊客和企業賺進更多錢財,促進兩國經濟。松德海峽大橋不僅拉近了人們的距離,也讓企業更加緊密,為所有人創造了新的機會。
MORE INFORMATION
halfway adv. 中途地;中間地
cable-stayed bridge 斜張橋
KEY VOCABULARY
1. unity n. 團結;統一
The government was lacking unity, as many members disagreed with the president's economic plans.
這個政府缺乏團結,因為許多成員反對總統的經濟計畫。
2. consist of 由……組成/構成
A "triathlon" consists of three events: swimming, running, and cycling.
「鐵人三項」由三個項目組成:游泳、跑步、自行車。
3. beneath prep. 在……下面/下方
As we sailed across the lake, we could see a huge school of fish beneath the boat.
當我們駛過湖面時,我們可以看到船底下有一大群魚。
4. up to 多達;至多
People have the opportunity to win up to NT$10 million in the Taiwan Receipt Lottery.
在台灣統一發票開獎中,人們有機會贏得高達新臺幣一千萬元。
5. remarkable adj. 引人注目的;出色的
Everyone stood up and cheered after Jane's remarkable graduation speech.
珍出眾的畢業演講結束之後,大家起立歡呼。
6. artificial adj. 人工的;人造的
These are artificial flowers; that's why they don't smell of anything.
這些是人造花;這就是為什麼它們沒有任何氣味。
7. reserve n. 保護區
The Great Limpopo Transfrontier Park will be one of the biggest reserves in all of Africa.
大林波波河跨境公園將會是整個非洲最大的保護區之一。
學習音檔: https://magazine.english4u.net/Magdata/menu/0o3lv
《空中美語》雜誌APP免費下載: https://www.english4u.net/apps/index.aspx
免費收聽當月《空中美語》雜誌課文朗讀及解析 !
文章由AMC空中美語授權使用: https://www.english4u.net
Comments will be moderated. Keep comments relevant to the article. Remarks containing abusive and obscene language, personal attacks of any kind or promotion will be removed and the user banned. Final decision will be at the discretion of the Taipei Times.