Why Hollywood writers are striking and what it means for audiences 好萊塢編劇為何罷工?觀眾將受何影響?
The union representing 11,500 writers of film, television and other entertainment forms are now on strike. It's the first writers' strike — and the first Hollywood strike of any kind — in 15 years.
WHY ARE THE WRITERS STRIKING?
Streaming and its ripple effects are at the center of the dispute. The guild says that even as series budgets have increased, writers' share of that money has consistently shrunk.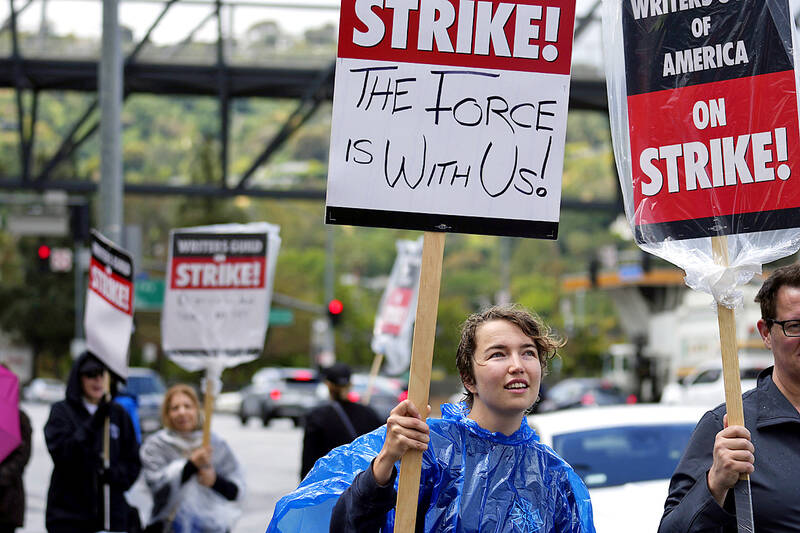 Writer Olivia Dom pickets with fellow members of The Writers Guild of America outside of Universal Studios on May 4, in Universal City, California, US. 編劇奧莉維亞.多姆與美國編劇工會其他成員在環球影城外進行罷工抗議。5月4日攝於美國加州環球市。
Photo: AP 照片:美聯社
Streaming services' use of smaller staffs — known in the industry as "mini rooms" — for shorter stints has made sustained income harder to come by, the guild says. And the number of writers working at guild minimums has gone from about a third to about half in the past decade.
"On TV staffs, more writers are working at minimum regardless of experience, often for fewer weeks," the guild said in a March report.
The lack of a regular seasonal calendar in streaming has depressed pay further, the report says. And scheduled annual pay bumps under the current contract have fallen well short of increases in inflation.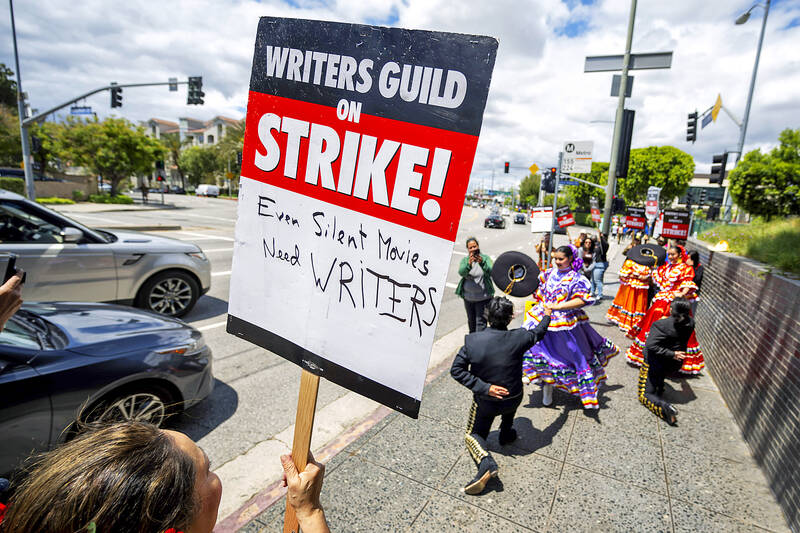 Demonstrators chant and hold signs during a Writers Guild of America demonstration outside of Universal Studios in Universal City, California, US on May 5. 美國編劇工會5月5日在美國加州環球影城外示威,高呼口號並舉著標語。
Photo: AP 照片:美聯社
WHAT SHOWS WILL BE AFFECTED FIRST?
Late-night talk shows, heavily dependent on same-day, current-events-based comedy writing, were the first to feel the strike's effect. The shows have been the de facto frontline during previous writers strikes. NBC's "The Tonight Show Starring Jimmy Fallon," ABC's " Jimmy Kimmel Live!" and CBS's "The Late Show With Stephen Colbert" all went immediately into hiatus and will air reruns. James Corden's Thursday night farewell to his "Late Late Show" was well-timed.
"Saturday Night Live," nearly as dependent on last-minute writing, has already axed this week's episode with host Pete Davidson. The final two episodes in the season that follow it are in serious jeopardy.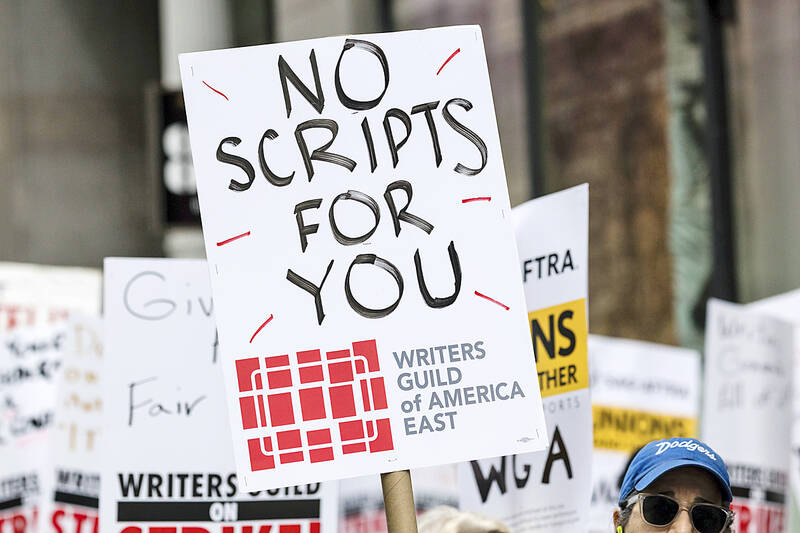 Members of the Writers Guild of America union picket outside Netflix headquarters near Union Square on May 3 in New York, US. 美國編劇工會成員5月3日在美國紐約聯合廣場附近的Netflix總部外進行罷工抗議。
Photo: AP 照片:美聯社
Forthcoming awards shows are keeping plans in place for now, but those could easily fall apart.
HOW WILL THE STRIKE AFFECT SCRIPTED SERIES AND MOVIES?
The strike's impact on scripted series could take far longer to manifest. Noticeable effects on the movie release calendar could take even longer.
Depending on their media consumption methods, many viewers and moviegoers may not notice the effects of a strike until long after it's over, if at all. The menus on Netflix and Amazon Prime Video will look no different next week, but because this would be the first writers' strike of the streaming era, there is no template for how they will look months down the line.
(AP)
代表11,500名電影、電視及其他娛樂形式編劇的工會現正進行罷工。這是15年來第一次的編劇罷工,也是好萊塢的首次罷工。
編劇為何罷工?
串流媒體及其連鎖反應是爭端的核心。該工會表示,即使劇集預算有所增加,編劇分潤所佔之比例卻一直在縮減。
該工會表示,串流媒體服務用較少的員工——業界稱為「mini rooms」(迷你編劇室)——來做時間較短的工作,如此一來,要有穩定的收入就更難了。在過去十年中,以工會最低工資工作之編劇人數從大約三分之一增加到大約一半。
該工會在三月的一份報告中表示:「電視從業人員中,無論其資歷深淺,越來越多的編劇都只能領最低工資,且工作週數通常更少」。
報告寫道,串流媒體缺乏常態的季節性工作時程,這又進一步壓低了薪酬。根據當前合約,預定的年度加薪幅度遠遠低於通貨膨脹的上升幅度。
哪些節目會最先受影響?
深夜脫口秀是重度依賴當天時事的喜劇創作,它最先感受到罷工的影響。在過去的編劇罷工期間,這些節目一直是實際上的戰場前線。NBC的《吉米‧法倫今夜秀》、美國廣播公司(ABC)的《吉米夜現場!》和美國哥倫比廣播公司(CBS)的《荷伯報到》都立即停播,並將重播舊集。詹姆士‧柯登上週四晚上告別他的《深夜秀》來得正是時候。
《週六夜現場》幾乎同樣依賴最後一刻的即時寫作,該節目已砍掉了本週主持人彼得‧戴維森的集數,這一季接下來的最後兩集嚴重難產。
即將舉行的頒獎典禮目前雖說是按原定計畫進行,但這些計畫可能很容易就會告吹。
罷工將如何影響劇集和電影?
罷工對劇集的影響可能要更久才會顯現出來,對電影發行時程的顯著影響可能需要更長的時間。
根據其媒體消費方式,許多收視觀眾及電影觀眾可能要到罷工結束很久以後才會注意到罷工的影響,如果他們會受到影響的話。Netflix和亞馬遜Prime Video的節目表下週看來沒什麼不同,但由於這是串流媒體時代的第一次編劇罷工,因此並無前例可探知數個月後的情況。
(台北時報林俐凱編譯)
Comments will be moderated. Keep comments relevant to the article. Remarks containing abusive and obscene language, personal attacks of any kind or promotion will be removed and the user banned. Final decision will be at the discretion of the Taipei Times.