SPEAK UP: A-mei, Mayday to rock long weekend 阿妹、五月天連假強碰
A: We've got five days off for the long weekend. Yay!
B: I'll take my kids to the zoo on Children's Day on April 4, and then go clean the ancestors' tombs on Tomb-sweeping Day on April 5.
A: I went tomb-sweeping early, so I can go to a couple of concerts in Kaohsiung during the long weekend.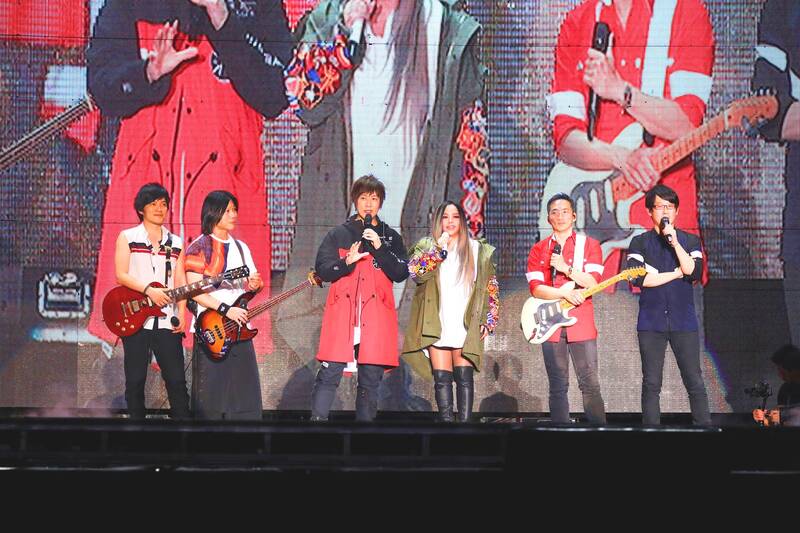 A-mei performs at Mayday's concert. 阿妹擔任五月天演唱會的嘉賓。
Photo courtesy of B'in Music 照片:相信音樂提供
B: Are you going to A-mei's concert at the K-Arena? She is putting on 10 shows there, starting tonight.
A: Yes, and after her show I'll also go to Mayday's concert at the Kaohsiung National Stadium. It'll be a busy long weekend.
A: 這個週末有五天連假,太爽了!
B: 4月4日兒童節我要帶小朋友去動物園玩,4月5日清明節還要去掃墓。
A: 我已經提前掃過墓了,連假期間要去高雄看演唱會唷。
B: 該不會是阿妹在高雄巨蛋的演唱會吧?聽說她從今晚開始將連唱十場。
A: 聽完阿妹之後我還會去五月天在世運主場館的演唱會,這個連假好忙。
(By Eddy Chang, Taipei Times/台北時報張聖恩)
Publication Notes
LANGUAGE TIP 語文小提示
long weekend Long weekend (holiday weekend): A weekend that includes the Friday before, the Monday after, or both, because one does not have to work or go to school on those days, e.g. We took Friday off and went to the coast for a long weekend.
Comments will be moderated. Keep comments relevant to the article. Remarks containing abusive and obscene language, personal attacks of any kind or promotion will be removed and the user banned. Final decision will be at the discretion of the Taipei Times.