How does bank deposit insurance work, and who does it cover? 存款保險是什麼?
In the United States and many other countries, the government guarantees a certain amount of each customer's deposits in the event of a bank failure, to protect both consumers and the broader financial system.
With the collapse of Silicon Valley Bank and Signature Bank and the US government backstopping all deposits at those firms, here is the state of play of deposit insurance in the United States:
WHAT IS THE US DEPOSIT INSURANCE LIMIT?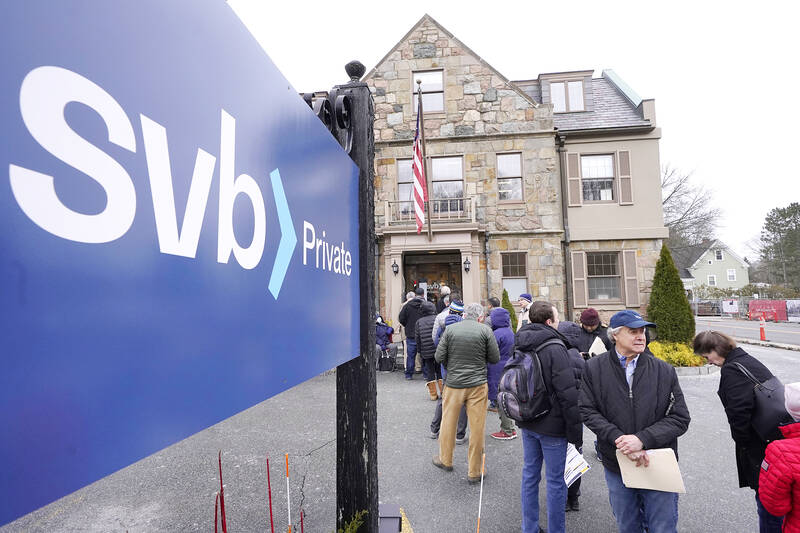 Customers and bystanders form a line outside a Silicon Valley Bank branch location on March 13 in Wellesley, Mass., US. The sudden crisis in the US banking industry is sure to cause some tightening of lending and credit and a slowdown in the pace of borrowing and spending. 客戶和湊熱鬧的人在矽谷銀行分行外排起了長隊。3月13日攝於美國麻薩諸塞州韋爾斯利。美國銀行業突如其來的危機確定將導致貸款及信用緊縮,並放緩借貸與支出之步伐。
Photo: AP 照片:美聯社
Currently, the Federal Deposit Insurance Corp (FDIC) guarantees deposits of up to US$250,000 per person, per bank. That limit was enshrined in law by the 2010 Dodd–Frank Wall Street Reform and Consumer Protection Act passed following the 2008 financial crisis.
WHOSE DEPOSITS ARE NOT INSURED?
Generally speaking, accounts exceeding the US$250,000 limit mostly belong to entities that need a lot of cash on hand to make payroll such as small businesses, nonprofits or municipal governments.
Many other investments, such as stocks, annuities or mutual funds, are not protected from losses.
More than US$9.2 trillion of US bank deposits were uninsured at the end of last year, accounting for more than 40 percent of all deposits, according to US central bank data.
WHAT HAPPENED WITH DEPOSITORS AT SILICON VALLEY BANK AND SIGNATURE BANK?
The collapse of SVB on March 10 - the largest bank failure since 2008 - sparked concerns over whether small-business clients would be able to pay their staff if the FDIC only protected deposits of up to US$250,000.
Some 89 percent of SVB's US$175 billion in deposits were uninsured as of the end of last year, according to the FDIC.
WHAT ARE THE RISKS OF UNINSURED DEPOSITS FOR BANKS?
For banks, a high amount of uninsured deposits pose their own risks. FDIC research from 2018 shows that account holders with uninsured funds are more sensitive to bad news and more quickly move funds to protect them. That means when a bank is in trouble, it may see money heading out the door when it needs it most.
Generally speaking, regulators do not discourage banks from taking in uninsured deposits, so long as they manage that liquidity risk.
COULD THE GOVERNMENT RAISE THE DEPOSIT INSURANCE LIMIT?
Some US lawmakers have said Congress should consider whether a higher federal insurance limit on bank deposits was needed in the wake of the collapse of SVB and Signature Bank, but increasing that limit would require legislation, which could face an uphill battle in a divided Congress heading into an election year.
(Reuters)
在美國及許多其他國家,若有銀行倒閉,政府會為每位客戶一定數額的存款提供擔保,以保護消費者及更廣泛的金融體系。
矽谷銀行(Silicon Valley Bank, SVB)與簽名銀行(Signature Bank)現已倒閉,美國政府為這些銀行存戶之所有存款買單,以下為美國存款保險之現狀:
美國存款保險之額度為何?
目前,美國聯邦存款保險公司(FDIC)所提供的存款擔保為每家銀行每人最高25萬美元。2008年金融危機後在2010年通過的「多德-弗蘭克華爾街改革與消費者保護法案」將此額度定為法律。
誰的存款沒有保險?
一般來說,超過25萬美元保險額度的帳戶大多屬於需要大量可用現金來支付工資的實體,例如小企業、非營利組織或地方政府。
許多其他投資,例如股票、年金或共同基金,都無法避免損失。
根據美國中央銀行的資料,截至去年底,美國有超過9.2兆美元的銀行存款沒有保險,佔所有存款的40%以上。
矽谷銀行及簽名銀行之存戶遭逢何事?
矽谷銀行於3月10日倒閉——這是自2008年以來所倒閉的最大銀行——引發了人們的擔憂,即如果FDIC所保護的存款最高僅25萬美元,小企業客戶是否能夠支付員工工資。
FDIC的數據顯示,截至2022年底,矽谷銀行的1750億美元存款中,約有89%並未投保。
無保險存款對銀行有何風險?
對銀行而言,大量未保險的存款會給銀行本身帶來風險。FDIC在2018年的研究顯示,資金未保險的存戶對壞消息更敏感,並且會更快轉移資金做為保護。這表示當銀行陷入困境時,資金可能會在銀行最需要時流出。
一般來說,監管機構不會阻止銀行吸收無保險的存款,只要銀行管理好流動性風險即可。
政府能否提高存款保險額度?
一些美國立法者表示,有鑑於矽谷銀行與簽名銀行之倒閉,國會應該考慮是否需要提高聯邦銀行存款保險額度。但增加存款保險額度需要立法,這在即將進入選舉年的分裂的國會中,可能會面臨一場硬戰。
(台北時報林俐凱編譯)
Comments will be moderated. Keep comments relevant to the article. Remarks containing abusive and obscene language, personal attacks of any kind or promotion will be removed and the user banned. Final decision will be at the discretion of the Taipei Times.