跟著小實學華語 LEARNING MANDARIN WITH SHIH CHIEN
這張照片很漂亮 This photo is great
對話 Dialogue
小實:馬克早安,你在看什麼?
Xiaoshi: Mǎkè zǎoān, nǐ zài kàn shénme?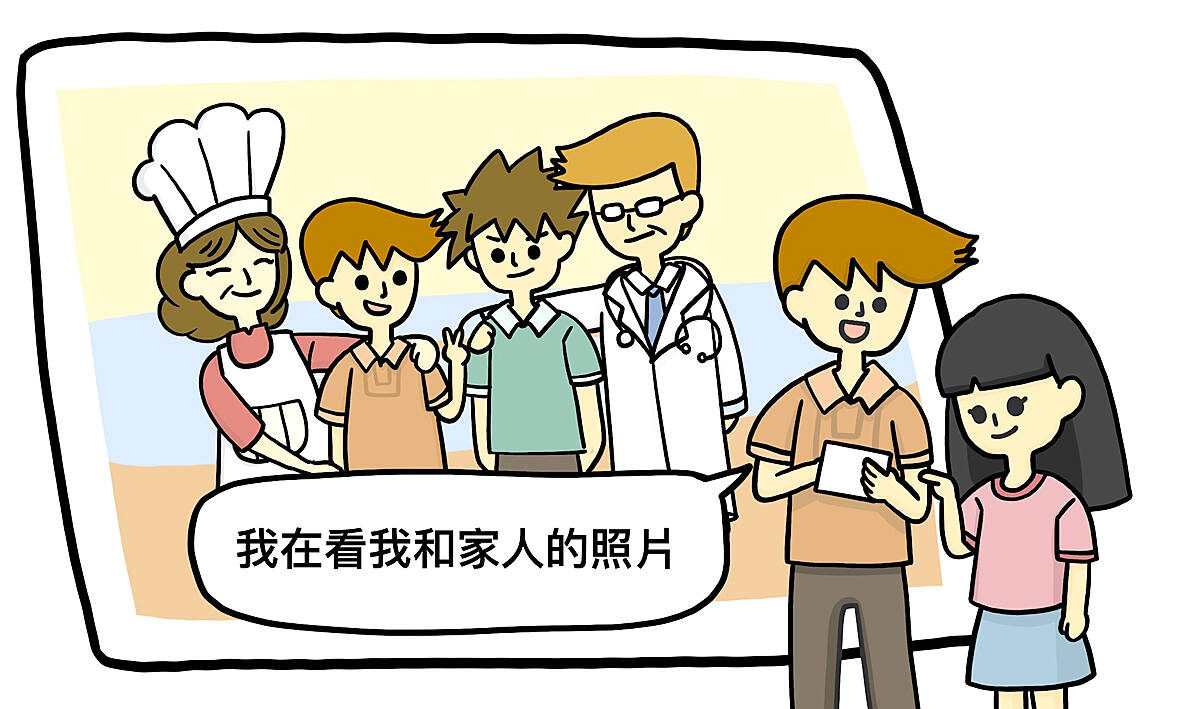 馬克:小實早安,我在看我和家人的照片。
Make: Xiǎoshí zǎoān, wǒ zài kàn wǒ hàn jiārén de zhàopiàn.
小實:這張照片很漂亮,他們都是你的家人嗎?
Xiaoshi: Zhè zhāng zhàopiàn hěn piàoliàng, tāmen dōu shì nǐ de jiārén ma?
馬克:是啊!我的家有四個人,爸爸、媽媽、哥哥和我。
Make: Shì a! Wǒ de jiā yǒu sì ge rén, bàba, māma, gēge hàn wǒ.
小實:真好,我的家只有我和媽媽。
Xiaoshi: Zhēn hǎo, wǒ de jiā zhǐyǒu wǒ hàn māma.
馬克:你是老師,你的媽媽也是老師嗎?
Make: Nǐ shì lǎoshī, nǐ de māma yěshì lǎoshī ma?
小實:不是,我的媽媽是家庭主婦。你呢?
Xiaoshi: Búshì, wǒ de māma shì jiātíng zhǔfù. Nǐ ne?
馬克:我的爸爸是醫生,媽媽是廚師,我很想他們。
Make: Wǒ de bàba shì yīshēng, māma shì chúshī, wǒ hěn xiǎng tāmen.
翻譯 Translation
Xiaoshi: Good morning, Mark. What are you looking at?
Mark: Good morning, Xiaoshi. I'm looking at pictures of me and my family.
Xiaoshi: This photo is great. Are they all your family members?
Mark: Yeah! There are four people in my family: my father, mother, older brother and me.
Xiaoshi: That's great. In my family, there's only me and my mother.
Mark: You are a teacher; is your mother a teacher too?
Xiaoshi: No, my mother is a housewife. What about you?
Mark: My dad is a doctor and my mom is a chef. I miss them a lot.
單字片語 Vocabulary
1. 家人 (jiārén) family member
2. 照片 (zhàopiàn) photo
3. 家庭主婦 (jiātíng zhǔfù) housewife
4. 醫生 (yīshēng) doctor
5. 廚師 (chúshī) chef
6. 想 (xiǎng) to miss
教材音檔 Audio Files
教材影片 Video Files:
https://www.instagram.com/celc.nou_tw/guide/_/17999106352646292/
實踐大學華語中心提供
By Shih Chien University Chinese Language Center: https://chineseusc.com/
Comments will be moderated. Keep comments relevant to the article. Remarks containing abusive and obscene language, personal attacks of any kind or promotion will be removed and the user banned. Final decision will be at the discretion of the Taipei Times.