ANALYTICAL ENGLISH 解析英語
Global population hits 8 billion 全球人口突破八十億!
Humanity reached a milestone in November last year, when the global population exceeded eight billion people. Reaching this number means people are living longer, with generally better access to healthcare, food and sanitation than previous generations.
Along with passing this milestone, many demographic changes are expected to occur in the coming years. A United Nations report shows that the world's population will increase to around 9.7 billion people by the year 2050. It is predicted to peak three decades later at approximately 10.4 billion people and stay around this number until the end of the century. What's interesting to note is that more than half of the population growth up to 2050 will come from just eight countries—the Democratic Republic of the Congo, Egypt, Ethiopia, India, Nigeria, Pakistan, the Philippines and Tanzania.
Although the population is increasing, it isn't climbing as quickly as in the past. The global number has been growing at its slowest rate since the 1950s. In fact, the rate has been below 1% since 2020. Furthermore, fertility rates have been steadily declining over the years. Around two-thirds of humanity lives in countries with fertility rates below 2.1 births per woman, which is the number needed to maintain a population.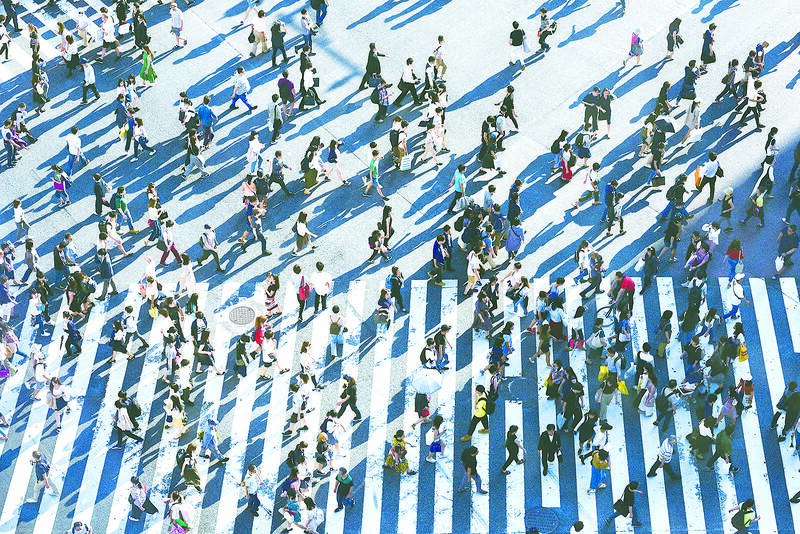 Photo courtesy of Pexels 照片:Pexels提供
Meanwhile, the share of the global population aged 65 and above is rapidly rising. It is predicted to rise from 10% last year to 16% in 2050. Countries with aging populations should adapt their policies by establishing or improving universal healthcare and long-term care systems.
2022年11月,人類達成一項里程碑,就在那時全球人口超過八十億。人口達到這一數量表示跟過去幾代的人相比,人們普遍更容易取得醫療、食物和公衛設施資源,因而活得更久。
除了突破這一項里程碑外,預計未來幾年人口統計資料將發生許多變化。一份聯合國報告顯示,到了2050年,世界人口將增加至大約九十七億。再過三十年,預計將達到約一百零四億的巔峰,並維持在這個數字上下直到本世紀結束。值得注意的是,直到2050年,人口增長有一半以上將來自僅僅八個國家——剛果民主共和國、埃及、衣索比亞、印度、奈及利亞、巴基斯坦、菲律賓、坦尚尼亞。
儘管人口正在增加,但並不像過去那樣迅速攀升。自1950年代以來,全球人口數一直以最慢的速度增加。事實上,自2020年以來,人口成長率一直低於百分之一。此外,過去幾年來生育率持續下滑。全球約三分之二的人類生活在生育率低於每名婦女生2.1個小孩的國家中,這是人口持平所需的數量。
同時,全球六十五歲以上人口的比例正迅速攀升。預計這一比例將從2022年的百分之十在2050年增長至百分之十六。人口高齡化的國家應調整政策,建立或改善全民醫療保健和長期照護的體系。
What Did You Learn?
1. According to the passage, when is the global population supposed to reach its peak?
(A) 2022. (B) 2050. (C) 2080. (D) 2100.
2. Why is a fertility rate of 2.1 births per woman significant?
(A) It is the highest fertility rate ever recorded.
(B) It is the current global average fertility rate.
(C) It is the average fertility rate of the eight largest countries.
(D) It is the number of births a population needs to maintain itself.
參考答案
1. (C) 2. (D)
Word in Use
1. humanity n. 人類(總稱,不可數)
The development of this medicine benefits all of humanity.
這款藥物的研發造福了全人類。
2. exceed vt. 超過
The costs might exceed our budget, so we have to cut down on expenses.
那些費用可能超過我們的預算,所以我們得減少花費。
3. access n.(使用某物的)機會/權利(不可數,常與介詞to並用)
There is limited access to water in the drought-stricken region.
在那個受旱災侵擾的地區,使用水的機會有限。
4. generation n. 一代,世代
Humans should preserve resources for future generations.
人類應為後代保存資源。
5. predict vt. 預測,預料
It's hard to predict which team will win in the soccer competition.
很難預測哪一隊會在那場競爭激烈的足球賽中獲勝。
Practical Phrases
1. along with. . . 除了……(還有);連同/以及……
Green Island, along with Penghu, is a popular tourist spot.
除了澎湖以外,綠島也是人氣觀光勝地。
The prince was killed, along with his bodyguards.
那位王子連同其保鑣都被殺死。
2. up to + 時間點 直到……,在……以前
Up to last week, eight people signed up for the event, and we are expecting more this week.
截至上週,有八人報名參加活動,我們預期這週會有更多人。
3. at + one's / a / an + Adj. + rate 以……的速度
Sales of the popular new smartphone are increasing at a very fast rate.
那款熱賣的新型智慧型手機以非常快的速度增加銷量。
聽文章朗讀及講解: https://ivy.pse.is/455bfu
本文出自常春藤解析英語雜誌: www.ivy.com.tw
Comments will be moderated. Keep comments relevant to the article. Remarks containing abusive and obscene language, personal attacks of any kind or promotion will be removed and the user banned. Final decision will be at the discretion of the Taipei Times.