SPEAK UP: Blackpink to rock Kaohsiung this weekend 韓流天團Blackpink高雄開唱
A: South Korean supergroup Blackpink has finally come to Taiwan, and I'm going to one of their Kaohsiung concerts this weekend. I'm over the moon.
B: My goodness. However did you manage to get a ticket? I've heard that all tickets were snapped up.
A: That's right. They sold 90,000 tickets for the two shows, breaking Coldplay's record of selling 80,000 tickets for two shows in Taiwan.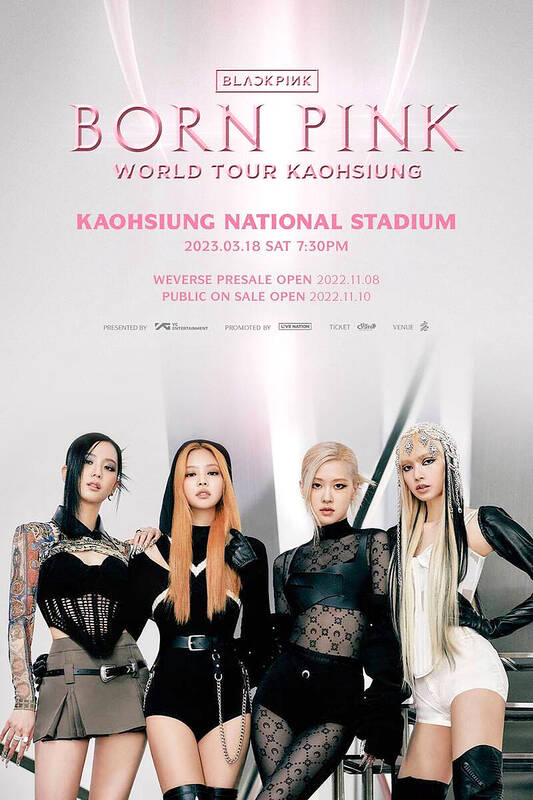 A poster of Blackpink's Kaohsiung concerts. Blackpink高雄演唱會的海報。
Photo courtesy of Live Nation Taiwan 照片:理想國台灣提供
B: No wonder Blackpink is the world's top girl group.
A: Well, I may be too excited to sleep tonight.
A: 南韓女子天團Blackpink終於來台灣啦,而且我週末要去高雄看她們的演唱會,真開心。
B: 天啊,你竟然能搶到門票,聽說所有門票全都被秒殺了。
A: 對啊,這次兩場演唱會賣出九萬張門票,還打破Coldplay兩場賣出八萬張門票的紀錄。
B: 她們真不愧是全球最紅的女團!
A: 我今晚可能會興奮到睡不著吧。
(By Eddy Chang, Taipei Times/台北時報張聖恩)
Publication Notes
Language Tip 語文小提示
supergroup 1. An extremely successful rock group 2. A rock group that is made up of some prominent members of other rock groups.
Comments will be moderated. Keep comments relevant to the article. Remarks containing abusive and obscene language, personal attacks of any kind or promotion will be removed and the user banned. Final decision will be at the discretion of the Taipei Times.