Belgium bans TikTok from government phones after US, EU 禁用抖音 比利時加入美國、歐盟陣營
Belgium is banning TikTok from government phones over worries about cybersecurity, privacy and misinformation, Belgian Prime Minister Alexander de Croo said on Friday last week, mirroring recent action by other authorities in Europe and the US.
The Chinese-owned video sharing app will be temporarily prohibited from devices owned or paid for by Belgium's federal government for at least six months, according to a post on de Croo's Web site.
TikTok said it is "disappointed at this suspension, which is based on basic misinformation about our company." The company said it's "readily available to meet with officials to address any concerns and set the record straight on misconceptions."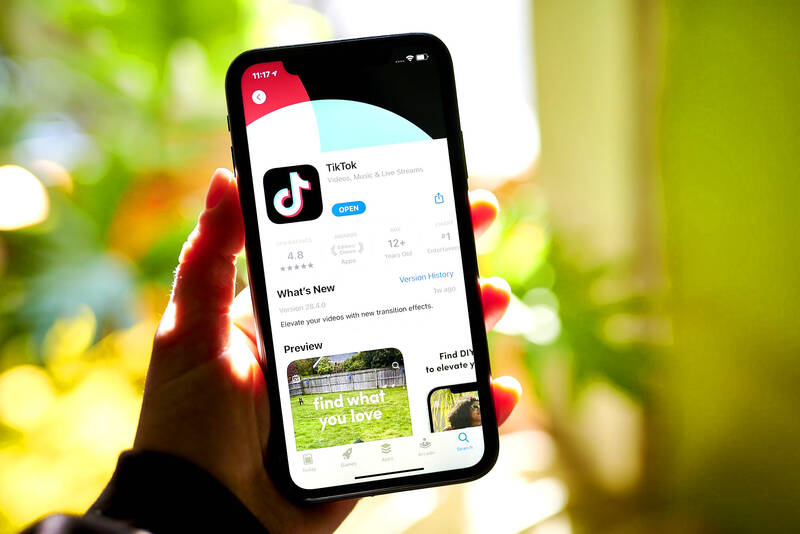 The TikTok application for download in the Apple App store on a smartphone arranged in the Brooklyn borough of New York, US, on March 9. 智慧手機顯示Apple App store中可供下載的抖音應用程式。3月9日攝於美國紐約布魯克林區。
Photo: Bloomberg 照片:彭博社
TikTok is owned by China's ByteDance, which moved its headquarters to Singapore in 2020. The company sought to distance itself from its Chinese roots, saying its parent company is incorporated outside of China and it's majority owned by global institutional investors.
However, the European Union's three main institutions and Denmark's defense ministry have already ordered employees to remove the app from devices used for official business. Similar bans have been imposed in Canada and the US.
FBI Director Christopher Wray said TikTok could be used to control data and software on millions of devices in the US and drive narratives to divide Americans while even intelligence agencies might miss manipulation by the Chinese-owned video app.
Republican Senator Marco Rubio called TikTok "one of the most valuable surveillance tools on the planet."
"They can collect our data, manipulate information, poison the minds and feed garbage into the minds of millions of people," Rubio said. "This is a substantial national security threat for the country, of a kind that we didn't face in the past."
The platform has been under a national security review by the US government's Committee on Foreign Investment in the US, or Cfius, and is set to be banned on federal devices.
The tussle over TikTok is part of a wider global rivalry between China and the US and its Western allies over technological and economic supremacy.
De Croo said Belgium's ban was based on warnings from the state security service and its cybersecurity center, which said the app could harvest user data and tweak algorithms to manipulate its news feed and content.
"We are in a new geopolitical context where influence and surveillance between states have shifted to the digital world," de Croo said in an online statement. "We must not be naive: TikTok is a Chinese company which today is obliged to cooperate with the intelligence services. This is the reality. Prohibiting its use on federal service devices is common sense."
TikTok said user data is stored in the US and Singapore and pointed to new measures to ease European concerns by storing user data in European data centers.
(AP and Bloomberg)
比利時首相亞歷山大.德克羅上週五表示,出於對網路安全、隱私和假消息的顧慮,比利時將禁止政府公務手機使用應用程式抖音,這呼應了歐洲和美國等政府近來所採取的行動。
根據德克羅網站上的一則貼文,這屬於一家中國公司的影片分享應用程式,將暫時被禁止在比利時聯邦政府擁有或支付的設備上使用,禁令為期至少六個月。
抖音表示「此禁令是基於對我們公司的錯誤訊息,我們感到失望」。該公司表示,它「隨時可以會見官員,以解決任何問題,並澄清誤解」。
抖音由中國公司字節跳動所有,該公司在2020年將其總部遷至新加坡。該公司試圖與其中國根源保持距離,稱其母公司是在中國境外註冊成立,其多數股權由全球機構投資者持有。
但歐盟的三個主要機構,以及丹麥國防部已命令其員工將該應用程式自公務用手機中刪除。加拿大及美國也實施了類似的禁令。
美國聯邦調查局局長克里斯多福‧瑞伊表示,抖音可用來控制美國數百萬支手機中的資料和軟體,並散播言論分化美國人,而即使是情報機構也可能會忽略這中國影音應用程式的操縱。
共和黨參議員馬可‧盧比歐稱抖音是「地球上最有價值的監控工具之一」。
「他們可以收集我們的資料、操縱訊息、毒害思想,並將垃圾灌入數百萬人的思想中」,盧比歐說。「這對國家來說是重大的國安威脅,我們過去未曾遭遇過這種威脅」。
該平台已接受美國政府海外投資委員會(Cfius)的國家安全審查,且將在聯邦設備上禁用。
抖音之爭是中國與美國及其西方盟友在全球技術與經濟霸權之更廣泛競爭的一環。
德克羅表示,比利時的禁令是基於國安部門及網路安全中心之警告,網路安全中心表示該應用程式可收集用戶資料,並調整演算法以操縱其動態消息及內容。
「我們處於一個新的地緣政治脈絡中,國家之間的影響與監視已經轉移到數位世界」,德克羅在一份線上聲明中表示。「我們不能太天真:抖音是一家中國公司,今天有義務與情報單位合作。這就是現實。禁止在聯邦單位設備上使用抖音是常識」。
抖音表示,其用戶之資料是儲存在美國與新加坡,並提出將用戶資料儲存在歐洲資料中心之新措施,來緩解歐洲之疑慮。
(台北時報林俐凱編譯)
Comments will be moderated. Keep comments relevant to the article. Remarks containing abusive and obscene language, personal attacks of any kind or promotion will be removed and the user banned. Final decision will be at the discretion of the Taipei Times.