SPEAK UP: 'Everything Everywhere All At Once' to shine at Oscars 《媽的多重宇宙》進軍奧斯卡
A: The Academy Awards ceremony is coming up. Which film is likely to be the biggest winner, do you think?
B: With 11 nominations, "Everything Everywhere All At Once" is likely to win big at the Oscars!
A: And my favorite actress Michelle Yeoh has been nominated for Best Leading Actress for that movie.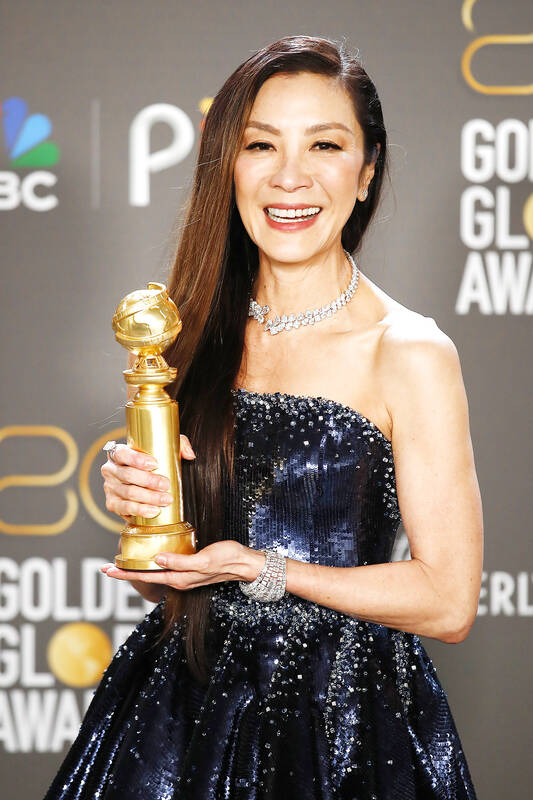 Golden Globe-winning actress Michelle Yeoh. 金球獎影后楊紫瓊。
Photo: EPA 照片:歐新社
B: So she'll become the first Asian to claim the title at the Oscars?
A: We'll soon find out the results at the show next Monday.
A: 奧斯卡獎頒獎典禮就要登場了,你覺得哪部電影會是大贏家呢?
B: 《媽的多重宇宙》入圍十一項,應該有機會奪下大獎!
A: 女主角楊紫瓊這次也榮獲提名,她可是我最喜歡的女演員之一。
B: 她會成為第一位得到奧斯卡最佳女主角獎的亞洲人嗎?
A: 我們很快下週一就知道結果啦。
(By Eddy Chang, Taipei Times/台北時報張聖恩〉
Publication Notes
Language Tip 語文小提示
likely (adj.) Having a high probability of occurring or being true; something very probable, e.g. rain is likely today.
Comments will be moderated. Keep comments relevant to the article. Remarks containing abusive and obscene language, personal attacks of any kind or promotion will be removed and the user banned. Final decision will be at the discretion of the Taipei Times.