SPEAK UP: Some highly-anticipated events in 2023 (1/3) 2023年你最期待什麼事?(一)
A: As we enter the new year, is there anything to look forward to in 2023?
B: Sure, events such as King Charles III's coronation, FIFA's Women's World Cup in New Zealand and Australia, and India surpassing China as the most populous country are all highly anticipated.
A: And my favorite — Disney — also celebrates its centennial anniversary.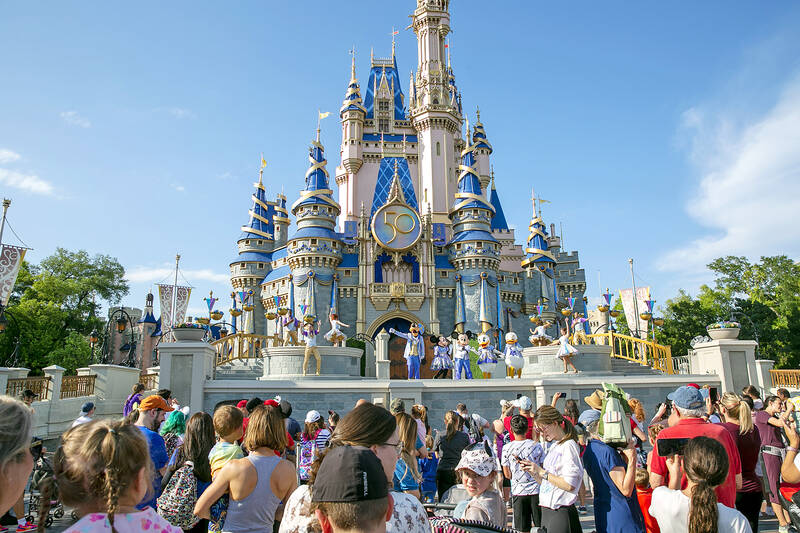 The Walt Disney World Resort in Florida. 佛羅里達州迪士尼世界度假區。
Photo: AP 照片:美聯社
B: Really? Let's go to Disney World for the grand celebrations.
A: 進入新的一年,會有什麼令人期待的事物嗎?
B: 英國國王查爾斯三世的加冕典禮、世界盃女足賽將在紐、澳開踢、印度人口超越中國……這些都將是今年的大事!
A: 我最喜歡的迪士尼,今年也即將歡慶一百週年了。
B: 真的嗎?我們去迪士尼樂園園一起慶祝吧。
(By Eddy Chang, Taipei Times/台北時報張聖恩)
Publication Notes
LANGUAGE TIP 語文小提示
look forward to To anticipate with pleasure or satisfaction, e.g. looking forward to your visit.
Comments will be moderated. Keep comments relevant to the article. Remarks containing abusive and obscene language, personal attacks of any kind or promotion will be removed and the user banned. Final decision will be at the discretion of the Taipei Times.