SPEAK UP: Swift, other pop divas dominate charts (2/2) 流行天后稱霸排行榜(二)
A: Apart from Taylor Swift and Rihanna, which female singers often top the charts?
B: Well, Beyonce and Adele are both popular chart-toppers.
A: Beyonce and Adele just won nine and seven nominations for the Grammys, right?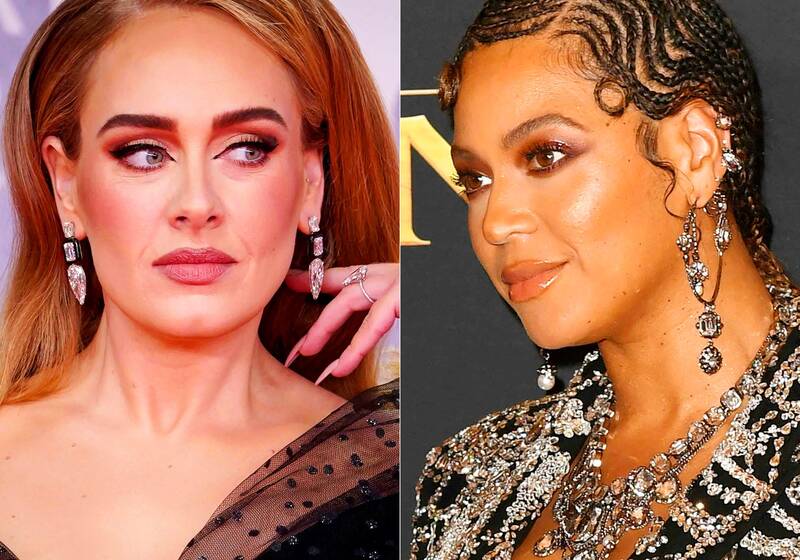 Singers Adele, left, and Beyonce. 歌手愛黛兒(左)與碧昂絲。
Photo: AFP 照片:法新社
B: And my favorite singer Lady Gaga was nominated, too.
A: The competition will be so fierce for the Grammys, scheduled for Feb. 6 next year.
B: They are truly the "pop divas" in today's music!
A: 除了泰勒絲和蕾哈娜,還有哪些女歌手經常上榜?
B: 碧昂絲、愛黛兒人氣也很高啊。
A: 她們最近不是各入圍了九項與七項葛萊美獎?
B: 我最愛的女神卡卡也入圍了耶。
A: 明年二月六日的葛萊美獎競爭好激烈。
B: 這幾位可真是樂壇的「流行天后」!
(By Eddy Chang, Taipei Times/台北時報張聖恩)
Publication Notes
Language Tip 語文小提示
diva 1. A prima donna 2. An unusually glamorous and successful female performer or personality (especially a popular female singer)
Comments will be moderated. Keep comments relevant to the article. Remarks containing abusive and obscene language, personal attacks of any kind or promotion will be removed and the user banned. Final decision will be at the discretion of the Taipei Times.