SPEAK UP: Swift, other pop divas dominate charts (1/2) 流行天后稱霸排行榜(一)
A: Hey, are you listening to Taylor Swift's new songs?
B: Yeah, she recently made history by claiming all top 10 of the Billboard Hot 100 at the same time!
A: After a wait of six years, another chart-topper — Rihanna — has also released a new song.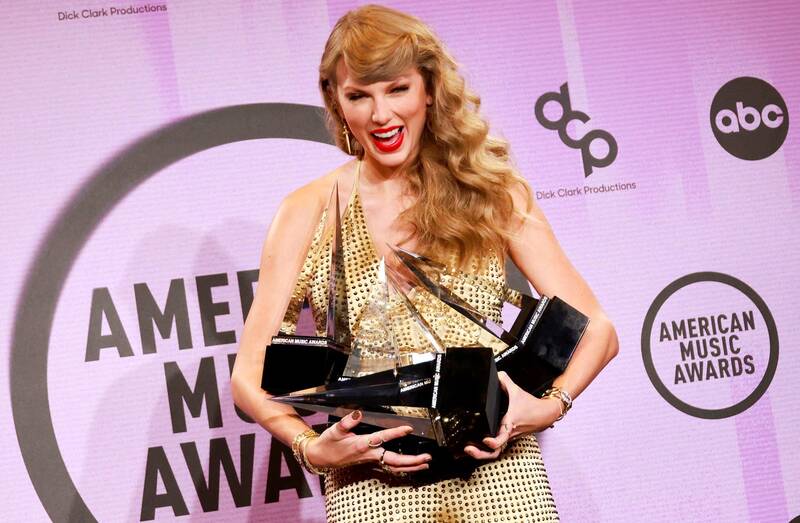 Singer Taylor Swift displays her trophies. 歌手泰勒絲大秀獎座。
Photo: Reuters 照片:路透
B: Six years? What a long wait.
A: 你在聽泰勒絲的新歌嗎?
B: 對啊,她最近在《告示牌》排行榜創下一項歷史紀錄,同時包辦百大單曲榜前十名!
A: 另一位排行榜霸主——蕾哈娜——最近也終於推出新歌了,我都已經等了六年啦。
B: 六年?讓歌迷等太久了吧。
(By Eddy Chang, Taipei Times/台北時報張聖恩)
Publication Notes
Language Tip 語文小提示
chart-topper A singer, band or video that comes top in the charts, e.g. "This new movie soundtrack also features chart-topper Rihanna."
Comments will be moderated. Keep comments relevant to the article. Remarks containing abusive and obscene language, personal attacks of any kind or promotion will be removed and the user banned. Final decision will be at the discretion of the Taipei Times.