SPEAK UP: Dwight Howard joins team in Taiwan (2/2) 「魔獸」霍華德震撼籃壇(二)
A: I remember T1 League was newly established last year.
B: Yeah, the league has six teams: the Taiwan Beer Hero Bears, New Taipei CTBC DEA, Taoyuan Leopards, Taichung Suns, Tainan TSG Ghost Hawks and Kaohsiung Aquas.
A: But in Taiwan, there are also the Super Basketball League and P+ League.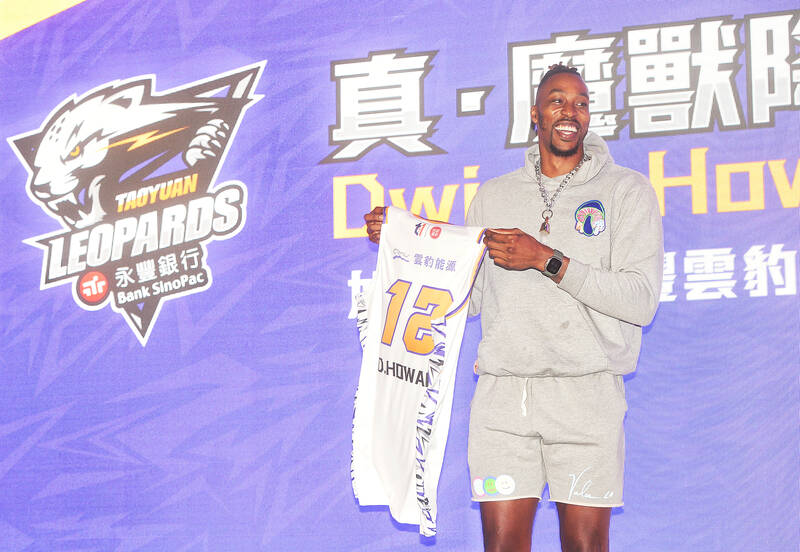 Dwight Howard of the Taoyuan Leopards. 桃園雲豹隊「魔獸」霍華德。
Photo: Lin Cheng-kung, Liberty Times 照片:自由時報林正坤
B: So there are three leagues with 17 teams now. No wonder fans often get confused.
A: As the three leagues keep competing with each other, it's a pity that the limited resources cannot be integrated effectively.
A: 我記得T1聯盟是去年新成立的。
B: 對啊它共有六支球隊︰台灣啤酒英熊、新北中信特攻、桃園永豐雲豹、台中太陽、台南台鋼獵鷹、高雄全家海神。
A: 但是台灣還有SBL聯盟、P+聯盟。
B: 三個聯盟十七支戰隊,難怪球迷經常被搞混。
A: 而且聯盟間互相競爭,資源無法整合真可惜!
(By Eddy Chang, Taipei Times/台北時報張聖恩)
Publication Notes
Language Tip 語文小提示
it's a pity A cause for regret or disappointment, e.g. "It's a pity that you didn't watch the game."
Comments will be moderated. Keep comments relevant to the article. Remarks containing abusive and obscene language, personal attacks of any kind or promotion will be removed and the user banned. Final decision will be at the discretion of the Taipei Times.