SPEAK UP: Dwight Howard joins team in Taiwan (1/2) 「魔獸」霍華德震撼籃壇(一)
A: Wow, former NBA player Dwight Howard has announced that he is joining Taiwan's T1 League!
B: Which team is he playing for?
A: He's playing for the Taoyuan Leopards. With a monthly salary of US$200,000, he's the highest-paid professional basketball player in Taiwan.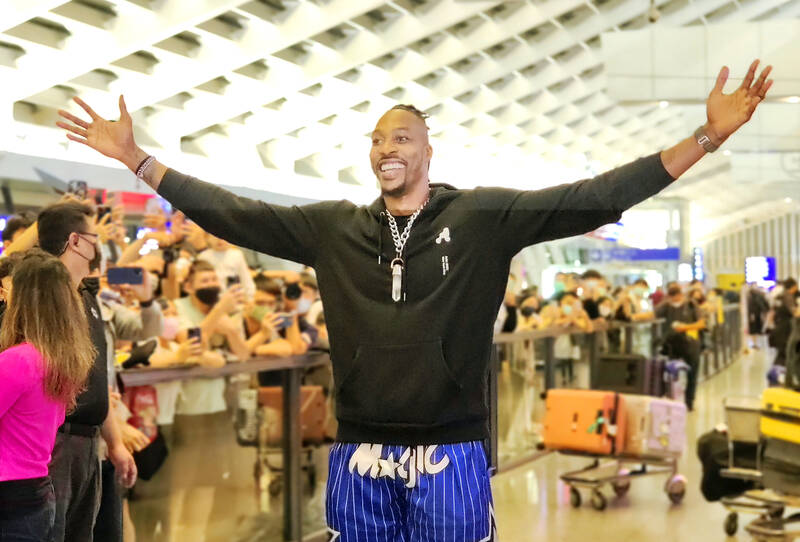 Dwight Howard of the Taoyuan Leopards. 桃園雲豹隊「魔獸」霍華德。
Photo: Yao Kai-shiou, Liberty Times 照片:自由時報姚介修
B: The team's parent company J&V Energy Technology Co is so ambitious.
A: Let's go watch his games someday.
A: NBA球星「魔獸」霍華德加入台灣T1聯盟了!
B: 他加入了哪一個球隊?
A: 桃園永豐雲豹,聽說月薪二十萬美元,是台灣最高薪的職籃球員。
B: 球隊的母公司雲豹能源科技還真是大手筆耶。
A: 我們也去看他打球吧。
(By Eddy Chang, Taipei Times/台北時報張聖恩)
Publication Notes
Language Tip 語文小提示
parent company A corporation or other business enterprise that owns controlling interests in one or more subsidiary companies.
Comments will be moderated. Keep comments relevant to the article. Remarks containing abusive and obscene language, personal attacks of any kind or promotion will be removed and the user banned. Final decision will be at the discretion of the Taipei Times.