ENGLISH DIGEST 實用英語
Turkeys: The truth behind the name of these strange birds 為什麼火雞的英文 跟土耳其一樣呢?
It's Thanksgiving time in the US. This involves the traditional Thanksgiving dinner, which includes a freshly cooked turkey. But what is a turkey? And why does it share a name with the country Turkey, despite being native to North America? It seems like the appropriate1time to get to the bottom of these burning questions!
The story starts with the guinea fowl, a bird from West Africa. Apparently, these birds started showing up in England in the 1500s, and the English didn't know what to call them. They arrived from Turkey through spice trade routes, so the English called them "turkey-cocks" or "turkey-hens."
Meanwhile, in 1526, actual turkeys started to arrive in England from North America, and the English misunderstood them to be the same type of animal. Once people figured out that the two were different species, they used the shortened name "turkey" to refer to the American bird.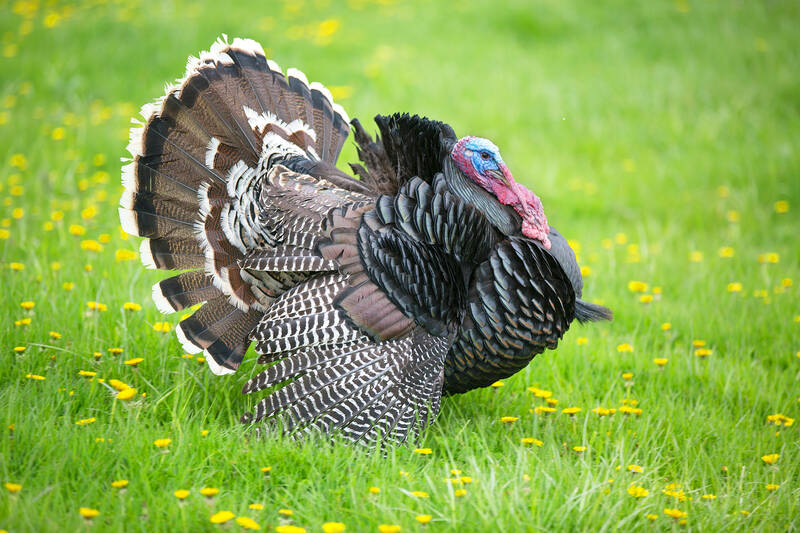 Photo courtesy of Unsplash / 照片:Unsplash提供
That's not the end of the story, though! In other languages, the name for this bird has translations that are equally puzzling. For example, in Turkey, its name means "(the bird) from India." The Greek name means "French chicken," and the Portuguese name is "Peru."
But as Shakespeare wrote, "What's in a name?" No matter what we call them, these peculiar animals have earned a place in our hearts, not to mention our stomachs. Happy Thanksgiving!
現在正是美國的感恩節。這包含了傳統的感恩節晚餐,其中有新鮮烹調的火雞。但火雞是什麼呢?而且它為何會與國家土耳其同名,儘管它原產於北美呢?似乎是徹底查明這些熱烈討論的問題的適當時機!
 故事從珠雞開始,這是一種來自西非的鳥。據說這些鳥於西元1500年代開始出現在英格蘭,而英格蘭人不知該怎麼稱呼它們。珠雞透過香料貿易路線從土耳其抵達英格蘭,因此英格蘭人稱他們為「turkey-cocks(土耳其公雞)」或「turkey-hens(土耳其母雞)」。
與此同時,西元1526年時真正的火雞開始從北美傳入英格蘭,而英格蘭人將它們誤認為同一種動物。人們一理解這兩者是不同的物種時,他們就使用「turkey」這個簡稱來指這美洲的鳥。
 不過,這還不是故事的結局!在其他語言中,這種鳥的名字有同樣令人困惑的翻譯。舉例來說,在土耳其,它的名字意思是「來自印度的(鳥)」。希臘語的名字意思是「法國的雞」,葡萄牙語的名字則是「Peru」。
 但正如莎士比亞所寫,「名字裡又有什麼呢?」無論我們怎麼稱呼牠,這奇特的動物已經在我們心中佔有一席之地,更不用說在我們的胃了。感恩節快樂!
Key Vocabulary
1. appropriate adj. 適當的;合適的
Vince and Yvette went shopping for an appropriate wedding gift for their friends.
文斯與伊薇特去購物,為他們的朋友買合適的結婚禮物。
2. apparently adv. 據說;看來
Jamal just called. Apparently, they're having some problems at the factory.
賈馬爾剛才打了電話。看來,他們在工廠遇到了一些問題。
3. misunderstand vt. 誤解;誤會
(三態 misunderstand-misunderstood-misunderstood)
Please don't misunderstand me. I'm not upset with you, I'm just too tired to go out tonight.
請別誤解我。我沒有生你的氣,我今晚只是太累了無法出門。
4. species n. 物種(單複數同形)
This species has adapted to the extreme conditions of the area's harsh climate.
此物種已經適應了該地區惡劣氣候的極端條件。
5. shorten v.(使)變短;縮短
The pants fit around her waist but they were a bit too long, so Sally had them shortened.
這件褲子符合她的腰身,但有點太長,所以莎莉將它修短。
6. peculiar adj. 奇特的;奇怪的
Danny has a peculiar eating habit; he has to scratch his chin before every meal.
丹尼有一個奇特的飲食習慣;他在每餐前都要抓下巴。
7. not to mention 更不用說;此外
I don't want to go to the beach. It'll be crowded, not to mention the
fact that it might rain.
我不想去海灘。那裡會很擁擠,更不用說可能會下雨。
學習音檔: https://magazine.english4u.net/Magdata/menu/d0ess
《空中美語》雜誌APP免費下載: https://www.english4u.net/apps/index.aspx
免費收聽當月《空中美語》雜誌課文朗讀及解析 !
文章由AMC空中美語授權使用: https://www.english4u.net
Comments will be moderated. Keep comments relevant to the article. Remarks containing abusive and obscene language, personal attacks of any kind or promotion will be removed and the user banned. Final decision will be at the discretion of the Taipei Times.