ENGLISH DIGEST 實用英語
The 'cat-tastic' island of Tashirojima 貓奴們準備出發!療癒人心的日本貓之島
Tashirojima, also known as "Cat Island," sits just off the east coast of Japan. Here, hundreds of cats roam freely, cared for by around 80 human inhabitants of this delightful island. Tashirojima isn't filled with cats by chance, though.
Hundreds of years ago, the residents raised silkworms for textile production. However, they couldn't control the silkworms' natural predator: mice. Cats were obviously the best solution. Later, fishermen on the island believed that cats brought good luck. They gave the beloved creatures fresh food and even devoted a shrine to a cat that had been killed by falling rocks.
In fact, the Cat Shrine is an ideal stop on a visit around Tashirojima. The tiny memorial is crowded with cat statues — and often with real cats, too. Located in the center of the island, the shrine is between the two port towns of Odomari and Nitoda. Tourists can walk between the villages via a series of trails.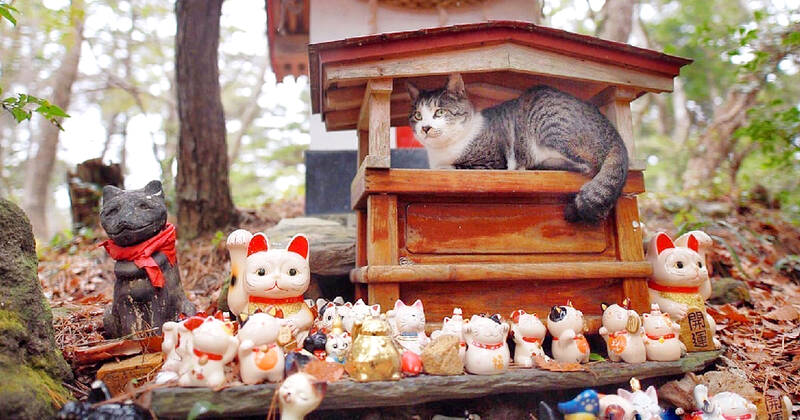 Photo courtesy of Flickr / 照片:Flickr提供
The most enjoyable activity on Cat Island, of course, is playing with cats, but the best one is spending money. The economy nowadays relies heavily on tourists' generosity. Note, though, that most cafes are open seasonally, and there are no genuine restaurants on the island. Further, only in Nitoda can visitors find Tashirojima's single large shop.
Interested tourists can book an overnight stay at various guesthouses, or at Manga Island, a unique, art-inspired camping site. Check out the lucky cats of Tashirojima yourself, and don't forget Cat Island's most crucial rule: let the cat lead the way.
田代島,也被稱為「貓島」,坐落於日本東海岸附近。在這裡,數百隻貓自由漫步,由這座怡人島嶼上八十位左右的居民悉心照料。不過,田代島並非偶然充滿了貓。
數百年前,當地居民養蠶以用於紡織品生產。然而,他們無法管制蠶的天敵:老鼠。而貓顯然是最佳解方。後來,島上的漁民相信貓會帶來好運。他們為心愛的貓提供新鮮食物且甚至供奉一座神社給一隻被落石砸死的貓。
 事實上,貓咪神社是遊覽田代島的理想停留地。小小的紀念碑充斥著貓的雕像──而且也經常有真貓出沒。貓咪神社位於田代島的中心,即大泊與仁斗田兩個港口城鎮之間。遊客可以經由一連串的小徑在村莊間步行。
在貓島上最有趣的活動當然是和貓玩耍,但最棒的還是花錢。如今島上的經濟,在很大程度上仰賴於遊客們的慷慨。但請注意,大多數咖啡廳都是季節性營業,島上也沒有一間真正的餐廳。此外,只有在仁斗田才能找到田代島唯一的大型商店。
 有興趣的遊客可以在不同的小客棧預訂一晚住宿,或是住在漫畫島,一個獨特、以藝術為靈感的露營地。親自去看看田代島的幸運貓咪吧,且別忘了貓島上最關鍵的規則:讓貓為你帶路。
MORE INFORMATION
tastic 極好
roam v. 漫步;漫遊
silkworm n. 蠶
textile n. 紡織品
KEY VOCABULARY
1. inhabitant n. 居民;棲息物種
The war forced the inhabitants of the country to leave their hometowns.
那場戰爭迫使該國居民離開他們的家鄉。
2. predator n. 掠食者
A zebra's stripes help it hide, which protects the animal from predators that are trying to hunt it.
斑馬的斑紋幫助牠躲藏;這保護牠免於受到掠食者的捕獵。
3. memorial n. 紀念碑
The memorial was built to honor all the soldiers who had died in the war.
這座紀念碑是建造來表彰所有在那次戰爭中陣亡的士兵。
4. trail n. 小徑
If you follow that path through the woods, you'll find a beautiful waterfall at the end of the trail.
如果你沿著那條步道穿越樹林,你會在小徑的盡頭發現一座美麗的瀑布。
5. economy n. 經濟
Big companies get a lot of attention, but small businesses are still important to the economy.
雖然大企業受到很多關注,但小公司對經濟仍然非常重要。
6. genuine adj. 真正的;真誠的
This wallet is supposedly a Montblanc, but I don't think it's genuine because I got it at a
night market.
這個皮夾的牌子據說是萬寶龍,但我認為它不是真的,因為我是在夜市買的。
7. overnight adj. 一夜的;夜間的
Landon didn't sleep well last night because he took an overnight bus from Boston to New York City.
蘭登昨晚沒睡好,因為他從波士頓搭夜間巴士到紐約。
8. inspired adj. 以…為靈感的;啟發性的
Amy's knowledge of environmental issues allowed her to give an inspired speech at
the town meeting.
艾咪對環境議題的了解使她能夠在城鎮會議上發表富有啟發性的演講。
9. crucial adj. 關鍵的;重要的
Jennifer is a crucial part of this team: she communicates with our bosses.
珍妮佛是這個團隊中的一個重要角色:她負責和我們的老闆溝通。
學習音檔: https://magazine.english4u.net/Magdata/menu/d0ess
《空中美語》雜誌APP免費下載: https://www.english4u.net/apps/index.aspx
免費收聽當月《空中美語》雜誌課文朗讀及解析 !
文章由AMC空中美語授權使用: https://www.english4u.net
Comments will be moderated. Keep comments relevant to the article. Remarks containing abusive and obscene language, personal attacks of any kind or promotion will be removed and the user banned. Final decision will be at the discretion of the Taipei Times.