SPEAK UP ! 雙語會話
K-drama 'Extraordinary Attorney' causes sensation (2/3) 《非常律師》成年度劇王(二)
A: I heard that the first episode of "Extraordinary Attorney Woo" achieved only 0.9 percent audience viewership.
B: But by the 9th episode the audience share had reached 15.8 percent to become the most-viewed drama of the year.
A: In addition to the gripping story, because the lawyer is a fan of whales, the drama features lots of whale animation.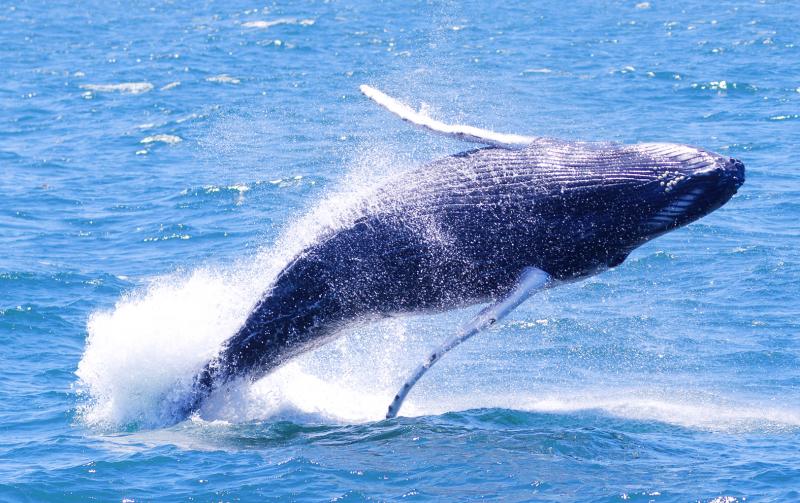 A humpback whale breaches the surface of waters off the coast of Massachusetts, US. 一頭「大翅?」在美國麻薩諸塞州外海躍出水面。
照片:歐新社
B: The scenes with the whale animation are really adorable.
A: 聽說《非常律師》第一集,收視率只有0.9%。
B: 而到了第九集,收視率飆升到15.8%成為年度劇王。
A: 除了精彩的劇情,因為女主角是鯨魚迷,還有許多鯨魚的動畫特效。
B: 那些動畫鯨魚好可愛。
(Translated by Edward Jones, Taipei Times/台北時報張聖恩)
Publication Notes
LANGUAGE TIP 語文小提示
a fan of This means that you are a keen follower or admirer of a particular thing, which could be a person, animal, activity, sport or music group. You can heighten the language further by saying "a big/huge/diehard fan of" and you could also say "a lover of."
Comments will be moderated. Keep comments relevant to the article. Remarks containing abusive and obscene language, personal attacks of any kind or promotion will be removed and the user banned. Final decision will be at the discretion of the Taipei Times.