SPEAK UP ! 雙語會話
Oh, no, you're short-sighted! (2/5) 完蛋了,你近視了! (二)
A: Cover your right eye and look at the eye chart in front of you, then tell me which way the letter "E" I point to is facing.
B: Up. That one is facing left. Erm… right.
A: And how about this in the row below?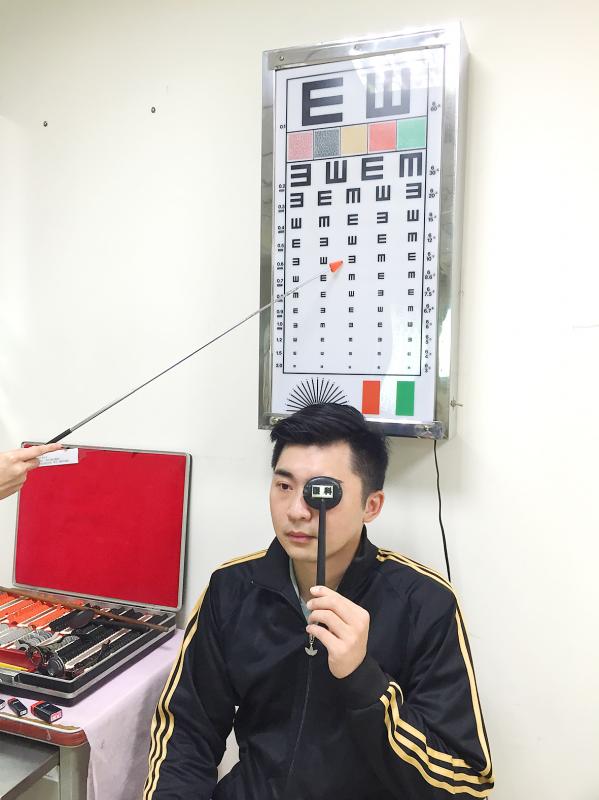 A man having an eye test covers his eye as he sits beneath a tumbling "E" eye chart. 一名男子遮住一眼,坐在E字型視力檢查表前測量視力。
Photo courtesy of Dr. Hung Chi-ting, Fooying University Hospital 照片:輔英科技大學附設醫院洪啟庭醫師提供
B: It's too small. I can't make it out.
A: Hmmm, then you are short-sighted. For now, I'm going to prescribe you some eye drops to help your eyes relax. Use them twice, five minutes apart, before you go to bed.
B: OK, thank you, doctor.
A: 你把右眼遮住,看前面這張視力檢查表,然後告訴我指的字母E開口朝哪邊。
B: 朝上。這個朝左。嗯……右邊。
A: 那下面這排這個呢?
B: 太小了,我看不清楚。
A: 嗯,那你有近視喔。我先開眼藥水給你,幫助眼球放鬆。睡前點兩次,間隔五分鐘。
B: 好的,謝謝醫師。
(Translated by Paul Cooper, Taipei Times/台北時報林俐凱)
Audio recordings for Speak Up! dialogues will be suspended until further notice due to the pandemic.
Publication Notes
LANGUAGE TIP 語文小提示
Tumbling E chart
This is a type of eye chart used for eye tests, consisting of a series of the letter "E" with the openings formed by the horizontal bars facing in different ways, giving the impression that the letter is "tumbling" as it moves across the chart.
Comments will be moderated. Keep comments relevant to the article. Remarks containing abusive and obscene language, personal attacks of any kind or promotion will be removed and the user banned. Final decision will be at the discretion of the Taipei Times.