SPEAK UP ! 雙語會話
I think the air conditioner's on the blink (5/5) 冷氣機好像壞了(五)
A: What an idiot I am! There's nothing wrong with the air conditioner. It's the remote that's not working.
B: Is the remote faulty, or are the batteries dead?
A: I changed the batteries, but it's still not doing anything. See, I bought this new one online.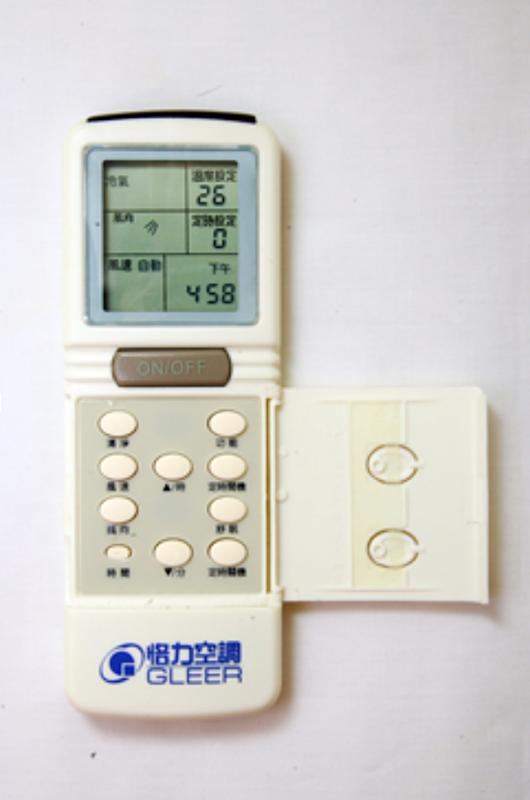 An air conditioner remote, pictured on June 20, 2010. 一支冷氣遙控器。攝於二○一○年六月二十日。
Photo: Pan Tzu-chiang, Liberty Times 照片:自由時報記者潘自強
B: Wow, nice! And you even bought the right model!
A: The seller was really patient, and told me exactly which model I needed to buy. But I think that remotes die so quickly, and you have no choice but to throw them away. It's really not very environmentally friendly.
A: 我真是豬頭啊,冷氣機根本沒壞,是遙控器壞了!
B: 遙控器到底是壞了,還是電池沒電?
A: 我換了電池還是沒反應。所以你看,我就上網買了這個新的遙控器!
B: 哇,厲害!虧你還買對了型號!
A: 那個賣家很有耐心,詳細告訴我買哪一支才是對的。不過我覺得遙控器動不動就壞,最後只能丟掉,真的很不環保。
(Translated by Paul Cooper, Taipei Times/台北時報林俐凱)
English 英文:
Chinese 中文:
Publication Notes
LANGUAGE TIP 語文小提示
"Have no choice but to"
This phrase means that you have to do something. You can also use "alternative" or "option" instead of "choice."
Comments will be moderated. Keep comments relevant to the article. Remarks containing abusive and obscene language, personal attacks of any kind or promotion will be removed and the user banned. Final decision will be at the discretion of the Taipei Times.