Lose weight by changing your mindset 用想的也能瘦? 減重效果倍增
Overweight people may be able to lose 10 times more weight using "Functional Imagery Training" (FIT) than those treated using "motivational interviews" (MI) alone, shows a new study led by Linda Solbrig, a PhD researcher at the University of Plymouth in the UK. FIT refers to an approach that uses mental imagery to motivate behavior change.
The FIT group involved dieters boosting their motivation levels through visualizing how great things would feel, taste and smell, and how much better one might look, if one were thinner, and another group receiving MI therapy alone. The results showed that the FIT dieters lost 6.44kg and 9.1cm off their waists after a year, while MI dieters only lost 0.67kg and 2.46cm off their waists on average.
In recent years, mental imagery techniques have also commonly been used by athletes to improve their performance. Several years ago, a similar study, conducted by Ohio University in the US, found that such imagery exercises can prevent the loss of muscle strength after a period of nonuse.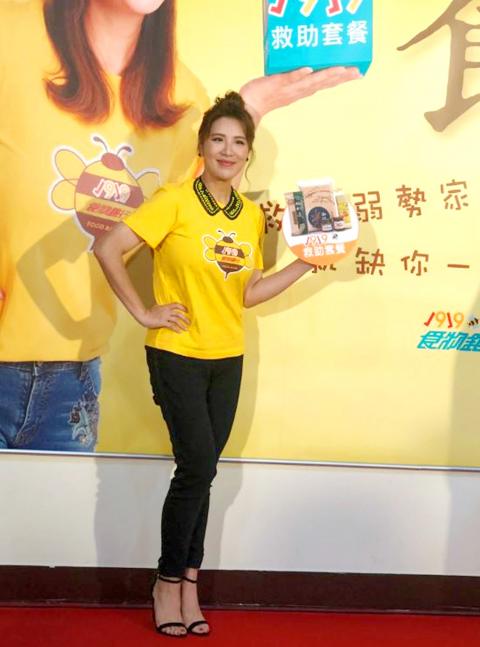 Entertainer Karen Hu, having lost 37kg in weight, reveals her diet secrets at a charity event on June 20 in Taipei. 藝人胡小禎六月二十日在台北市的一場慈善活動上,分享激瘦三十七公斤的減肥秘訣。
Photo: Nien hsiang-wan, Liberty Times
照片:自由時報記者粘湘婉
(Eddy Chang, Taipei Times)
一項新研究宣稱,體重過重者若接受「功能性想像訓練」(FIT),減重效果比接受傳統「動機訪談」(MI)者高十倍!該研究由英國普利茅斯大學的琳達索布利博士所主導,「FIT」是指以內心想像激發行為改變的原理。
想像組為了加強動機,讓減肥者設想他們變瘦後的觸覺、味覺,嗅覺,和外貌會有多棒;訪談組則進行傳統談話治療。結果顯示想像組減重者一年後瘦了六點四四公斤、腰圍減少九點一公分,但訪談組減重者平均僅瘦了零點六七公斤、腰圍減少二點四六公分。
近年來,運動員們藉由內心想像來提升表現的方法亦相當常見。幾年前,美國俄亥俄州大學的一項類似研究甚至發現,此種想像活動還可防止長時間未使用的肌肉變得衰弱。(台北時報張聖恩)
Publication Notes
TODAY'S WORDS
今日單字
1. overweight adj. 過重的(guo4 zhong4 de5) 2. imagery n. 想像(xiang3 xiang4) 3. motivate v. 激發(ji1 fa1) 4. dieter n. 減肥者(jian3 fei2 zhe3) 5. visualize v. 設想(she4 xiang3)
Comments will be moderated. Keep comments relevant to the article. Remarks containing abusive and obscene language, personal attacks of any kind or promotion will be removed and the user banned. Final decision will be at the discretion of the Taipei Times.