Ceremony to be held honoring late crosstalk master Wu Zhao-nan 相聲大師吳兆南辭世 歡樂永留人間
The apprentices of Wu Zhao-nan are holding a ceremony tomorrow in memory of the late legendary crosstalk performer. Wu died of multiple organ failure at home in Los Angeles, the US on Oct. 14 at the age of 92. The ceremony is set to take place at Taipei Zhongshan Hall's Zhongzheng Auditorium at 10pm tomorrow, and all fans are welcome to pay their final respects to the master.
After relocating from China to Taiwan, Wu started to do Chinese crosstalk, which is a traditional comic dialogue, with his partners Wei Long-hao and Chen Yi-an in the 1950s. He became widely-known after releasing the nation's first crosstalk record with Wei in the 1960s. Wu won numerous awards during his extraordinary career and was formally named a "living national treasure" by the government.
The versatile artist even developed the famous Taiwanese dish "Mongolian barbecue" when he opened an eatery many years ago, and today this Taiwanese dish has become popular throughout the world.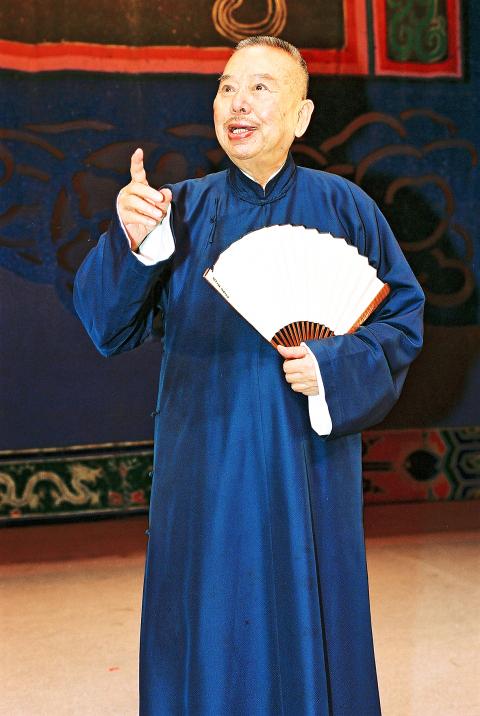 The late crosstalk master Wu Zhao-nan is pictured in this promotional photo. 在這張宣傳照中是已故相聲大師吳兆南。
Photo: CNA
照片︰中央社
(Eddy Chang, Taipei Times)
傳奇相聲大師吳兆南辭世後,他的徒弟們將於明日為他舉行紀念追思會。他因多重器官衰竭,稍早十月十四日於美國洛杉磯家中過世,享壽九十二歲。追思會預計於明早十點在台北市中山堂中正廳舉辦,並歡迎粉絲們前來向大師致上最後的敬意。
吳兆南從中國搬遷至台灣以後,自一九五○年代起和搭檔魏龍豪、陳逸安表演中式相聲,也就是傳統喜劇對話,之後他與魏龍豪在一九六○年代推出台灣首張相聲唱片而聲名遠播。在精彩的演藝生涯中獲獎無數,更被政府正式認定為「人間國寶」。
這位多才多藝的藝人當年開小吃店時,甚至還創造出「蒙古烤肉」這種知名的台式料理,如今這道台灣美食在世界各地都相當受歡迎。
(台北時報張聖恩〉
Publication Notes
TODAY'S WORDS
今日單字
1. crosstalk n. 相聲(xiang4 sheng1) 2. comic adj. 喜劇的(xi3 ju4 de5) 3. national treasure phr. 國寶(guo2 bao3) 4. versatile adj. 多才多藝 (duo1 cai2 duo1 yi4) 5. Mongolian barbecue phr. 蒙古烤肉 (meng2 gu2 kao3 rou4)
Comments will be moderated. Keep comments relevant to the article. Remarks containing abusive and obscene language, personal attacks of any kind or promotion will be removed and the user banned. Final decision will be at the discretion of the Taipei Times.