Diesel scandal rumbles on for embattled Volkswagen 柴油醜聞持續延燒 福斯汽車處境艱難
Rupert Stadler, chief executive of German carmaker Audi, was arrested by prosecutors in Munich, Germany last week, in the latest chapter in a long-running diesel emissions scandal that has come to be known as "Dieselgate."
The scandal dates back to September 2015 and concerns the world's largest automaker, Audi's parent company Volkswagen (VW). It is the biggest and most costly scandal in the history of German industry.
"Dieselgate" centers around so-called "defeat devices" detected by the US Environmental Protection Agency in VW cars exported to the US.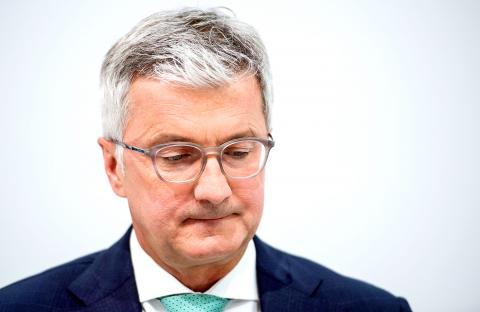 Chief executive of Audi Rupert Stadler is pictured at a news conference in Ingolstadt, Bavaria, Germany, on May 9. 奧迪首席執行長魯柏特‧史塔德勒,於五月九日參加在德國巴伐利亞邦因哥爾斯塔特的記者會。
Photo: EPA
照片:歐新社
A defeat device is actually a piece of software installed on a car's computer management system, designed to circumvent emissions testing by regulators. The software works by reducing the power and performance of the car when it detects the vehicle is on a stationary test rig in typical laboratory conditions.
This meant that, unbeknownst to regulators, VW cars were actually emitting far more harmful nitrogen-oxide pollutants in real-world driving conditions than measured during testing — and at levels far in excess of US and EU emissions standards.
Nitrogen oxides can penetrate sensitive lung tissue and have been linked to respiratory diseases such as bronchitis. They are also a contributing factor of smog and acid rain.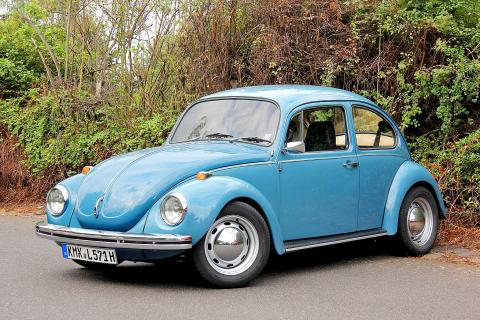 An early 1970s Volkswagen Type 1 ("Beetle"). 一輛一九七○年代的福斯1型金龜車。
Photo: Wikimedia Commons
照片:維基共享資源
The defeat devices came to the attention of the agency after the International Council on Clean Transport (ICCT) commissioned researchers at West Virginia University to conduct a study of diesel car emissions. Researchers initially conducted tests seeking to prove diesel cars were cleaner than their gasoline counterparts, but were shocked to find emissions from two VW vehicles they tested were between 8-40 times the levels measured during environmental regulators' laboratory tests.
VW eventually admitted it had installed defeat devices on nearly 600,000 vehicles sold in the US from 2009 through 2015 and about 11 million cars worldwide. The automaker was forced to buy back hundreds of thousands of "dirty" diesel cars from US customers at an estimated cost of US$10 billion.
In January last year, VW pleaded guilty to conspiracy to defraud the US government and obstructing a federal investigation and agreed to pay more than US$3 billion in fines. Earlier this month VW agreed to pay a fine of 1 billion euros, imposed by German prosecutors. A total of 50 countries including the UK, Italy, France, South Korea and Canada have opened separate investigations into the company, which has set aside a US$30 billon war chest to cover the fall out from the crisis.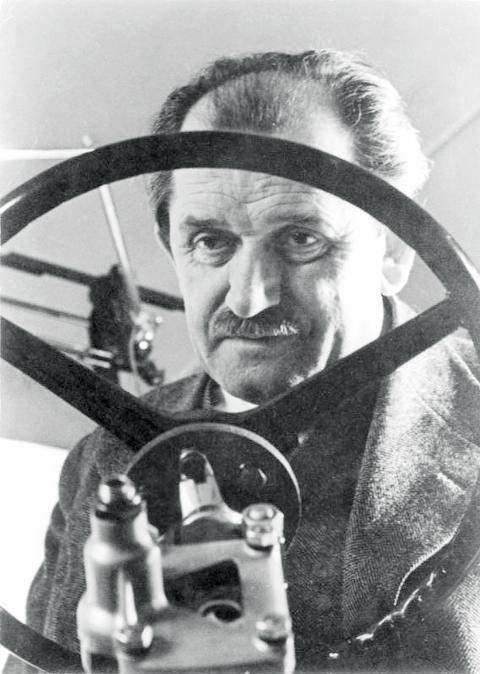 Former VW lead engineer Ferdinand Porsche, pictured in 1940. 福斯汽車前首席工程師斐迪南‧保時捷,攝於一九四○年。
Photo: Wikimedia Commons
照片:維基共享資源
VW subsidiary Audi became embroiled in the scandal last month after it admitted a further 60,000 of its cars have emissions software "problems" bringing the total number of recalled Audi cars to more than 900,000. Munich prosecutors say they arrested Stadler out of concern he might seek to suppress evidence. Two and a half years after the original story broke, it appears there is still plenty of road left to run on a scandal which has shaken German industry to the core.
(Edward Jones,Taipei Times)
德國汽車製造業者奧迪的首席執行長魯柏特‧史塔德勒上週於德國慕尼黑遭到檢方逮捕,成為「柴油門」這起歹戲拖棚的排氣醜聞最新發展。
「柴油門」醜聞可追溯到二○一五年九月,該起事件涉及全球最大的汽車製造商福斯汽車,亦即奧迪的母公司,可說是德國工業史上規模最大、代價最高的醜聞。
「柴油門」主要圍繞在所謂的「減效裝置」,美國國家環境保護局在出口至美國的福斯汽車上檢測到這些裝置。
「減效裝置」其實是裝在汽車電腦管理系統上的一種軟體,被設計用來規避監管機構的排氣測試。當該軟體偵測到車輛被放在典型實驗室環境裡的固定式測試平台上時,便會開始運作,降低車輛的功率與性能。
這也表示,在監管機構不知情的情況下,福斯汽車的車輛在現實生活的行駛狀態中,會排放出比測試時量測到更多的有害氮氧化物──程度遠遠超過美國與歐洲的排放標準。
氮氧化物可以穿過敏感的肺部組織,長久以來被認為與支氣管炎等呼吸道疾病有關,這類物質也會導致霧霾和酸雨。
「減效裝置」被環境保護局盯上,是因為國際清潔運輸委員會先前委託西維吉尼亞大學的研究人員對柴油車廢氣排放進行研究。研究人員原先進行測試,企圖證明柴油車較汽油車來得乾淨,沒想到卻發現兩輛受測的福斯汽車,排放出的廢氣比先前環境監管機構在實驗室測驗中量測到的結果高出八到四十倍,大感震驚。
福斯汽車後來坦承,該公司從二○○九年到二○一五年間在美國銷售的將近六十萬輛汽車上,都安裝了「減效裝置」,全球則有約一千一百萬輛汽車裝有此軟體。這間汽車生產公司被迫向美國消費者買回數十萬台「骯髒」的柴油車,估計花費一百億美元。
去年一月,福斯汽車對企圖詐欺美國政府的這起陰謀,以及妨礙聯邦調查等罪名認罪,並同意支付超過三十億美元的罰款。本月初,福斯汽車同意支付另一筆由德國檢察官裁定的十億歐元罰款。包括英國、義大利、法國、南韓,以及加拿大等共五十個國家也已開始對該公司分別展開調查。福斯汽車集團已經挪出一筆三百億美元的備戰基金,用以償付這次危機的惡果。
福斯汽車的子公司奧迪上個月也被捲入這起醜聞,因為該公司坦承還有另外六萬輛汽車也有廢氣排放的「軟體問題」,使得被召回的奧迪汽車總數超過九十萬輛。慕尼黑的檢察官表示,他們懷疑史塔德勒可能會企圖藏匿證據,遂將其逮捕。撼動德國工業核心的這起醜聞,在距離原事件爆發出來兩年半後的今天,看起來還有很長的一大段路要走。(台北時報章厚明譯)
讀後練習
follow up
Reading Comprehension
Volkswagen
Volkswagen, which means "people's car" in German, was founded in 1937 to produce the Beetle car, which was originally called the Volkswagen Type 1. The Beetle was commissioned by then-German chancellor Adolf Hitler to satisfy the need for a simple, cheap car for the masses to be used on the country's new autobahn network of motorways. Lead engineer Ferdinand Porsche finalized the design in 1938, but the car was not manufactured in significant numbers until 1945, as civilian car production was halted after World War II broke out.
At the end of the war British army officer Major Ivan Hirst removed an unexploded bomb that had fallen through the roof of the Volkswagen factory, and in doing so prevented irreplaceable production equipment from being destroyed. Production was then re-started, initially to produce cars for the British army.
Through the following decade sales of the Beetle took off worldwide, with the one-millionth car rolling off the production line in 1955. VW went on to produce other iconic car designs including the VW camper van, officially known as the Volkswagen Type 2, which was released in 1950 and became closely associated with the 1960s "hippie" counterculture movement.
(Edward Jones, Taipei Times)
Comments will be moderated. Keep comments relevant to the article. Remarks containing abusive and obscene language, personal attacks of any kind or promotion will be removed and the user banned. Final decision will be at the discretion of the Taipei Times.