Canon calls time on the film camera 佳能底片相機走入歷史
Japanese camera manufacturer Canon Inc, in business for 81 years, has announced it has stopped sales of the only film camera model left in its catalogue, citing the widespread popularity of digital cameras and collapsing demand for film cameras. The announcement lowers the curtain on traditional film cameras for the company.
According to Japanese broadcaster NHK, Canon has sold film cameras since its foundation in 1937. The company's sole surviving film camera model was the EOS-1v single-lens reflex camera, but the model was discontinued by Canon last week.
Information from the Japan Camera Industry Association shows that shipments of film cameras peaked in 1990 at around 5.38 million units. As digital cameras became more widespread, shipments of film cameras gradually declined year-on-year. By 2007, shipments had declined to 54,000 units, just 1 percent of the quantity shipped during the heyday of film camera sales.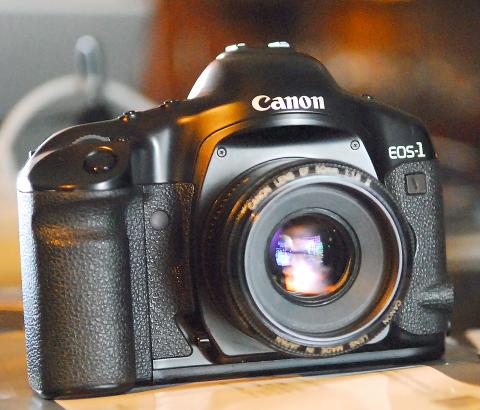 A Canon EOS-1v single-lens reflex film camera. 佳能EOS-1v底片單眼相機。
Photo: Wikimedia Commons
照片:維基共享資源
The Canon EOS-1v, introduced in 2000, was Canon's top-of-the-line film camera. Production of the model ceased at the end of October, 2010 and Canon now no longer has any of the model left in stock.
While rival Japanese camera manufacturer Nikon Corp continues to sell a film camera model, Fujifilm Holdings Corp announced in March that it will discontinue its Neopan 100 Acros black-and-white photographic film in October, citing the continued contraction of the film camera market.
In related news, renowned German camera maker Leica Camera AG last month announced it has discontinued production of its M7 film camera. The Leica M7 is a 35mm rangefinder camera, introduced in 2002 to replace the M6. Leica still produces several models of film camera.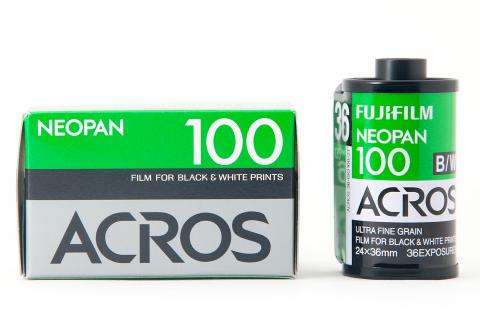 Fujifilm Neopan 100 Acros B/W 35mm film. 富士軟片公司的Neopan 100 Acros 35mm黑白底片。
Photo: Wikimedia Commons
照片:維基共享資源
The M7 was a departure from Leica's traditional, fully-mechanical designs and included more modern features including an electronic shutter. Other models in Leica's M range of cameras use entirely mechanical shutters and all-manual operation, and are more popular with Leica "purists," which may be the reason why the company decided to discontinue the M7.
(CNA, translated by Edward Jones)
營業至今已有八十一年歷史的日本相機大廠佳能宣布,因數位相機普及,底片相機需求急速萎縮,因此不再銷售該公司現有唯一的一型底片相機。傳統底片相機的業務正式落幕。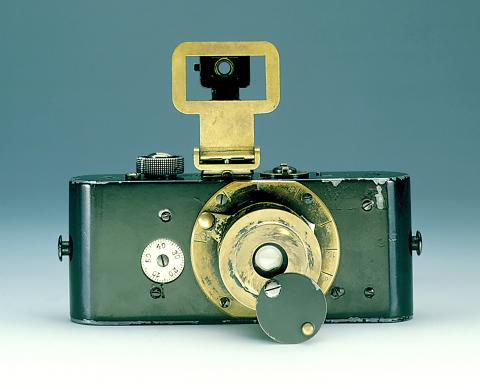 An Ur-Leica ("original Leica") prototype camera, made in 1914. 一九一四年製造的徠卡原型機Ur-Leica。
Photo: Wikimedia Commons
照片:維基共享資源
日本放送協會報導,佳能從一九三七年創立後就銷售底片相機。佳能最後銷售的唯一一型底片單眼相機是EOS-1v,已在上週停售。
由日本相機廠商組成的「相機映像機器工業會」指出,底片相機出貨的顛峰期是在一九九○年,逾五百三十八萬台。隨著數位相機的普及,底片相機的出貨量年年減少,二○○七年已減至五萬四千台,約高峰時期的百分之一。
佳能EOS-1v從二○○○年開始銷售,是性能最頂級的底片相機。這款相機在二○一○年十月底已結束生產,現在佳能已無庫存。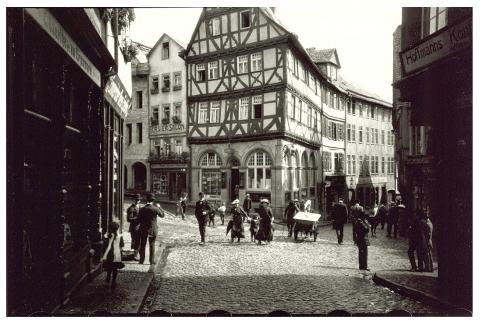 The first image taken from the Ur-Leica prototype camera by Oskar Barnack in Wetzlar, Germany, 1913. 第一張用Ur-Leica原型相機拍的照片,一九一三年由奧斯卡·巴奈克攝於德國威茲拉爾。
Photo: Wikimedia Commons
照片:維基共享資源
日本的另一家相機大廠尼康仍持續出售底片相機,但富士軟片公司三月宣布,今年十月以後將不再販售Neopan 100 Acros黑白底片,底片相機的市場有持續縮小之勢。
相關報導指出,知名的德國相機製造商徠卡在上個月宣布該公司將停止生產M7底片相機。徠卡的M7機型使用三十五毫米焦距鏡頭,並搭載測距儀,於二○○二年面世,以取代M6機型。目前,徠卡仍然持續生產數種型號的底片相機。
M7機型脫離了徠卡傳統的全機械式設 計,並加入較新穎的功能,例如電子快門等特色。相較之下,徠卡M系列相機的其他型號則使用機械快門和全手動控制模式,較受徠卡的「基本教義信徒」歡迎,這也許是該公司決定停止生產M7機型的原因。
(中央社)
課後練習
FOLLOW UP
Reading Comprehension
Leica Cameras
The company known today as Leica Camera AG was founded by Ernst Leitz in Wetzlar, Germany in 1913 and was originally called Ernst Leitz Optische Werke. In addition to making cameras, today the company also produces lenses, binoculars and rifle scopes.
The original 35mm Leica camera prototypes were built by Oskar Barnack in 1913 and were designed as compact cameras to be used for landscape photography. Following testing of the prototypes, the company's first production model, the Leica I, was introduced to the public in 1925 at the Leipzig Spring Fair and was an instant success.
The Leica II and Leica III models, developed during the 1930s, further refined the design of the Leica camera and these models continued in production through the 1950s.
In 1954 Leitz released the classic Leica M3 rangefinder design, updated versions of which are still being produced by the company to this day.
(Edward Jones, Taipei Times)
Publication Notes
今日單字
TODAY'S WORDS
1. film camera phr.
底片相機
(di3 pian4 xiang4 ji1)
2. digital camera phr.
數位相機
(shu4 wei4 xiang4 ji1)
3. collapsing demand phr.
需求萎縮
(xu1 qiu2 wei3 suo1)
4. discontinue v.
停售 (ting2 shou4)
5. shipment n.
出貨 (chu1 huo4)
6. contraction n.
縮小 (suo1 xiao3)
Comments will be moderated. Keep comments relevant to the article. Remarks containing abusive and obscene language, personal attacks of any kind or promotion will be removed and the user banned. Final decision will be at the discretion of the Taipei Times.