Classic musicals "Cats" and "Evita" to tour Taiwan 經典音樂劇 「貓」、「艾薇塔」 轟 動 登 台
After a wait of eight years, Andrew Lloyd Webber's classic musical "Cats" is returning to Taiwan. This time, fans also have the inclusion of "Phantom" to look forward to, as Brad Little, the lead in "Phantom of the Opera," and who has many fans in Taiwan, is to join the round-the-island tour.
"Cats" — along with "Phantom of the Opera," "Les Miserables" and "Miss Saigon" — are the world's top four musicals. The show kicked off last week at the National Taichung Theater, and moves to the Tainan Cultural Center this week and to the National Taiwan University Sports Center in Taipei next week.
"Evita," another of Webber's hit shows, will also come to the National Theater in Taipei late next month. The show concentrates on the short but dramatic life of legendary Eva Peron, who was first lady of Argentina. Tickets are available through Kuang Hong Arts Management Incorporation's Web site at www.kham.com.tw, or from Hi-Life and OK Mart convenience store chains.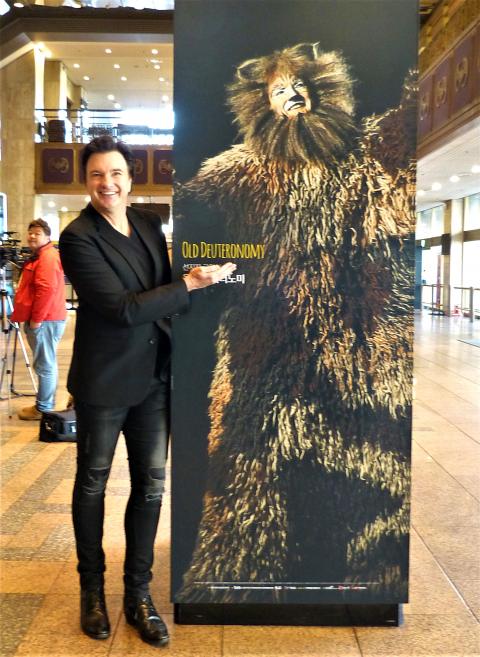 Actor Brad Little displays a cardboard cut-out of Old Deuteronomy, a role that he plays in classic musical "Cats," during a tour in Seoul, South Korea on Feb. 6. 演員布萊德利托隨經典音樂劇「貓」在南韓首爾巡演時,於二月六日展示他所飾演的「老戒律伯」人形立牌。
Photo: Ling Mei-hsueh, Liberty Times
照片︰自由時報記者凌美雪
(Liberty Times, translated by Eddy Chang)
睽違八年,安德魯‧洛伊‧韋伯的經典音樂劇「貓」再度登台,而讓劇迷們更興奮的是,「貓」這次還把「魅影」帶來了!在本地擁有大批粉絲的「歌劇魅影」男主角布萊德‧利托,也加入了環台巡演。
和另外三部作品——「歌劇魅影」、「悲慘世界」、「西貢小姐」被譽為四大音樂劇的「貓」,巡演上週已於台中國家歌劇院起跑,本週移至台南文化中心,下週則在台北台大綜合體育館演出。
韋伯的另一名劇「艾薇塔」,亦將於下月底登上台北國家戲劇院。該劇講述阿根廷前第一夫人伊娃‧裴隆短暫卻又戲劇化的傳奇人生,門票可在寬宏藝術網站︰www.kham.com.tw、萊爾富或OK便利商店購買。
(自由時報)
Publication Notes
TODAY'S WORDS
今日單字
1. musical n. 音樂劇 (yin1 yue4 ju4) 2. phantom n. 鬼魅;幻影 (gui3 mei4; huan4 ying3) 3. opera n. 歌劇 (ge1 ju4) 4. kick off phr. 起跑;開始 (qi2 pao3; kai1 shi3) 5. dramatic adj. 戲劇化 (xi4 ju4 hua4)
Comments will be moderated. Keep comments relevant to the article. Remarks containing abusive and obscene language, personal attacks of any kind or promotion will be removed and the user banned. Final decision will be at the discretion of the Taipei Times.