Humanoid Pepper joins Taoyuan City Government 機器人進駐桃園市府服務
Pepper, a humanoid robot with artificial intelligence (AI), jointly developed by the Taoyuan City Government and the Ministry of Economic Affairs' Industrial Development Bureau, is now deployed at the main hall of the Taoyuan City Government on the first floor to answer questions from members of the public about the government's services provided to local residents.
Taoyuan Mayor Cheng Wen-tsan on Dec. 20 welcomed Pepper on joining the city government at a council meeting and presented the robot with an employee ID card. According to Cheng, Pepper can access a wide-ranging cloud database, which allows it to answer questions about the services provided by each bureau under the city government as well as general questions about living in the city. Moreover, the robot's artificial intelligence enables it to learn and improve itself. The more questions people ask it, the better its answers become.
Head of the Taoyuan City Government Research and Evaluation Commission Chan Ho-shun says that Pepper will be available to help members of the public every day from 9am to 4pm, with no lunch breaks, at the Taoyuan City Government's main hall on the first floor. In addition to welcoming visitors to the city government and guiding them to where they want to go, it can also answer questions about government services provided to the city's residents, Chan adds. Pepper is not only helping the government reduce its costs, but is also fun to look at and interact with.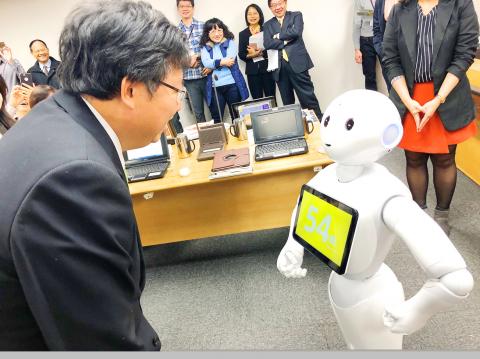 Taoyuan Mayor Cheng Wen-tsan on Dec. 20 interacts with the humanoid robot Pepper at the Taoyuan City Government. 桃園市長鄭文燦十二月二十日與機器人Pepper在桃園市政府互動。
Photo: Chen Yun, Liberty Times
照片:自由時報記者陳昀
(Liberty Times, translated by Tu Yu-an)
桃園市府與經濟部工業局合作打造人工智慧仿人機器人Pepper,即日起在桃園市府一樓大廳服務,供市民諮詢市政問題。
桃園市長鄭文燦十二月二十日在市政會議歡迎Pepper加入市府團隊,並頒發員工證。他說,Pepper有豐富的雲端資料庫,能回答市府各局處申辦項目與一般生活相關問題,並具備人工智慧的學習功能,市民詢問的問題越多,回答能力會越強大。
市府研究考核發展委員會主任委員詹賀舜表示,Pepper每天上午九點至下午四點會在市府一樓大廳服務,中午不休息,除了提供迎賓引導服務,也能供市民諮詢市政問題,不但節省市府服務成本,且吸睛、充滿新鮮感。
(自由時報記者陳昀)
Publication Notes
TODAY'S WORDS
今日單字
1. pepper n.
Comments will be moderated. Keep comments relevant to the article. Remarks containing abusive and obscene language, personal attacks of any kind or promotion will be removed and the user banned. Final decision will be at the discretion of the Taipei Times.