Asus Life rolls out new smart robot for medical use 華碩攻精準醫療 攜手瑞士Clinerion公司
Asustek Computer Inc subsidiary Asus Life last Thursday announced it will enter into a partnership with Swiss health data provider Clinerion. The two companies will combine Clinerion's searchable clinical trial network and health record databases with Asus Life's digital platforms to develop precision medical treatments.
Computer manufacturer Asustek was in attendance at the Taiwan Healthcare+ Expo from last week Thursday to Sunday. The theme of Asus' display at the expo was "Digital Transformation. Hospital" and Asus used the occasion to unveil the fruits of its collaborations with other companies: The Zenbo smart robot, specially designed for medical use, for precision medical treatments and to address the challenges created by "smart hospital wards."
The collaboration project between Asus and Clinerion to develop a clinical trial treatment network has already been introduced into nearly 150 hospitals in eight countries.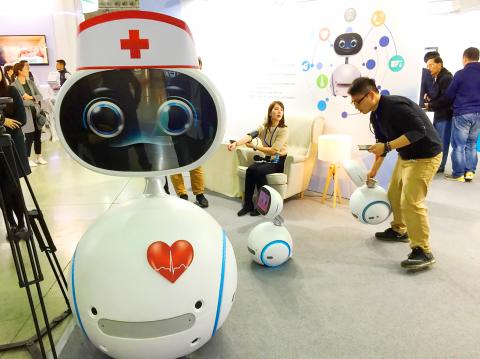 Zenbo smart robots on display at the Taiwan Healthcare+ Expo last week. Zenbo 智慧機器人上週在台灣醫療科技展展出。
Photo: CNA
照片:中央社
(CNA, translated by Edward Jones)
華碩雲端子公司華碩健康上週四與瑞士醫療數據公司Clinerion合作,透過Clinerion臨床試驗查詢網絡及病例累積機制,結合華碩健康數據平台資源,共同布局精準醫療。
電腦品牌廠華碩於上週四至上週日參加台灣醫療科技展,以「數位轉型.Hospital」為主題,協同集團資源展出Zenbo智慧機器人醫療應用、精準醫療以及智慧病房相關解決方案。
此次合作發展的臨床試驗醫療服務網絡已將全球八個國家、將近一百五十間醫院導入。
(中央社)
Publication Notes
TODAY'S WORDS
今日單字
1. clinical trial phr. 臨床試驗 (lin2 chuang2 shi4 yan4) 2. smart robot phr. 智慧機器人 (zhi4 hui4 ji1 qi4 ren2) 3. introduce v. 導入 (dao3 ru4)
Comments will be moderated. Keep comments relevant to the article. Remarks containing abusive and obscene language, personal attacks of any kind or promotion will be removed and the user banned. Final decision will be at the discretion of the Taipei Times.