Chef makes "Krabby Patty" from cartoon SpongeBob SquarePants 神廚示範:海綿寶寶 「美味蟹堡」秘方曝光
Exactly how delicious is the classic "Krabby Patty" from cartoon SpongeBob SquarePants? American chef Andrew Rea recently showed people online how to make the burger for themselves. Rea even publicly revealed Mr. Krabs' "secret formula."
In a video, the chef demonstrated how to make the burger in three easy steps. He first seasoned the frozen beef patty with salt, pepper and MSG, and then grilled it as usual. Then, the burger was assembled exactly as SpongeBob would do it — patty, lettuce, American cheese, onion, tomato, ketchup, mustard and then pickles.
After the video was released, netizens commented that they were eager to make the burger, although it was a little crazy to try it. Meanwhile, to celebrate the 31st birthday of SpongeBob, who was born on July 14, 1986, Dream Mall in Kaohsiung is holding a special exhibition this summer vacation, so consumers can experience the charm of this yellow creature.(CNA, translated by Eddy Chang)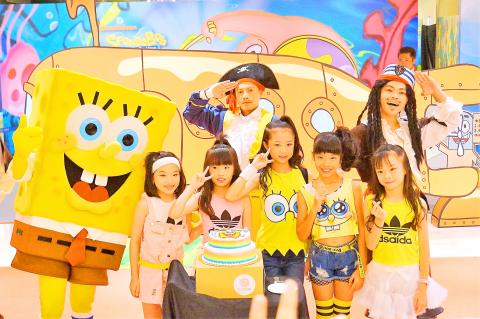 Children pose for a photo with artists dressed as characters from the popular cartoon SpongeBob SquarePants last Friday at a special exhibition organized by Dream Mall in Kaohsiung. 一群小朋友上週五在高雄夢時代參加熱門卡通海綿寶寶特展,和打扮成劇中角色的藝人們合照。
Photo: CNA
照片︰中央社
卡通海綿寶寶裡的經典「美味蟹堡」到底有多好吃?知名美國廚神安德魯·利亞近日在網路上教大家DIY,甚至公開蟹老闆的「神秘配方」。
利亞在影片中,示範如何以簡單的三步驟自製美味蟹堡:首先將冷凍肉餅以鹽、胡椒和味精調味,接著再煎肉餅,最後按照海綿寶寶的順序疊上肉排、生菜、美式起司、洋蔥、番茄、番茄醬、芥末醬和醃黃瓜就完成了。
影片曝光後,讓大批網友們躍躍欲試,還直呼好狂。而海綿寶寶的生日是一九八六年七月十四日,為了慶祝他三十一歲,高雄夢時代正舉辦FUN暑假特展,讓大家感受他的黃色魅力!(中央社)
Publication Notes
TODAY'S WORDS 今日單字
1. patty
n. 肉餅 (rou4 bing3)
2. sponge
n. 海綿 (hai3 mian2)
3. formula
n. 配方 (pei4 fang1)
4. demonstrate
v. 示範 (shi4 fan4)
5. MSG
n. 味精 (wei4 jing1)
Comments will be moderated. Keep comments relevant to the article. Remarks containing abusive and obscene language, personal attacks of any kind or promotion will be removed and the user banned. Final decision will be at the discretion of the Taipei Times.