Eight divas sing against homophobia 反恐同!八大天后齊獻唱
To mark International Day Against Homophobia, Transphobia and Biphobia (IDAHOT) on May 17, eight pop divas in the Chinese world, including Chang Hui-mei, A-lin, Elva Hsiao, Rainie Yang and Little S from Taiwan, Na Ying from China, Sandy Lam from Hong Kong and Tanya Chua from Singapore, have collaborated for the first time on a new single, "We Are One," in support of the LGBT community.
Singer Jolin Tsai designed the painting for the cover of the CD. The song was released on the "Love Is King" YouTube channel, and another 115 artists took part in the music video, with each holding a rainbow placard in support of marriage equality.
As the issue of same-sex marriage continues to attract attention, the Judicial Yuan has said that the Grand Justices will release an interpretation on whether it is constitutional or not on next Wednesday at 4pm.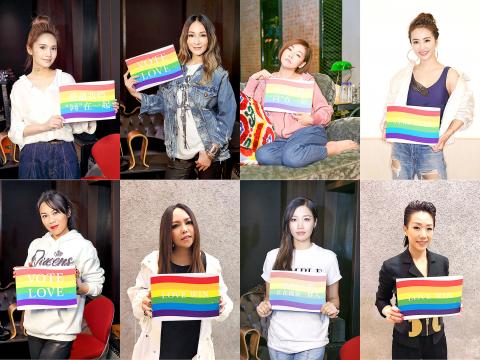 Eight pop divas in the Chinese world are pictured in this undated photo, each holding a rainbow placard to show support for marriage equality. 華人世界八位流行天后,手持彩虹標語力挺婚姻平權,拍攝日期不詳。
Photo courtesy of YouTube channel "Love Is King"
照片︰YouTube「愛最大」頻道提供
(CNA, translated by Eddy Chang)
五月十七日是「國際不再恐同日」,八位華人世界的流行天后首度攜手合作單曲「We Are One」,唱出同志心聲—包括台灣的張惠妹、A-lin、蕭亞軒、楊丞琳、小S、中國的那英、香港的林憶蓮和新加坡的蔡健雅。
歌手蔡依林也為單曲CD繪製了封面,該曲已在YouTube「愛最大」頻道播放,另外一百一十五位藝人則出現在音樂錄影帶中,高舉彩虹標語力挺婚姻平權。
近來同婚議題備受矚目,司法院指出,大法官將在下週三下午四點公布同婚是否合憲或違憲的解釋文。
(中央社)
Publication Notes
TODAY'S WORDS
今日單字
1. phobia n.
懼怕;恐懼症
(ju4 pa4; kong3 ju4 zheng4)
2. equality n.
平權;平等
(ping2 quan2; ping2 deng3)
3. same-sex adj.
同性的
(tong2 xing4 de5)
4. interpretation n.
解釋
(jie3 shi4)
5. constitutional adj.
合憲的
(he2 xian4 de5)
Comments will be moderated. Keep comments relevant to the article. Remarks containing abusive and obscene language, personal attacks of any kind or promotion will be removed and the user banned. Final decision will be at the discretion of the Taipei Times.