Taiwan increasingly popular among Japanese and South Korean students 哈台風「催生」 日韓留學生穩定攀升
Recent years have seen a marked increase in the number of Japanese and South Korean students studying in Taiwan. According to statistics provided by the Ministry of Education, there were 7,548 Japanese students – including degree students, exchange students and other short-term non-degree students – and 4,624 South Korean Students in Taiwan last year. Compared to 2015's figures, the number of Japanese students increased by 19 percent, while the number of South Korean students grew by 21 percent.
The Ministry of Education attributed the increase in Japanese students in Taiwan to the long-standing friendly ties between the two nations and the recent trend for middle and high schools in Japan to organize overseas field trips. On the other hand, academic exchanges between South Korea and Taiwan have gained impetus since former South Korean president Park Geun-hye received an honorary doctorate from Chinese Culture University having previously studied there. In addition to that, mounting political tension between China and South Korea has made many South Korean students choose Taiwan over China.
Several years ago, Taiwan established education centers in Japan and South Korea to promote and market its Chinese-learning and higher education programs. Tamkang University is responsible for student markets in Japan, while Chinese Culture University is responsible for South Korean markets. There are also scholarships available for exchange students from Japan and South Korea.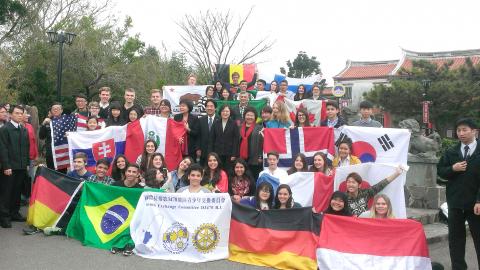 Then-president-elect Tsai Ing-wen poses for a group photograph with international students in front of the Nankunshen Daitien Temple in Tainan City on Feb. 21 last year. 蔡英文總統去年二月二十一日就職前於台南南鯤鯓代天府前與國際學生合影。
Photo: Liu Wan-chun, Liberty Times
照片:自由時報記者劉婉君
(Liberty Times, translated by Tu Yu-an)
近年來,台灣的日本、韓國境外學生人數明顯增加。根據教育部統計,去年日本留學生(含學位生、交換生、短期生等)在台人數達七五四八人,比前一年增加百分之十九;韓國去年留學生有四六二四人,較前一年增加百分之廿一。
教育部分析,台日長年友好,且日本中學盛行教育旅行,讓更多日本學生來台;韓國則因前總統朴槿惠曾在文化大學就讀,並獲頒榮譽博士學位,促成台韓學生交流頻繁,此外,中韓關係緊張,也讓更多韓國學生選擇來台。
台灣多年前已在日、韓成立教育中心,肩負華語推廣與高教行銷任務。日本由淡江大學負責,韓國由文化大學協助。此外,國內也有提供給日韓交換學生的獎學金。
(自由時報記者吳柏軒)
Publication Notes
TODAY'S WORDS
今日單字
1. marked adj. 明顯 (ming2 xian3) 2. attribute… to v. phr. 把……歸因於 (ba3 … gui1 yin1 yu2) 3. honorary adj. 榮譽的 (rong2 yu4 de5) 4. scholarship n. 獎學金 (jian3 xue2 jin1)
Comments will be moderated. Keep comments relevant to the article. Remarks containing abusive and obscene language, personal attacks of any kind or promotion will be removed and the user banned. Final decision will be at the discretion of the Taipei Times.