KRTC launches Line stickers of Xiong Meng Tian Tuan mascots 高捷推熊萌天團手機貼圖
Kaohsiung Rapid Transit Corp (KRTC) has recently launched a new Line sticker set featuring its mascot group "Xiong Meng Tian Tuan" in a bid to tap into the growing market for cute fictional characters and mobile apps. The sticker set, which includes 40 stickers and costs only NT$30, is expected to help KRTC broaden its hold on smartphone users with its wallet-friendly price.
In 2014, the K.R.T. Girls anime characters were created to help promote the Kaohsiung Metro system. Last year, K.R.T. Girls mobile app stickers launched by KRTC were met with enthusiasm and instantly became the best seller among original stickers for three straight days, with more than 10,000 downloads in the first month by users from Taiwan, Hong Kong, Japan, Malaysia, India, Germany and other countries. K.R.T. Girls merchandise often sells out immediately after it is released, significantly boosting KRTC's revenue. It is estimated that sales of their products could reach NT$10 million.
According to KRTC, its first mascot was actually not any of the K.R.T. Girls, but a marmot called Happi. Last year, Happi teamed up with KRTC's bear mascot U!FU to compete in Kaohsiung's first mascot contest. The duo – together with Kao Tung Tung and Kaohsiung Bear Hero – have since gained recognition as the city's most iconic mascots. Based on the success of the K.R.T. Girls stickers, KRTC has designed custom-made Line stickers of Happi and U!FU – also known as the group Xiong Meng Tian Tuan – to showcase their cutest looks.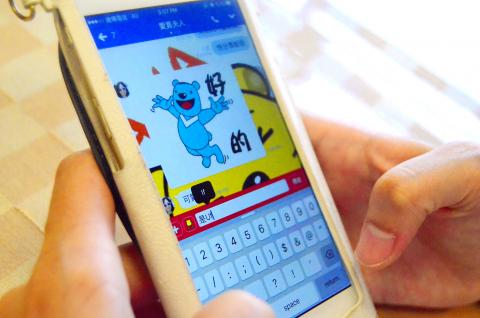 A Line user communicates with a friend using Xiong Meng Tian Tuan stickers on June 11 in Kaohsiung. 一名LINE用戶與友人以熊萌天團貼圖對話,六月十一日攝於高雄。
Photo: Ke You-hao, Liberty Times
照片:自由時報記者葛祐豪
The 40 stickers in the Xiong Meng Tian Tuan sticker set show the mascots in a variety of emotions ranging from happiness to anger, sadness and joy. There are also cute stickers designed for Christmas and New Year with which users can send season's greetings to their friends.(LIBERTY TIMES, TRANSLATED BY TU YU-AN)
高雄捷運公司看準「萌經濟」及「滑商機」,最近推出吉祥物組合「熊萌天團」LINE貼圖,一組共計四十款圖樣,只要卅元,以親民價格搶攻手機族市場。
高捷前年為宣傳捷運系統推出虛擬角色高捷少女。去年推出高捷少女手機貼圖熱賣,上架後連續三天蟬連原創貼圖榜首,上架首月下載量更破萬,下載地區遍佈台、港、日、馬、印、德等國。系列商品開賣首日經常秒殺,經濟效應驚人,預計可為高捷公司創造千萬元周邊產值。
高捷公司表示,高捷最早的代言人其實不是高捷少女,而是土撥鼠哈比。自去年合體參加高雄市首屆吉祥物大賽以來,哈比與永福已與高通通、高雄熊同被視為高雄最具代表性的吉祥物。根據此高捷少女手機貼圖的成功經驗,高捷公司為哈比與永福合組的「熊萌天團」量身打造LINE貼圖,完整捕捉哈比與永福最萌的神情。
「熊萌天團」LINE貼圖共設計四十款,內含喜、怒、哀、樂等表情,並有耶誕快樂及新年新樂版祝賀貼圖,讓使用者在佳節時也能透過可愛的貼圖向友人捎上祝福。
(自由時報記者葛祐豪)
Publication Notes
TODAY'S WORDS
今日單字
1. wallet-friendly adj.
(價格) 親民;便宜 ((jia4 ge2) qin1 min2; pian2 yi2)
例: Besides being wallet-friendly, the dress is also eco-friendly.
(這件洋裝不僅價格親民又很環保。)
2. marmot n.
土撥鼠 (tu3 bo1 shu3)
例: Marmots typically spend the winter hibernating in their burrows.
(土撥鼠在冬天通常在洞穴裡冬眠。)
3. iconic adj.
具代表性的 (ju4 dai4 biao3 xing4 de5)
例: The Tank Man is the most iconic figure of the 1989 Tiananmen Square protests.
(一九八九年天安門事件中最具代表性的人物就是那名阻擋坦克的男子。)
Comments will be moderated. Keep comments relevant to the article. Remarks containing abusive and obscene language, personal attacks of any kind or promotion will be removed and the user banned. Final decision will be at the discretion of the Taipei Times.