I turned my son into Optimus Prime 我把兒子變成大黃蜂了
Pingtung City's Chienkuo Elementary School threw a costume party at Christmas last year, and Ku Yu-kai, a kindergarten student, drew everybody's attention by transforming himself into Optimus Prime, a Transformers character. His smart suit was tailor-made by his father, Ku Hsin-wei, who spent three months on the production with ivory board, cardboard and foam. It cost him less than NT$1,000 to get it done.
Ku Hsin-wei says both he and his son loved the Transformers, but since the elegant party costumes on the market were pricey and none of the transformer suits fit his son, he decided to make one himself. After the decision was made, he started to search for relevant information on the Internet.
"We had to put up with the mess in the house," said Ku Hsin-wei, smilingly. The production process required constant modification; as a result, scraps of paper were constantly flying around in the house. Having his family endure the messy living environment was the most challenging part of making the Optimus Prime outfit.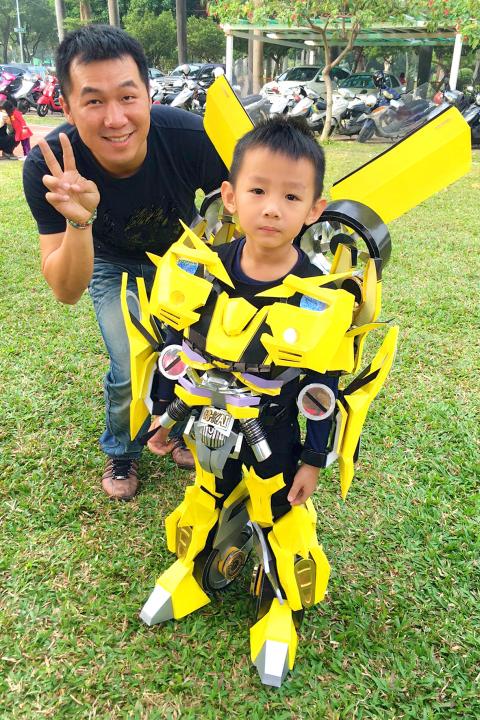 Ku Yu-kai, wearing an Optimus Prime suit, and his father Ku Hsin-wei pose for pictures on Dec. 25 last year in Pingtung City. 幼兒園學童辜昱愷去年十二月二十五日身著大黃蜂套裝與爸爸辜鑫緯在屏東合影。
Photo: Chiu Chih-jou, Taipei Times
照片:自由時報記者邱芷柔攝
Ku Hsin-wei is a professional soldier. He made use of his skills when he was off-duty or on holiday. His work not only attracted everyone's attention in the party, it also made several other parents want to learn the craft from him. He said that although a ready-made suit might be handy, a hands-on production experience can not only improve parent-child relationships, it can also help children understand that if you have the will, you can make your dreams come true.
(Liberty Times, translated by Ethan Zhan)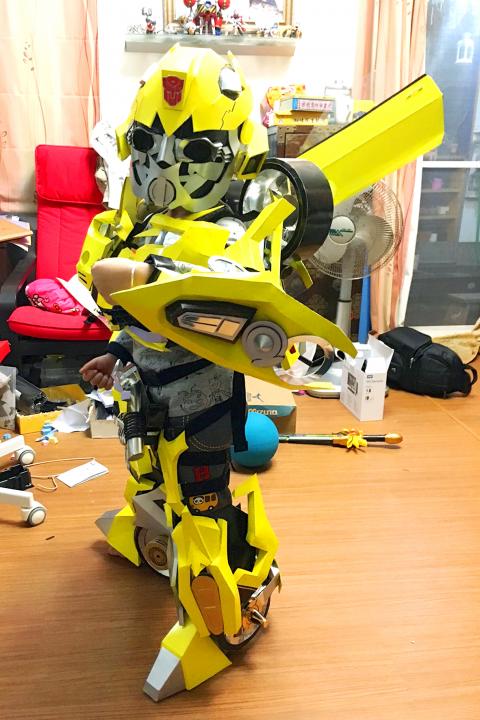 Ku Yu-kai, a kindergarten student, puts on his Optimus Prime suit in his living room in Pingtung on Dec. 25 last year.
幼兒園學童辜昱愷去年十二月二十五日在屏東家中客廳穿上大黃蜂套裝。
Photo courtesy of Ku Hsin-wei
照片:辜鑫緯提供
屏東市建國國小去年舉辦造型耶誕派對,幼兒園學童辜昱愷身著變形金剛大黃蜂,吸引全場目光。原來他的一身勁裝是出自爸爸辜鑫緯的巧手。辜鑫緯花三個月的時間為兒子量身打造,以西卡紙、厚紙板及泡棉為材料製作,不到一千元就搞定。
辜鑫緯說,他和兒子都喜歡變形金剛,但市面上精緻的派對服裝不僅昂貴,也沒有大小適中的變形金剛服飾,所以他決定自己動手做。決定之後,他就開始上網找相關資料。
「必須忍受家裡髒亂。」辜鑫緯笑說。製作過程中必須不斷修改,因此家裡常常紙屑亂飛。讓家人忍受住家髒亂,是打造大黃蜂最困難的部分。
辜鑫緯是職業軍人,利用下班與休假時間發揮巧手功力,不僅在派對中吸引全場目光,不少家長還打算向他拜師學藝。他說,現成的服飾雖然方便,但親自動手做的過程除了增進親子關係,也能讓孩子知道,只要有心,夢想就能實現。
〔自由時報記者邱芷柔/屏東報導〕
Publication Notes
TODAY'S WORDS
今日單字
1. tailor-made adj. 量身打造(liang2 shen1 da3 zao4) 例:This pair of pants are tailor-made for your needs. (這條褲子是根據你的需求量身打造的。) 2. modification n. 修改(xiu1 gai3) 例:A slight modification to the training plan has been made. (訓練計劃已經做了細微的修改) 3. challenging adj. 困難(kun4 nan2) 例:Fasting for a week was the most challenging thing I did last year. (斷食一個禮拜是我去年所做的最困難的事。)
Comments will be moderated. Keep comments relevant to the article. Remarks containing abusive and obscene language, personal attacks of any kind or promotion will be removed and the user banned. Final decision will be at the discretion of the Taipei Times.