Tree doctor vows to help century-old Formosan ash tree return to health 搶救寶山「雞油樹爺爺」 專家籲截枝噴藥
Hsinchu County Councilor Chiu Chen-wei has launched a fight to save an old Formosan ash tree and has received a lot of support from local people. Hu Pao-yuan, director of the China University of Science and Technology's forest pest diagnostic clinic, was invited to inspect the tree. After he had inspected it, he said the old tree was not only sick but also had termites, so they would have to cut off the old branches and inject medicine to try to help it recover.
"The old tree, which is located behind a shelter, is over 100 years old. Many elderly people from Baoshan share memories of the tree, and none of us wants to see it cut down," says 57-year-old former township councilor Liu Yun-fa, who now acts as an ecology guide. He found that the old Formosa ash tree was dropping leaves and its branches were becoming yellow, among other symptoms, which prompted him to rush to ask Chiu for help. He hopes to preserve this landmark tree of Baoshan Village.
Chiu said that in Youtian Village, where this old Formosan ash tree stands, there were once many Formosan ashes, so the old name for the local area was "protruding ash trees." This grandfatherly tree is over 100 years old and is like a local cultural symbol made by nature. Chen said that he and local residents will fully cooperate with Hu to rescue the old tree, and he will make sure it continues to grow there, allowing the young people of Baoshan Village to go on appreciating its magnificence.
(Liberty Times, translated by Clare Lear)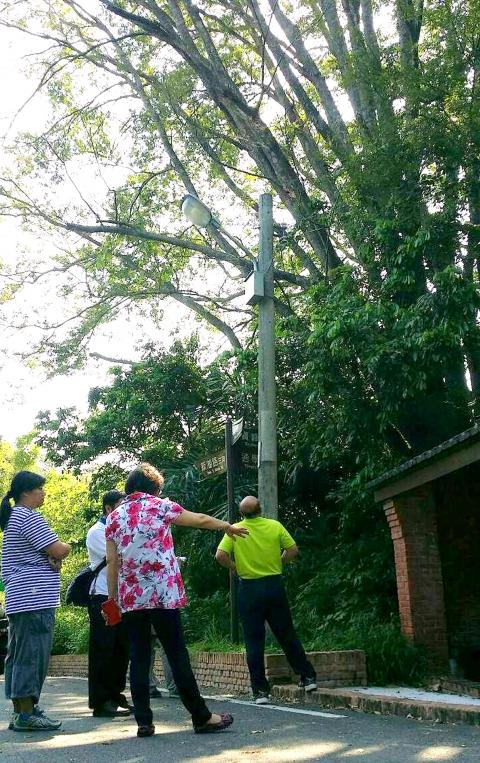 An old Formosan ash tree in Hsinchu County on Sept 11, with half of its branches dying, stands beside a small shelter. The tree is over 100 years old and locals have called in a tree doctor to treat it and nurse it back to health. 新竹縣一棵瀕臨枯死的雞油樹聳立在茶亭旁邊。這棵樹的樹齡已逾百歲,地方鄉親特請樹醫來診治,希望能讓它恢復健康。攝於九月十一日。
Photo: Tsai Meng-shang, Liberty Times
照片:自由時報記者蔡孟尚
新竹縣議員邱振瑋發起的搶救寶山「雞油樹爺爺」大作戰,獲得不少鄉親響應;中華科技大學樹木病蟲害診斷中心主任胡寶元應邀到場調查後說,老雞油樹不但染病且遭白蟻入侵,將以清除枯枝及投藥方式協助它恢復健康。
「這座位於茶亭後方的老雞油樹,已經有一百多歲的樹齡,是許多老寶山人的共同回憶,我們都不願意見到它倒下。」五十七歲前鄉民代表劉運發目前擔任生態導覽員,他發現老雞油樹出現樹葉掉落、樹枝枯黃等症狀後,趕緊向邱振瑋求助,希望能夠保住這棵寶山鄉的地標性植物。
邱振瑋說,這棵老雞油樹所在的油田村早年有許多雞油樹,所以當地的古地名叫「雞油凸」。這棵有一百多歲樹齡的「雞油樹爺爺」可說是當地天然的文化意象;他和在地鄉親會全力配合胡寶元搶救老樹,一定要讓它繼續聳立當地,讓寶山鄉的年輕子弟也能繼續欣賞它的英姿。
(自由時報記者蔡孟尚)
Publication Notes
TODAY'S WORDS
今日單字
1. located behind phr.
位於…後方 (wei4 yu2 ... hou4 fang1)
例: The convenience store is located behind the bus stop.
(這間便利商店位於公車站後方。)
2. rush to ask ... for help v. phr.
趕緊向…求助 (gan2 jin3 xiang4 ... qiu2 zhu4)
例: He rushed to ask the lawyer for help.
(他趕緊向律師求助。)
3. fully cooperate phr.
全力配合 (quan2 li4 pei4 he2)
例: The workers will fully cooperate to finish the project on time.
(工人將全力配合如期完工。)
Comments will be moderated. Keep comments relevant to the article. Remarks containing abusive and obscene language, personal attacks of any kind or promotion will be removed and the user banned. Final decision will be at the discretion of the Taipei Times.