False viper looks like Chinese sharp-nosed viper
像龜殼花又像百步蛇 原來是擬龜殼花
A member of the public who was walking along a trail by Sun Moon Lake's Cien Tower recently found a strange snake that looked like a Chinese sharp-nosed viper or a brown pit viper. The person was afraid that it was poisonous and took a photo as a record. When a snake expert was asked to look at it, however, it turned out to be a false viper.
The Endemic Species Research Institute in Nantou County's Jiji Township says that although this kind of snake has characteristics of both the brown pit viper and the Chinese sharp-nosed viper, the eyes of the false viper have round pupils, unlike those of the brown pit viper's eyes, which, like cats's eyes, can vary in shape and appear oval in daylight conditions. In addition, the surface of a brown pit viper's head is composed of small, fine scales, whereas on the false viper the scales are bigger. These features make it possible to distinguish between the two. It is normal for this kind of snake to be found at the Sun Moon Lake, which lies at a low-to-medium altitude, and it is a docile and non-venomous species of snake.
The Endemic Species Research Institute also says that if members of the public come across snakes in the wild, they should not frighten or tease them, but just walk slowly around them and leave. If people follow this advice, they will not be attacked by snakes.
(Liberty Times, translated by Clare Lear)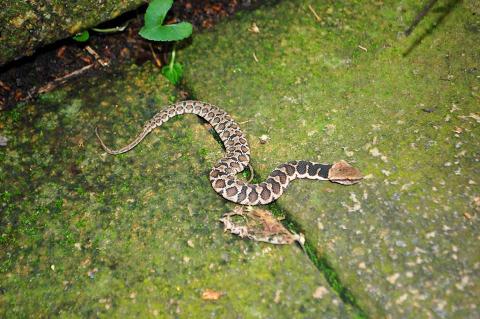 An undated photo shows a snake with markings similar to a Chinese sharp-nosed viper resting in the middle of a trail near Cien Tower by Sun Moon Lake in Nantou County. 南投縣日月潭慈恩塔步道上一條長得像百步蛇的蛇。拍攝日期未知。
Photo provided by a member of the public
照片:民眾提供
近日有民眾在日月潭慈恩塔步道發現一條既像百步蛇又像龜殼花的怪蛇,民眾深怕有毒還拍照紀錄起來,經向蛇類專家請教才知是無毒的「擬龜殼花」。
集集特生中心表示,該蛇外觀雖有龜殼花與百步蛇的特徵,但在眼睛部分「擬龜殼花」瞳孔是圓的,不像龜殼花的瞳孔如貓眼一樣具可變性,白天呈現橄欖狀,另外龜殼花頭上都是細小鱗片組成,「擬龜殼花」的鱗片則較大,由此就能區分二者不同,該蛇在中低海拔的日月潭被發現實屬正常,且是溫馴無毒的蛇種。
此外,集集特生中心表示,民眾在野外發現蛇類,切勿驚擾逗弄,只要緩步繞道離開,就不會遭遇蛇類攻擊。
(自由時報記者劉濱銓)
Publication Notes
TODAY'S WORDS
今日單字
1. record n 紀錄;存證 (ji4 lu4 ; cun2 zheng4) 例: After the car crash the police took a photo of the scene as a record. (車禍後,警察將車禍現場攝影存證。) 2. composed of phr. 由…組成 (you2 ... zu3 cheng2) 例: The dragon boat team was composed of amateurs and professionals. (這組龍舟隊由業餘及專業人士組成。) 3. tease v. 逗弄 (dou4 nong4) 例: The child teased his brother until he cried. (這個小孩逗弄他的弟弟,直到他哭了。)
Comments will be moderated. Keep comments relevant to the article. Remarks containing abusive and obscene language, personal attacks of any kind or promotion will be removed and the user banned. Final decision will be at the discretion of the Taipei Times.