The cauliflower girl and the umbrella boy 花椰菜女孩與雨傘男孩
"Umbrella boy" Wang Chun-sheng and "cauliflower girl" Yen Ching-yu are two talented youths from the Changhua branch of the Taiwan Fund for Children and Families. They studied diligently and have made a success of life in their own ways.
Yen's father was a farmer whose livelihood depended on cauliflowers. When Yen was in senior high school, her father got cancer, so she often had to get up early in the morning to help carry cauliflowers on the farm. After her father passed away, her mother worked in a hardware store so that she could raise three children on her own. Yen was the oldest child, and she was and the best tutor her younger brother and sister could have. Yen's family and friends advised her to go to Taiwan Police College so that she could help lighten the financial burden on her family. Fortunately, her aunt supported her dream of going to university, otherwise she could not have done so. Now she has passed the entrance examination to study in the Department of Computer Science at National Tsinghua University.
After graduating from the Department of Business Administration at Fujen Catholic University, Wang helped his friend, an umbrella maker, to set up a counter in a department store. Wang says that when he was in college he got seriously ill from doing a part-time job, and this led him to realize that he had to find the value and meaning of his life to avoid getting lost in the material world of money. He used to receive support from the fund, and now that he is able, he wants to be a volunteer to give something back to society.
(Liberty Times, Translated By Ethan Zhan)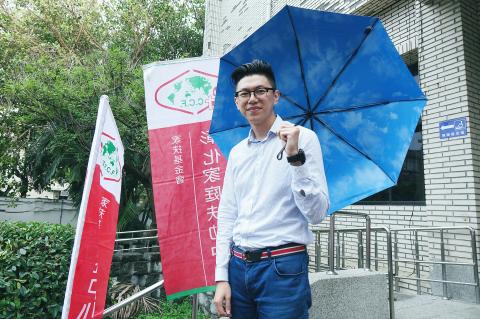 "Umbrella boy" Wang Chun-sheng holds an umbrella on Aug 29 in Changhua. 「雨傘男孩」王俊升拿著一把雨傘。攝於八月二十九日,彰化。
Photo: Liu Hsiao-hsin, Liberty Times
照片:自由時報記者劉曉欣
「雨傘男孩」王俊升與「花椰菜女孩」顏慶妤,兩位彰化家扶中心的家扶兒好棒棒,靠著努力求學,走出自己一片天。
顏慶妤的父親務農,以種植花椰菜為生,然而顏慶妤高中時,父親罹癌,因此她一清早就要到田裡搬忙搬花椰菜。父親過世後,母親在五金行工作,獨立將三個孩子拉拔長大。慶妤是老大,也是弟弟妹妹的最佳小老師。本來親友都建議她去念警專減輕家計,還好有阿姨支持她的大學夢,才得以上大學。如今她已考取清大資工研究所。
王俊升在輔大企管系畢業後,就協助自製雨傘的朋友在百貨公司設櫃。王俊升說,他曾在大學期間為了打工而生場大病,因此發現:必須找到自己生命的價值與定位,才不會迷失在物質金錢的世界。以前受惠於家扶,如今有能力,他要當志工回饋社會。
(自由時報記者劉曉欣)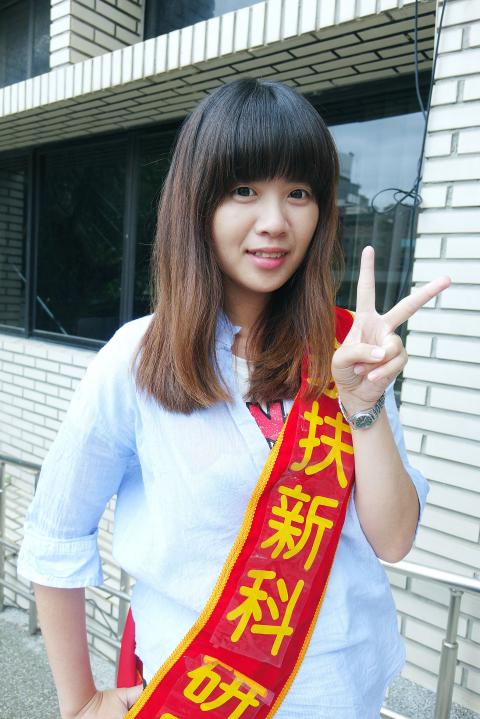 "Cauliflower girl" Yen Ching-yu poses for a picture on Aug 29 in Changhua. 「花椰菜女孩」顏慶妤。攝於八月二十九日,彰化。
Photo: Liu Hsiao-hsin, Liberty Times
照片:自由時報記者劉曉欣
Publication Notes
TODAY'S WORDS
今日單字
1. diligently adv. 努力 (nu3 li4) 例: He is successful not only because he is smart, but also because he works diligently. (他會成功不僅僅是因為聰明,還因為他很努力。) 2. lighten v. 減輕 (jian3 qing1) 例: She hires the right people to help lighten the workload. (她僱用了對的人來減輕工作量。) 3. realize v. 發現;知道 (fa1 xian4; zhi1 dao4) 例: Tom doesn't realize that he is already deeply in love. (湯姆不知道自己早已深陷情網。)
Comments will be moderated. Keep comments relevant to the article. Remarks containing abusive and obscene language, personal attacks of any kind or promotion will be removed and the user banned. Final decision will be at the discretion of the Taipei Times.