So who won Taichung's best condom seller championship? 誰是台中的保險套熱銷王?
August 20 was Qixi Festival — Lovers' Day. Taichung City Government's Health Bureau has been promoting safe sex for more than three years by placing condom vending machines in 24 locations in the city, including parks, schools and saunas. Taichung Park, the city's best-known dating venue, has won the best-seller championship three years in a row. It sold nearly 3,000 condoms between January and July this year. The bureau rushed to replenish stocks before Lovers' Day, while reminding the public to practice safe sex for contraception and personal health.
Taichung's top 10 condom-selling locations are Taichung Park, Chung Shan Medical University, Yingcai Park, Jhongjheng Park, Honghuagong Sauna, Health Park, National Chin-yi University of Technology, Chonglun Park, Fusing Park and Jiushe Park — seven parks, two universities and one sauna altogether.
Taichung City Government has placed 36 condom vending machines in eight parks, 13 universities, two saunas and one hot spring resort. Between January and July this year, 16,568 condoms were sold. Taichung Park has ranked number one every year. It has sold 2,854 condoms this year, far ahead of the runner-up, Chung Shan Medical University, which sold 1,456 condoms this year, about half the sales volume of the champion. Yingcai Park, which took third place, sold 1,360 condoms.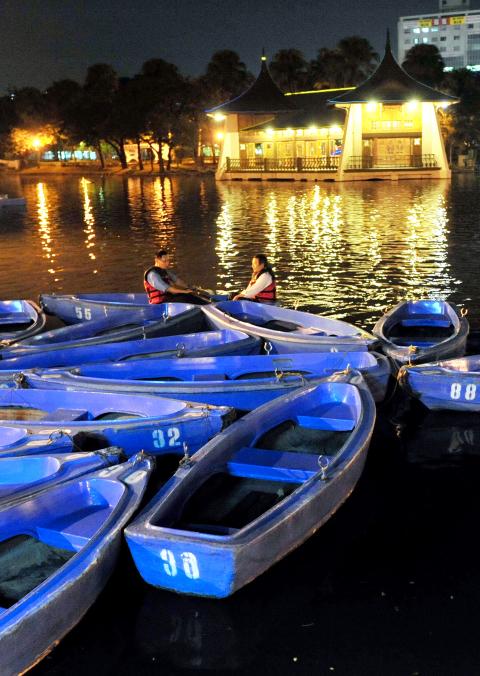 Taichung Park at night, pictured on November 8, 2013. 台中公園的夜色。攝於二零一三年十一月八日。
Photo: Liao Yao-tung, Taipei Times
自由時報記者廖耀東攝
Taichung Park's condom vending machines are placed on the outskirts of the park and in the public toilets. The park wins the best-seller championship year in, year out, and its sales volume swells year after year. It has achieved its popularity through word of mouth. Its stocks need to be replenished every two weeks, with every replenishment requiring nearly 100 condoms. Taichung Park has become quite a hot spot for condom users. Last year's runner-up, Lechenggong Temple, did not make it into the top 10 this year.
The bureau says that every condom pack sold by the vending machines contains two condoms with the thoughtful addition of two sachets of water-based lubricant. With quality assured by the Health Bureau, they are cheap, cheerful and in high demand. Every vending machine is replenished every three or four weeks, so there is no need to worry about them running out.
(Liberty Times, translated by Ethan Zhan)
八月二十日是七夕情人節,台中市衛生局三年多來推廣安全性行為,在全市廿四處公園、學校和三溫暖等處設置保險套自動販賣機。知名約會勝地台中公園連續三年蟬聯銷售冠軍王,今年一至七月狂賣近三千個。衛生局也趕在情人節前頻頻補貨,提醒民眾安全性行為,避孕又保險。
台中市保險套販賣機銷售量前十名地點分別為台中公園、中山醫學大學、英才公園、中正公園、宏華宮三溫暖、健康公園、國立勤益科技大學、崇倫公園、福星公園與舊社公園,共七處公園、二所大學與一家三溫暖。
台中市在八處公園、十三所大專院校與二家三溫暖及一家溫泉館共設置卅六部保險套販賣機,今年一至七月就賣出一萬六千五百六十八個保險套。台中公園年年奪冠,今年已賣出二千八百五十四個,遙遙領先亞軍的中山醫大,銷量有一千四百五十六個,約為冠軍的一半。季軍英才公園則售出一千三百六十個。
台中公園在園區周邊和公廁設置兩處保險套自動販賣機,年年蟬聯熱銷王,銷量年年成長,有口皆碑,打出名號,平均每兩週就要補貨一次,一次要補近百盒,相當熱賣。前年熱銷第二名的樂成宮在這次排行榜則跌出十名外。
衛生局表示,自動販賣機所售保險套,每盒有二個,還貼心附上兩包水性潤滑液,品質有衛生局保證,便宜又大碗,很搶手。各設點每三、四週就補貨一次,不怕買不到。
(自由時報記者蔡淑媛報導)
Publication Notes
TODAY'S WORDS
今日單字
1. contraception n.避孕 (bi4 yun4) 例: Contraception used to be our goal. Now pregnancy is. (避孕曾經是我們的目標,現在懷孕才是我們的目標。) 2. sales volume comp. n.銷量 (xiao1 liang4) 例: The sales volume is secondary to the fulfillment I get at work. (銷量只是其次,工作滿足感對我才是最重要的。) 3. water-based lubricant comp. n. 水性潤滑液 (shui3 xing4 run4 hua2 yi4) 例: Water-based lubricants do not damage condoms, so they are a better choice. (水性潤滑液不會損害保險套,因此是較佳的選擇。)
Comments will be moderated. Keep comments relevant to the article. Remarks containing abusive and obscene language, personal attacks of any kind or promotion will be removed and the user banned. Final decision will be at the discretion of the Taipei Times.