Asia's god of lyrics on writing 林夕談詞
Hsinchu City's Cultural Affairs Bureau held a seminar at the Image Museum on July 25, inviting Albert Leung, known as "Asia's god of lyrics," to speak about his creative concepts. Leung told the audience that imagination and real-life experience are both indispensable. If imagination is the only thing, there will be no sense of resonance, so you need to have a grounding in reality.
Leung, a well-known lyricist based in Hong Kong, has written more than 3,000 songs, including Faye Wong's Adzuki Beans, Eason Chen's Ten Years and many other popular songs that have touched people's hearts.
Hsinchu is also nicknamed "the windy city," and Leung said that wind is romantic. At the outset of the creative process, he said, at the superficial stage, before any thought is given to humanistic concerns or social perspectives, lyrics are written for pure beauty. Then when the lyricist goes through the ups and downs of life, acute sensibility becomes essential for creativity, as if time leaves its marks as it crawls across the writer's skin.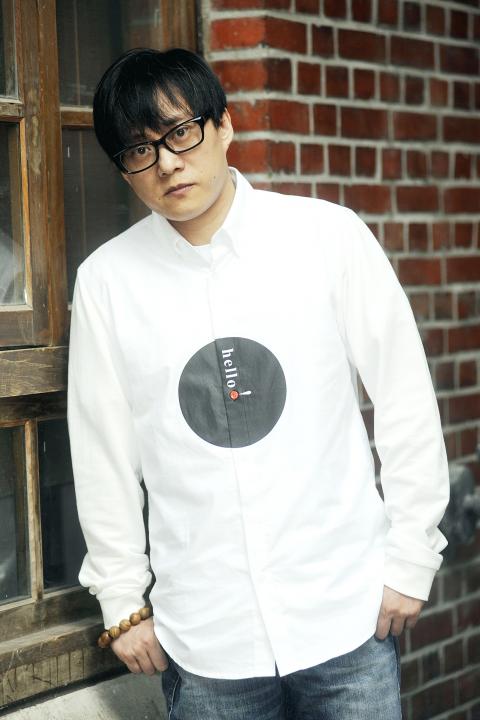 Albert Leung poses for a picture on August 2 last year in Taipei. 林夕。攝於去年八月二日,台北。
Photo copied by Chao Shih-hsun, Taipei Times
照片:自由時報記者趙世勳攝
Leung also remarked that words are carriers and sometimes they are metaphors. A lyricist does not necessarily have to experience what he or she intends to put in writing in order to write about it, because the most important thing is feelings — whether the lyricist has feelings deep within. For example, Leung has written about the Northern Lights without ever having been to the North Pole. After all, 2,000 of his more than 3,000 song lyrics are about love; how could he possibly have experienced so many love affairs?
Leung's humorous and thought-provoking discourse was met with zealous applause and laughter from the audience.
(Liberty Times, translated by Ethan Zhan)
新竹市文化局昨在影像博物館舉辦座談會,邀請有亞洲詞神之稱的林夕暢談創作理念。林夕與觀眾分享說,想像力與真實體驗缺一不可,光有想像,是沒有共鳴感的,必須有現實土壤。
香港樂壇知名填詞人林夕,作品逾三千首,如王菲的〈紅豆〉、陳奕迅的〈十年〉等許多膾炙人口的歌曲,觸動人心。
新竹又名風城,林夕說,風是浪漫的,創作最初,在人文關懷、社會觀察之前的風花雪月階段,是單純美感,然後再歷經生命錘煉,敏銳的感受對創作是必須的,彷彿時間曾爬過他的皮膚。
林夕也說,文字是種載體,有時是比喻,所描述的不一定要親身經歷,最重要的是感覺、內心有無感情,正如他寫過北極光,卻沒去過北極,否則填詞的三千多首作品當中有二千首是關於愛情,他怎可能經歷那麼多段感情。
幽默而發人深思的談話,獲得現場觀眾以掌聲與笑聲熱情回應。
〔自由時報記者傅潮標〕
Publication Notes
TODAY'S WORDS
今日單字
1. outset n.
最初 (zui4 chu1)
例: They loved each other very much at the outset of their relationship.
(他們在愛情最初時就彼此深愛對方。)
2. metaphor n.
比喻 (bi3 yu4)
例: I cannot speak without using metaphors, just as a dog cannot run without its legs.
(我每逢開口必用比喻就有如小犬奔跑必用其腿。)
3. thought-provoking adj.
發人深思 (fa1 ren2 shen1 si1)
例: His annoying comments are sometimes quite thought-provoking.
(他那些惱人的言論偶爾還真發人深思。)
Comments will be moderated. Keep comments relevant to the article. Remarks containing abusive and obscene language, personal attacks of any kind or promotion will be removed and the user banned. Final decision will be at the discretion of the Taipei Times.