Traditional Hakka Banquet 東勢客家美食辦桌 票券開賣
To promote Hakka cuisine, the Taichung City government will hold a Dongshih Hakka Cuisine Outdoor Banquet next month. The venue will have one hundred banquet tables and can seat one thousand people. The public can indulge in Hakka cuisine while enjoying a wonderful program of performances and a raffle. Tickets to the event have already gone on sale, with a number of tickets still available; one ticket reserves one table. People that are interested may purchase tickets on the ibon online booking system.
Taichung City Mayor Lin Chia-lung used the slogan "South and north Taiwan eat to get full, while Taichung eats smart" to recommend everyone to head to Dongshih to try out the cuisine. Lin said, aside from eating smart, Taichung food is extordinarily varied, and the authentic cuisine of Dongshih has the purist Hakka flavor. For only NT$3,999, you can enjoy 12 Hakka dishes. Lin recommends that everyone register for the event as early as possible to have a good meal together and experience rich Hakka culture.
The Economic Development Bureau says the Dongshih Hakka Cuisine Outdoor Banquet will bring together Dongshih township's local Hakka seal meat, drunken chicken and fresh shrimp, assorted Hakka grass jelly, pickled mustard-green pork soup and more, served at an outdoor banquet with one hundred tables and seating for one thousand people. The bureau hopes the event will raise the profile of Taichung's Hakka food culture.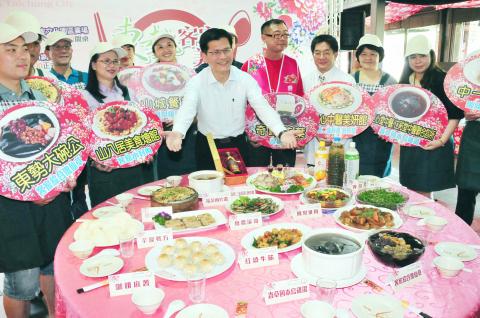 Taichung City Mayor Lin Chia-lung, center, stands in front of a table of various Hakka dishes on Tuesday last week as he welcomes the public to sample classic delicacies in Taichung's Dongshih Township. 台中市長林佳龍上週二站在一桌多樣的客家料理前歡迎大眾前來品嚐道地的佳餚。攝於台中東勢。
Photo: Lee Chung-hsien, Liberty Times
照片:自由時報記者李忠憲
The bureau says tickets will go on sale on July 15, and there are only a few tickets left. One ticket reserves one table, and one table seats ten people. The city has also arranged for Hakka song and dance performances on the day of the banquet, as well as a raffle with the chance to win the grand prize of a 40 inch LCD TV.(Liberty Times, translated by Zane Kheir)
為推廣客家美食,市府將於下月舉辦「東勢客家美食辦桌囉」活動,現場席開百桌宴千人,民眾可一邊享用客家美食、一邊欣賞精彩節目及摸彩。活動票券已開賣,還有數張名額(一張為一桌),意者可上ibon網路購票系統購買。
市長林佳龍以「南北吃飽,台中吃巧」推薦大家到東勢嚐美食。他說,來台中除了吃巧外,食物還有多重變化,東勢道地美食有最真實的客家風味,只要三九九九元就可以吃到十二道客家美食,他推薦大家盡早報名,一同吃美食並體驗豐富客家文化。
經濟發展局表示,「東勢客家美食辦桌囉」活動集東勢在地客家小封肉、二仙膠醉雞鮮蝦、客家綜合嫩仙草、福菜肉片湯等在地菜色為大成,以百桌千人辦桌方式,盼讓台中客家飲食文化發揚光大。
經發局指出,票券於十五日開賣,目前僅剩幾張名額,一張票等同一桌,一桌十人份,當天還安排客家歌舞演出以及抽獎,有機會抽中最大獎四十吋液晶電視。
(自由時報記者李忠憲)
Publication Notes
TODAY'S WORDS
今日單字
1. promote v.
推廣 (tui1 guang3)
例: The city promoted its new plan for urban renewal.
(這個城市過去曾推廣都市更新的新計劃。)
2. authentic adj.
道地 (dao4 di4)
例: This expo features authentic Chinese design.
(這個展覽的主要特色是道地的中式設計。)
3. raise the profile v. phr
發揚光大 (fa1 yang2 guang1 da4)
例: She hopes to be able to raise the profile of Taiwan's film culture.
(她希望能夠讓台灣電影文化發揚光大。)
Comments will be moderated. Keep comments relevant to the article. Remarks containing abusive and obscene language, personal attacks of any kind or promotion will be removed and the user banned. Final decision will be at the discretion of the Taipei Times.