Safe and convenient: university condoms 安全、便利的大學保險套販賣機
Taipei City Government's Department of Health has long been promoting the installation of condom machines on college campuses. There are now roughly 10 universities in Taipei that have set up condom machines. On June 18 the Chinese Culture University Student Association published a news entry on its Facebook page, saying that the school is now catching up and has installed a condom machine, which has provoked fervent responses from students.
In the past, after taking into account a variety of factors, Chinese Culture University declined the Department of Health's suggestion that it set up condom machines. Now, all of a sudden, a condom machine has been placed right outside the 24-hour study center, to the surprise of many students. One student said that, "After two years of lip service, they finally did it." Some jokingly said that, "There is no way we can use up all these condoms." Another commented that, "I am kind of curious to know who will dare to buy them."
Currently, several universities in Taipei have set up condom machines on campus. Soochow University, the University of Taipei and National Taipei University of Nursing and Health Sciences have each set up two machines, while Shih Hsin University, National Chengchi University, National Yang-Ming University and the National Taiwan University of Arts have each installed one condom machine.
(Liberty Times, translated by Ethan Zhan)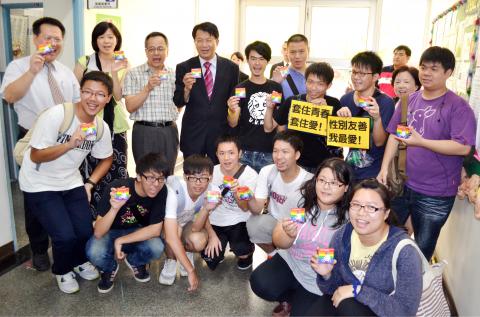 Guests and students at the University of Kang Ning in Tainan chant slogans promoting condom use as the school's condom machine is inaugurated on Sept. 25, 2013. 台南市康寧大學的保險套販賣機於二○一三年九月二十五日正式啟用,與會貴賓與學生齊呼口號呼籲使用保險套。
Photo: Tsai Wen-chu, Liberty Times
照片:自由時報記者蔡文居
台北市衛生局一直以來倡導校內設置保險套販賣機,而台北市已有十所左右的大學校,在校園內設置了保險套自動販賣機。六月十八日文化大學學生會在臉書粉絲團發布消息,指文大現也跟進設置了一台保險套自動販賣機,引發學生熱烈回應。
文化大學過去曾因為考量多方面問題,婉拒衛生局在校內設置保險套販賣機,現在突然在二十四小時開放的讀書中心外設置販賣機,讓學生們都相當意外。一名學生就表示:「講了兩年終於設置了。」還有人開玩笑說「用不完了」、「有點好奇誰敢去買」。
台北市目前已有多所大學在校內設置保險套販賣機,其中東吳大學、台北市立大學,以及國立台北護理健康大學,分別都設置了兩台;而世新、政大、陽明大學、台藝大等學校,也都設置了一台。
(自由時報)
Publication Notes
TODAY'S WORDS
今日單字
1. provoke v. 引發 (yin3 fa1) 例: The mysterious death of the young soldier provoked public outrage. (這名年輕軍人的離奇死亡引發社會大眾的怒火。) 2. decline v. 婉拒 (wan3 ju4) 例: She has decided to decline all the party invitations. (她已決定婉拒所有的派對邀約。) 3. use up phr. 用完 (yong4 wan2) 例: His clothes used up all the space in that closet. (他的衣服已經用完衣櫃裡所有的空間。)
Comments will be moderated. Keep comments relevant to the article. Remarks containing abusive and obscene language, personal attacks of any kind or promotion will be removed and the user banned. Final decision will be at the discretion of the Taipei Times.