To paint a life 畫一個人生
"When I was a kid, I would start drawing whenever I got hold of a drawing pen," said Chang Chun-chieh, who is 24 years old and likes painting anywhere and everything. His artistic creativity can be seen in his sketch books, on the dining tables or even walls. After growing up, his graffiti habit still stayed with him, but he also began to sketch real objects and developed his abstract style. Black and white are the two primary colors that he uses to construct irregular lines and shapes.
During junior and senior high school, Chang put his paint pens aside and stopped painting for a full six years, forcibly threw himself into other pursuits, passed the entrance examination and entered the Department of Computer Science and Information Engineering at National United University. He led an ordinary and peaceful life. Then, three years passed in the blink of an eye. One day in his junior year, he saw Franz Kline's artwork, Chief. The simplicity of Kline's lines blew Chang's mind. When he went home that day and cleaned his room, he suddenly found his childhood sketch books. "A voice spoke to me, saying that I still love drawing the most," said Chang.
Chang resolved to quit college. As an amateur, he went to art class for one year to drill himself in painting and obtain professional training. Afterward, he passed the exam and entered the department of fine arts at National Taiwan University of Arts.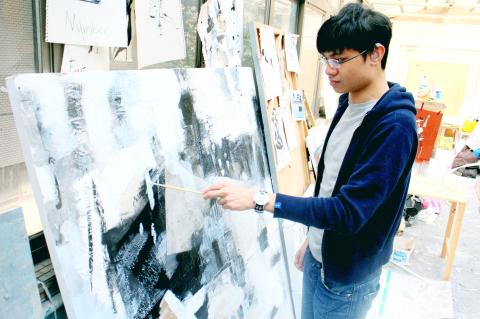 Chang Chun-chieh expresses his creativity on canvas on March 14 in Taipei. 張鈞傑在畫布上塗抹出他的創意。攝於三月十四日,台北。
Photo: Kuo I, Liberty Times
照片: 自由時報記者郭逸
A few days ago, Chang's abstract style of painting won him the second place in his first ever national contest, giving him a confidence boost. Chang says painting helps him alleviate worries; in the future, he will even consider study abroad as a way to continue to weave his painting dream.(Liberty times, translated by Ethan Zhan)
「小時候拿到畫筆就會一直亂畫。」廿四歲的張鈞傑說,他喜歡拿著畫筆四處塗鴉,繪本、餐桌甚至是牆壁都留有他的「巧思」。年紀漸長後,隨意塗鴉習慣猶存,但也開始臨摹物體,並發展抽象風格,以黑、白兩色為主體,繪出不規則的線條與形狀。
國、高中時期,張鈞傑將畫筆丟在一旁,整整六年都沒有畫畫,強迫自己投入其他領域,考取聯合大學資工系,生活平淡安穩,一轉眼又過了三年。大三的某日,他看見Franz Kline的作品《Chief》,簡潔的線條震懾他的內心。當天回家整理房間赫見小時候的繪本。「有個聲音告訴我,我還是最喜歡畫畫。」他說。
他毅然決然休學,半路出家到畫室「惡補」一年,接受專業訓練,並考上台灣藝術大學美術系。
日前張鈞傑以抽象風格的繪圖,首次參與一項全國競賽就拿亞軍,讓他信心加倍。他說,畫畫可以排解煩憂,未來更想出國深造,持續編織他的「畫畫夢」。
(自由時報記者郭逸)
Publication Notes
TODAY'S WORDS
今日單字
1. graffiti n. 塗鴉 (tu2 ya1) 例: Incredible! Tom's bedroom walls are covered in graffiti. (太扯了!湯姆的臥室牆上滿滿的都是塗鴉。) 2. blow one's mind phr. 震懾某人的內心 (zhen4 she4 mou3 ren2 de5 nei4 xin1) 例: Your music totally blew my mind. (你的音樂徹頭徹尾的震懾了我的內心。) 3. drill n. 惡補,特訓 (e4 bu3, te4 xun4) 例: This is a special drill to show you how to be irresistibly sexy. (這是個特別的特訓,教你如何變得令人難以抗拒的性感。)
Comments will be moderated. Keep comments relevant to the article. Remarks containing abusive and obscene language, personal attacks of any kind or promotion will be removed and the user banned. Final decision will be at the discretion of the Taipei Times.