Parents can pass on tooth decay to offspring 爸媽蛀牙 會傳染給幼兒
Research shows that if parents have tooth decay the chances are higher that their young ones will also have cavities. The dental plaque DNA of parents and children are nearly identical. Apart from physique and hereditary factors, if parents chew food before feeding it to their child, use the same eating utensils or kiss their child on the lips, it can also increase the risk of exposing a child to saliva that contains dental plaque streptococci. For the sake of your child's dental health, parents are reminded to be wary about their own dental hygiene.
Taiwan Academy of Pediatric Dentistry president Tsai Yi-feng says that nearly 80 percent of Taiwanese children six years of age or younger have dental caries, which is significantly higher than Europe or America — 40 percent — and neighboring Asian countries — 57 percent. Tsai says that it is worth bearing in mind that more than 80 percent of Taiwanese adults also have tooth decay, which shows that tooth decay rates for children and adults are intimately related.
According to a study from Finland, a child's chances of having tooth decay are greater if both parents also have cavities, and inversely lower if they do not. The main reason for this is that mutant dental plaque from parents' dental caries contaminates their offspring's teeth, damaging the child's teeth and eventually causing cavities.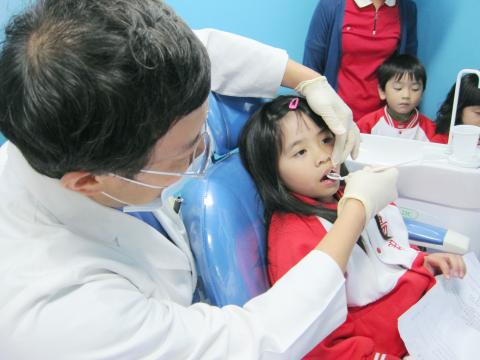 A dentist, left, checks a girl's teeth in Taoyuan County on March 14 last year. 牙醫(左)去年三月十四日在桃園縣檢查一位女孩的牙齒。
photo: Pan Hsing-hui, Liberty Times
照片:自由時報記者潘杏惠
Tsai says that in order to take care of a child's teeth, parents can start with two points of approach — be sure to take care of all tooth decay issues during pregnancy, and after the child is born make sure the child gets in the habit of cleaning their teeth. It is best to brush after all three meals, before going to bed, and also use dental floss. After a baby's teeth come in, you should be sure to clean the child's teeth before going to bed, Tsai says, adding if a child's teeth come in close together you should definitely use dental floss.
It is worth mentioning that different age groups should brush their teeth differently. Taiwan Dental Association chairman Huang Mao-shuan says that children between the ages of zero and six can brush back and forth horizontally and use dental floss as a supplement, while children between six and nine years of age should brush one tooth at a time, gradually learning how to use the Bass brushing technique. Parents can also help children by assisting them brush permanent teeth such as molars and incisors. From the age of nine into adulthood, Huang says that people should pay attention to dental hygeine.
(Liberty Times, Translated by Kyle Jeffcoat)
研究發現,父母如果蛀牙,幼兒的蛀牙率也會較高,且幼兒和父母嘴裡的牙菌斑DNA幾乎相同,除了體質、遺傳因素外,父母嚼食物餵小孩、與孩子使用共同餐具及親嘴等行為,也提高了唾液中蛀牙鏈球菌的暴露風險,提醒父母為了幼兒的牙齒健康,平時應注意做好自身的潔牙工作。
中華民國兒童牙醫學會秘書長蔡宜峰表示,台灣六歲以下的兒童蛀牙率逼近百分之八十,遠高於歐美國家的百分之四十及亞洲鄰近國家的五十七,值得注意的是,國內成年人的齲齒率亦高達八成,兒童與成人蛀牙的比率呈現正相關。
根據芬蘭一項研究發現,如果父母蛀牙,其幼兒的蛀牙率也會跟著升高,反之則隨之降低,主要因為父母蛀牙中的變形鏈球菌會傳染給幼兒,進而破壞幼兒的牙齒,形成蛀牙。
蔡宜峰建議,照顧幼兒的牙齒,父母可從兩階段著手,懷孕期間一定要先把自己的蛀牙問題處理好;孩子出生後,父母一定要養成潔牙的習慣,三餐飯後及睡前最好能刷牙,並使用牙線;幼兒長牙後,每天睡前一定要為孩子清潔牙齒,如果孩子的牙齒長得密,一定要用牙線清潔。
值得一提的是,不同年齡也應配合不同的刷牙方式,中華民國牙醫師公會全國聯合會口衛主委黃茂栓表示,零至六歲的兒童可以水平來回刷牙以及牙線輔助;六至九歲開始換牙,應逐漸學習貝氏刷牙法,家長可加強協助刷恆牙大臼齒與門齒的部分;至於九歲以上至成人則要注意潔牙。
(自由時報記者魏怡嘉、洪素卿)
Publication Notes
TODAY'S WORDS 今日單字
1. hereditary adj.
遺傳的 (yi2 chuan2 de5)
例: While obesity and some cancers are hereditary, they are also related to lifestyle and environmental factors.
(雖然肥胖病及一些癌症屬於遺傳疾病,其致病因子亦和生活方式與環境因素相關。)
2. utensil n.
器皿;用具 (qi4 min3; yong4 ju4)
例: This multifunctional utensil can be used for cooking and cleaning.
(該多功能用具可用來煮飯和清潔。)
3. bear in mind v. phr.
記住 (ji4 zhu4)
例: Please bear in mind that we are not here today on your behalf.
(請記住我們今天並不是代表你而來。)
Comments will be moderated. Keep comments relevant to the article. Remarks containing abusive and obscene language, personal attacks of any kind or promotion will be removed and the user banned. Final decision will be at the discretion of the Taipei Times.