Chinese girl visits Taiwan for sixth craniofacial operation 來台動六次手術 中國女童重建顱顏
Yang Yunying is an 11-year-old girl from China's Yunnan province who has grown up dealing with the symptoms of neurofibromatosis (NF), a condition that had caused the right half of her face to become turgid and deformed. Pressure on her face and brain from the tumors has inconvenienced her life and caused learning impairments. She has traveled to Taiwan six times for surgeries to remove tumors, reconstruct her eyebrows and to get an artificial eye. "Yunying is so beautiful now," her mother happily said on Jan. 9.
Yang lives 500km outside of Kunming, the capital of Yunnan. It takes seven hours on a shuttle bus simply to get from her small village to the capital. Her penurious family has never used a washing machine or other similar household appliances. They chop wood to heat water for bathing. A volunteer medical team discovered Yang during a trip to Yunnan's mountainous areas and, after referring her to the Noordhoff Craniofacial Foundation, she began receiving treatment in Taiwan two years ago.
Yang's attending physician Chen Kuo-ting, director of Chang Gung Memorial Hospital's Craniofacial Department, says that exorbitant bleeding is quite common during NF surgery, adding that since Yang has Moyamoya syndrome her blood circulation is different from the average person, making her condition more complex than that of Vincent Kabore, an African boy who also previously came to Taiwan for craniofacial surgery. Yang's surgery to remove the tumors alone took 13 hours.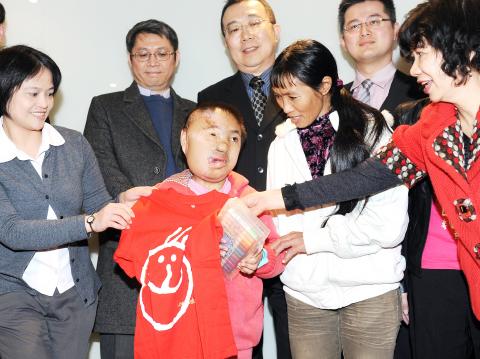 A Chinese girl from Yunnan province with neurofibromatosis named Yang Yunying, second from left front, poses with her mother, doctors and members of the Noordhoff Craniofacial Foundation during a press conference in Taipei on Jan. 9. 罹患「顏面神經纖維瘤」的中國雲南病童楊雲盈(前排左二),一月九日在台北舉辦的記者會,與母親、醫生及羅慧夫顱顏基金會代表合照。
Photo: Fang Pin-chao, Liberty Times
照片:自由時報記者方賓照
During Yang's first trip to Taiwan two years ago, she underwent surgery four times to remove tumors and skin flaps. At the end of last year, she came back to Taiwan to start the second phase of reconstructive facial surgery. Yang's facial features have gradually been restored after a medical team used the latest 3D printing technology to create an artificial cranium and eye socket that were symmetrical with the left side of her face, and transplanted her eyebrows and gave her an artificial eye. She will be going back to Yunnan soon since the surgery is finished, returning to Taiwan every two years for a follow-up.
The foundation held a media event for Yang on Jan. 9 to celebrate her new life, during which film clips of Yang's medical treatment in Taiwan were shown. Yang's mother, apparently not much of a public speaker, made a deep bow at the event, thanking Taiwan for all its help. She also said that Yunying has become more talkative and that this most recent trip has been like a journey of rebirth, giving her daughter a new lease on life.
(Liberty Times, Translated by Kyle Jeffcoat)
住在中國雲南的十一歲女童楊雲盈,從小罹患「顏面神經纖維瘤」,右半臉浮腫變形,也因腫瘤壓迫臉部和腦部構造,造成雲盈生活不便及學習障礙,她前後來台進行六次手術切除腫瘤,並重建眉毛、義眼等,一月九日楊媽媽開心地說:「雲盈變美了!」
楊小妹住在離雲南昆明五百公里遠,搭小巴士要七小時才能到的小村落,家裡沒用過洗衣機等家電,洗澡還得砍柴燒水,經濟窘困。台灣義診團到雲南山區注意到楊小妹,把她轉介給羅慧夫顱顏基金會,前年開始來台治療。
楊小妹的主治醫師、長庚醫院顱顏中心主任陳國鼎說,神經纖維瘤手術很容易大出血,楊小妹有毛毛樣腦血管病,血液循環與常人不同,病症複雜度更勝曾來台「變臉」的「非洲阿福」,光是切除腫瘤手術就歷經十三小時。
楊小妹前年首次來台,經歷四次手術切除腫瘤與皮瓣修補,去年底再度來台進行第二階段手術修補顏面,醫療團隊利用最新的3D列印科技,替她打造出與左臉對稱的人工頭蓋骨、眼眶骨等,並且植上眉毛、置放義眼,面貌逐漸恢復。手術完成後,近日將回雲南,未來每隔兩年追蹤即可。
羅慧夫顱顏基金會一月九日舉辦楊小妹重生記者會,並播放她來台就醫紀錄短片。不善言詞的楊媽媽深深一鞠躬,並且「謝謝台灣的幫助!」她強調,雲盈現在變得更開朗,這一趟宛如重生之旅,讓她得以展開全新的人生。
(自由時報記者鍾麗華)
Publication Notes
TODAY'S WORDS 今日單字
1. symmetrical adj.
對稱的 (dui4 cheng4 de5)
例: The symmetrical pattern consists of pastel colors and medieval motifs.
(這個對稱圖案由粉彩與中世紀主題構成。)
2. follow-up n.
追蹤;隨訪 (zhui1 zong1; sui2 fang3)
例: This is a follow-up to last week's story.
(這是上週刊登文章的後續報導。)
3. a new lease on life idiom
延年益壽;活得更帶勁 (yan2 nian2 yi4 shou4; huo2 de5 geng4 dai4 jin4)
例: When he finally landed the job, he felt like he had a new lease on life.
(他終於被錄取這份工作,讓他感到如獲新生。)
Comments will be moderated. Keep comments relevant to the article. Remarks containing abusive and obscene language, personal attacks of any kind or promotion will be removed and the user banned. Final decision will be at the discretion of the Taipei Times.