Agriculture and Food Agency to release affordable frozen vegetables 菜價高貴 農糧署釋出冷凍蔬菜
Vegetable prices remain high after typhoons. Last Wednesday the average price of produce at Taipei's produce markets had gone down from the previous day, but it was still NT$44.7 per kilogram, with coriander at NT$600/kg, basil at NT$322/kg, and lettuce and yam leaves exceeding NT$60/kg.
Agriculture and Food Agency (AFA) Director Li Tsang-lang said that prices on Wednesday last week had already started stabilizing, and that he expected the average price to be back down around NT$35/kg before the Mid-Autumn Festival.
The AFA is set to release 200 tonnes of frozen vegetables — 400,000 bags of affordable frozen veggies — to farmers' association supermarkets throughout the nation, which will include scallions, broccoli, cucumber, diced white radish and cabbage, all to be sold in 400g bags for NT$35 each.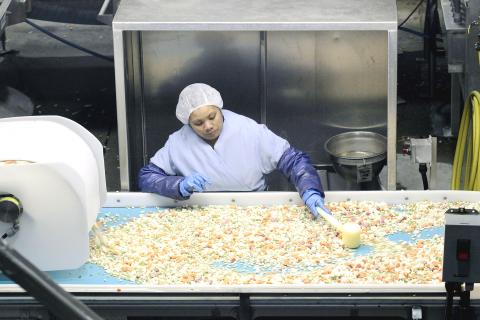 A worker prepares frozen vegetables for packing at a plant in Oregon, USA on May 22. 一位員工五月二十二日於美國奧勒崗州處理即將包裝的冷凍蔬菜。
Photo: Bloomberg
照片:彭博社
(Liberty Times, Translated by Kyle Jeffcoat)
颱風過後,菜價居高不下,上週三台北果菜市場平均批發菜價雖已較上週二下跌,但每公斤仍要四十四點七元,香菜要六百元、九層塔三百二十二元,萵苣、地瓜葉超過六十元。
農糧署長李蒼郎表示,上週三菜價已開始回穩,預估中秋節前平均菜價將回跌至三十五元。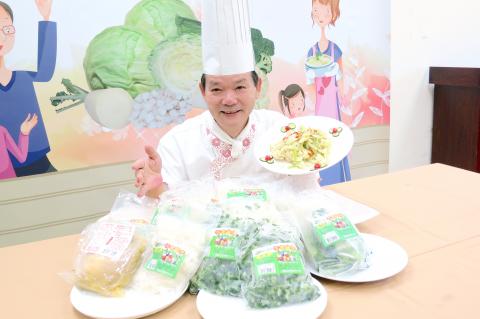 A chef poses with bags of frozen vegetables to be marketed by the Agriculture and Food Agency in Taipei on Sept. 11. 一位廚師九月十一日於台北與農糧署推廣的冷凍蔬菜留影。
Photo: Chung Li-hua, Liberty Times
照片:自由時報記者鍾麗華
農糧署將在全國農會超市釋出兩百公噸、約四十萬包平價冷凍蔬菜,包括青蔥、青花菜、大黃瓜與白蘿蔔丁、高麗菜等一包四百公克只要三十五元。
(自由時報記者鍾麗華)
Publication Notes
TODAY'S WORDS 今日單字
1. produce n. 蔬果 (shu1 guo3) 例: Some produce such as spinach and strawberries are seasonal year-round in subtropical climates. (有些包括菠菜與草莓在亞熱帶氣候是全年季節性蔬果。) 2.coriander n. 香菜;胡荽 (xiang1 cai4; hu2 sui1) 例: Coriander, like many spices, contains antioxidants, which can prevent the spoilage of food. (胡荽如許多包含抗氧化質的香料一樣可預防食物變壞。) 3. stabilize v. 使穩定;使穩固 (shi2 wen3 ding4; shi2 wen3 gu4) 例: The government has taken measures to stabilize prices. (政府採取措施穩定價格。)
Comments will be moderated. Keep comments relevant to the article. Remarks containing abusive and obscene language, personal attacks of any kind or promotion will be removed and the user banned. Final decision will be at the discretion of the Taipei Times.